If you purchase an independently reviewed product or service through a link on our website, we may receive an affiliate commission.
If there's one thing a dog is good at, it's consuming massive amounts of food. Well, at least the big dogs, anyway. Still, any sized canine loves to eat and drink to their heart's content; regardless of the portion. Considering those two things account for quite a large portion of your pup's day, you should at least make those special times, well, even more special. The best way of doing so is by getting them a bowl that's both ergonomically designed and capable of holding the right portion of food for their diet. Obviously, those portions can vary — and by quite a lot — so you're going to have to do your due diligence before purchasing. After all, there are tons of different iterations on the market — traditional metallic dog bowls, smaller plastic bowls, and even products designed to keep your dog on their dieting leash. So we took a look at a few different models — with different kinds of pups in minds — so you can more accurately choose a bowl for your furry little friend (or friends). They'll certainly thank you for it, at least in their own dog language.
Best Standard Adult Dog Bowl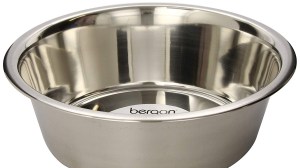 For a large adult dog, you should probably just stick with the K.I.S.S. method (you know, keep it simple, stupid). A deeper, stainless steel bowl will undoubtedly do the trick, making the Bergan Standard Dog Bowl a great choice. This bowl can fit 17 cups of dry food, giving your dog more than enough room to chow down on their meals. Each bowl contains a wide opening and base, so your dog can comfortably eat. The food will be spread out enough so they won't eat it all in one shot, which ultimately aids in the digestion process. These stainless steel bowls are rustproof, easy to clean, and dishwasher safe, making them durable, long-lasting, and a familiar part of your dog's favorite daily routine. They can be used for indoor or outdoor use, and they can be used to hold either food or water. They're also touted as non-porous and bacteria-resistant, which is great for your pup's overall health. We found that just a quick rinse with soap and water does the trick, but you don't need to clean it all that often, considering the sleek, stainless steel keeps the bowl fairly hygienic on its own.
Maslow 88078 Standard Bowl, stainless steel, 17 Cups/136 Ounce (Pack of 1)
Price:
$11.75
Available from Amazon, BGR may receive a commission
Best Bowl for Small Dogs
Again, smaller dogs and medium-sized pups would probably be better off with something their size. That way, it's easier to portion off their food, as well as give it the appearance their bowl is filled to the brim (not that this always matters to them, but still). Our recommendation would be the Vivaglory Dog Bowls Stainless Steel Water and Food Feeder with Non-Spill Skid Resistant Silicone Mat for Pets. This setup comes with two seven oz. bowls — one for food and one for water —and one mat that's 14.2″ x 8.1″ x 1.4″, designed for extra small toy dog breeds and even cats. It serves as a simple and (relatively) mess-free way to feed your pup. For starters, the silicone mat keeps spills to a minimum and the bowls from skidding on the floor when your pup is eating. The bowls themselves are made of high-quality stainless steel that is both anti-corrosion and heat-resistant, making them ultra-durable and capable of withstanding any pooch-related wear and tear. And while this seven oz. iteration is made for much smaller dogs, you can purchase the set in 14, 30, and 52 oz. sizes as well. But we'd recommend this, first and foremost, for small canines, as it can sometimes be difficult to find the right size for tinier pups.
Vivaglory Dog Bowls Stainless Steel Water and Food Puppy Cat Bowls with Non Spill Skid Resistan…
Price:
$12.99
Available from Amazon, BGR may receive a commission
Best Dog Bowl for Dieting Dogs
It's no easy feat, but sometimes, you have to put your beloved pet on a diet. This can be especially difficult for bigger dogs. One way to get them to stop eating as much is by physically forcing them to eat slower. Well, the only way to do that is through a neat contraption like the Outward Hound Fun Feeder Dog Bowl Slow Feeder. This feeder serves as both a toy and a way to promote a healthier lifestyle for your dog. It utilizes fun mazes and intricate patterns to essentially make your dog forage for their food when they eat. As a result, your dog, unknowingly, consumes their food 10 times slower, which helps with digestion, prevents bloating, and ultimately helps them get fuller. The bowls are made with food-safe materials that are BPA, PVC, and Phthalate-free. They're also quite stable and they won't slip and slide all over the place while your dog is participating in their little eating adventure. The bowl comes in three different sizes — X-Small, which fits around 3/4 of a cup of dry food, Small, which holds two cups, and Large, which holds four cups. It's not easy to prevent any dog from being gluttonous, but this bowl certainly helps in that regard.
Outward Hound Fun Feeder Slo Bowl, Slow Feeder Dog Bowl, Large/Regular, Turquoise
List Price:
$21.99
Price:
$20.00
You Save:
$1.99 (9%)
Available from Amazon, BGR may receive a commission