If you purchase an independently reviewed product or service through a link on our website, we may receive an affiliate commission.
Avoiding germs and sickness can be a tall task — especially when you're cleaning your home. This goes double for those working in the medical field or some kind of lab. Sometimes, washing your hands and/or keeping a travel-sized hand sanitizer on you at all times simply isn't enough. One way to avoid making direct contact with germs when you're doing your daily chores is by simply covering your hands with some sort of glove. Of course, a winter glove is totally impractical, so you'll want to opt for a durable and disposable glove that form-fits your hands and keeps your skin from making contact with any dirt, grime, or germs you might come across during your day-to-day cleaning duties. While latex gloves might be the first thing that comes to mind, there are actually some better alternatives out there that are both better for your skin and the environment itself. Considering that these gloves are, again, disposable, the latter might be paramount to some. So we'll take a look at some of the best disposable gloves for your average, everyday household chores—and so much more. Take a look at what we managed to come up with.
Best Nitrile Gloves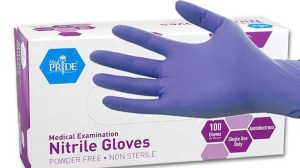 Nitrile gloves are certainly a solid alternative to classic latex gloves. Overall, these MedPride Powder-Free Nitrile Exam Gloves check all of the boxes that you need. They're inexpensive, durable, and proven to be a comfortable fit. Obviously, these serve as a great option for anyone who might be allergic or sensitive to rubber latex gloves and/or donning powder. Not only are these gloves comfortable, yet still form-fitting, but they contain textured fingertips and increased tactile sensitivity for additional grip, not to mention the ability to continue letting you use a phone and/or touchscreen while they're on. These gloves are also quite stretchy, so you have some room to work with, although you should still purchase them based on your hand size (they come in small, medium, large, and extra-large). Despite their fluidity and ability to stretch, they're still rather strong and puncture-resistant. They're made with a premium iris blue coloring along with a smooth external finish and beaded cuff for increased durability.
MedPride Powder-Free Nitrile Exam Gloves, Medium, Box/100
Price:
$13.49 ($0.13 / Count)
Available from Amazon, BGR may receive a commission
Best Clear Vinyl Gloves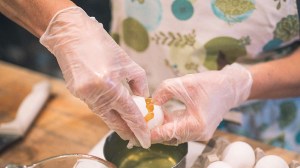 Another alternative to latex is a simple vinyl material. And if you're someone who likes a clear glove that allows you to still see your hand, these GlovePlus Industrial Clear Vinyl Gloves are a fantastic choice. These aren't as form-fitting as nitrile or latex gloves, as they provide a looser, more comfortable fit. They're ideal for food service, salon, and janitorial jobs, as well as just general household cleaning and chores. The smooth, comfortable vinyl material is around four mil thick in the palm and finger area, and 9 1/2 inches from the tip of the finger to the cuff. These gloves aren't powdered, either, so it won't leave any residue on your hands or whatever you're touching after use, effectively limiting the risk of contamination. And while these gloves are a looser fit, you should still opt to purchase the correct size — they come in small, medium, large, and extra-large sizes.
Gloveworks Clear Vinyl Industrial Gloves, Box of 100, 3 Mil, Size Large, Latex Free, Powder Fre…
Price:
$12.79 ($0.13 / Count)
Available from Amazon, BGR may receive a commission
Best Gloves for Grip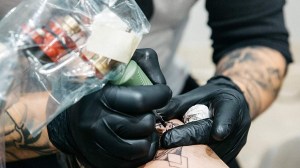 One of the biggest downsides of wearing disposable gloves, or really, any gloves in general, is the sudden disappearance of your usual grip. To counteract this, you should opt for a glove with a good grip, such as these AMMEX Medical Black Nitrile Gloves. Like the first pair of gloves we showed you, these gloves from AMMEX are also made of high quality, medical-grade nitrile, only they're a bit thicker, measuring in at about four mil of thickness. They're also made with a fully textured grip, which measures 9 1/2 inches from fingertip to glove cuff. They offer increased dexterity and tactile sensitivity, so you can do a variety of chores, products, and daily tasks without any interference. They're also complete latex-free and are colored black to better conceal dirt and grime, which is certainly good for those who are using them professionally. The AMMEX nitrile gloves are perfect for a variety of different uses, such as household work, tattooing, food service, automotive work, and general cleaning.
AMMEX Medical Black Nitrile Gloves, Case of 1000, 4 mil, Size XLarge, Latex Free, Powder Free,…
List Price:
$226.27
Price:
$78.99 ($0.08 / Count)
You Save:
$147.28 (65%)
Available from Amazon, BGR may receive a commission