If you purchase an independently reviewed product or service through a link on our website, we may receive an affiliate commission.
There are few people who will tell you having a kid is a walk in the park. Lack of sleep, round the clock care, and, of course, a dwindling of funds, will tell you all you need to know. But the joy of bringing new life into the world is also a feeling that cannot be duplicated. Having said that, there are certainly ways to facilitate the whole process of parenthood — specifically, when it comes to what you're choosing to provide your child with. Perhaps most paramount is the almighty diaper, a powerful tool for new parents and little tikes alike. If it weren't for the diaper, well, things could get rather messy — quite literally. And with new advancements in diaper "technology," so to speak, the process is now easier than ever. So we'll go through some of the best diapers for your child to make your life — and theirs — a little easier. And certainly less pungent.
Best Overall Diaper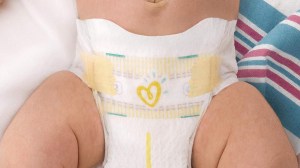 We'll start out with the Pampers Swaddlers Disposable Baby Diapers, a product made from a company that is essentially synonymous with the modern-day diaper. So naturally, it shouldn't come as a surprise that it's amongst the best options available on the market. These diapers are around twice as soft as your generic diaper, thanks to its Heart Quilted design that makes them both ultra-comfortable and absorbent. They also feature air channels that reach your baby's skin to help them stay dry and comfortable after an accident. For the most part, though, you'll be able to tell almost instantly when your child needs a change, thanks to a built-in Swaddlers Wetness Indicator. They're recommended for children around 12-18 pounds, making them a great choice for virtually any newborn baby.
Diapers Size 2, 124 Count - Pampers Swaddlers Disposable Baby Diapers, Giant Pack (Packaging Ma…
Price:
$51.90 ($0.42 / Count)
Available from Amazon, BGR may receive a commission
Most Absorbent Diaper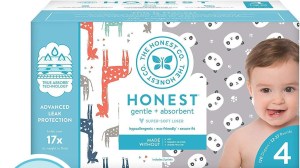 It's no secret that the more absorbent a diaper is, the better it can do its job. In this regard, there's arguably no better option than The Honest Company Super Club Box Diapers with TrueAbsorb Technology. Not only are these diapers super absorbent, but they're also hypoallergenic, soft, and very comfortable for your baby, as they're designed with soft and stretchy side panels, a comfy elastic waistband, sure fit leg cuffs, and fastening tabs for a perfect fit. And of course, they feature advanced multi-layer technology that effectively prevents moisture and holds 17 times its weight in fluids for no-nonsense leak protection. Frankly, you're not going to find a diaper that seamlessly absorbs liquid like these.
HONEST Company, Super Club Box, Clean Conscious Diapers, Tie-Dye For All + Cactus Cuties, Size…
Price:
$50.99 ($0.42 / Count)
Available from Amazon, BGR may receive a commission
Best Child-Friendly Diaper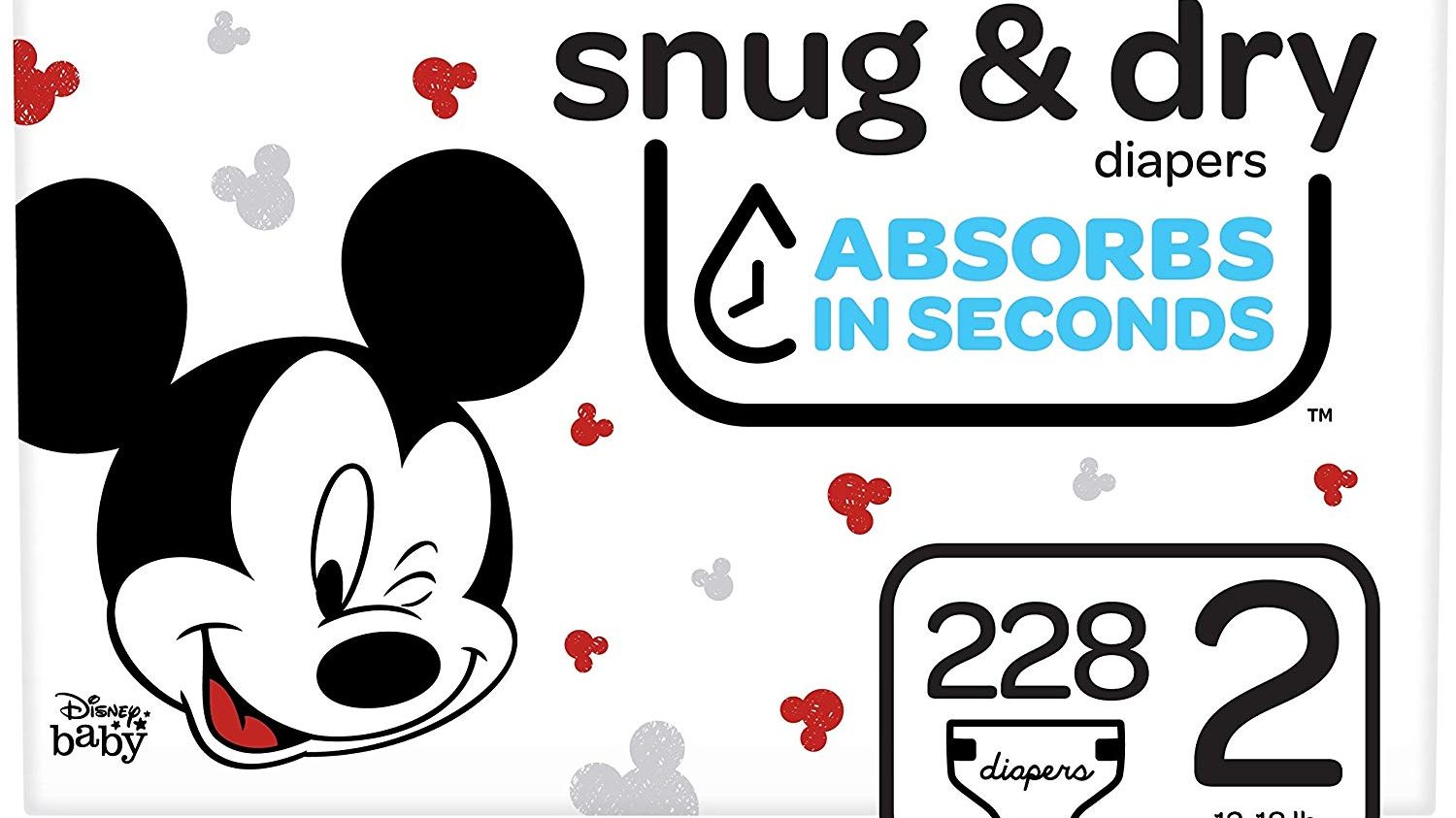 Younger babies, despite all of their innocence and blissful ignorance of the world, can still be picky when it comes to a number of different things. One diaper that can essentially assuage your child and make them, dare I say, enjoy wearing a diaper, are these Huggies Snug & Dry Baby Diapers, which are both comfortable and of course, feature their favorite Disney character, Mickey Mouse. These diapers provide a perfect fit for babies between 12-18 pounds. They're made with a four-layer quilted design that's capable of absorbing wetness in seconds to keep your baby dry and fuss-free. They also feature an impressive leak lock system to eliminate leaks for up to 12 hours of protection, guaranteed. And as an added bonus, they're even fragrance-free, lotion-free, paraben-free, and free of elemental chlorine and natural rubber latex, ensuring your child gets the natural protection they deserve (and need).
Huggies Snug & Dry Baby Diapers
Price:
Available from Amazon, BGR may receive a commission
Best Diaper for Sensitive Skin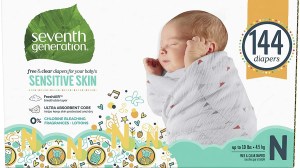 Most infants and toddlers have some pretty sensitive skin. But if your child's is particularly sensitive, you should opt for these Seventh Generation Baby Diapers for Sensitive Skin. They're recommended for smaller infants up to 10 lbs whose skin is a bit more sensitive than older babies. They're hypoallergenic, free from lotions and fragrance, and free from chlorine bleaching, which is a game-changer in terms of comfort. These ultra-absorbent diapers are made with a quilted liner formed from soft unbleached cotton, making them amongst the softest and most newborn-friendly diapers out there.
Seventh Generation Baby Diapers for Sensitive Skin, Animal Prints, Size 0 Newborn, 144 count (P…
Price:
Available from Amazon, BGR may receive a commission
Best Cloth Diaper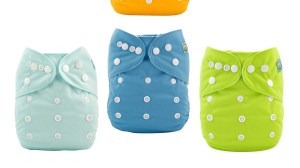 Last but not least, we have a classic diaper iteration that's a bit more old-school, but nonetheless effective — the cloth diaper. In this case, we'd recommend these ALVABABY Baby Cloth Diapers One Size Adjustable Washable Reusable for Baby Girls and Boys. Made from an impressively soft cloth material, these diapers are washable, super-absorbent, comfortable, and of course, reusable. The outer layer is made of high-quality polyester with waterproof and breathable TPU, while the inner layer is made with ultra-soft suede cloth. The suede itself doesn't absorb moisture, but rather, each diaper comes with two 3-layer microfiber inserts for quick and easy absorption. These diapers are stylish, cost-effective, and perhaps most importantly, eco-friendly.
ALVABABY Baby Cloth Diapers One Size Adjustable Washable Reusable for Baby Girls and Boys 6 Pac…
List Price:
$40.93
Price:
$29.99
You Save:
$10.94 (27%)
Available from Amazon, BGR may receive a commission