If you purchase an independently reviewed product or service through a link on our website, we may receive an affiliate commission.
How many times have you thought, "Now I need something sweet" after eating a savory meal? Probably more than you'd like to admit. But if you know that there is dessert to be had after your meal, you're more likely to save room for it. Having dessert can get you in trouble when it comes to some additional calories, but it also can be a treat when you've been good. Some of the best desserts can be made in small, handheld pieces or even portable cups. Custards, puddings, parfaits, Jell-O can all be eaten in dessert cups, which is why you should probably have some on hand if you're going to be hosting a party. Depending on the size of the cup, you'll know what kind of dessert you can fill it with, even if it's just a few pieces of candy or something like pretzels. We've highlighted some of the best options on the market, so take a look and give in to your cravings.
Best Nine-Ounce Cups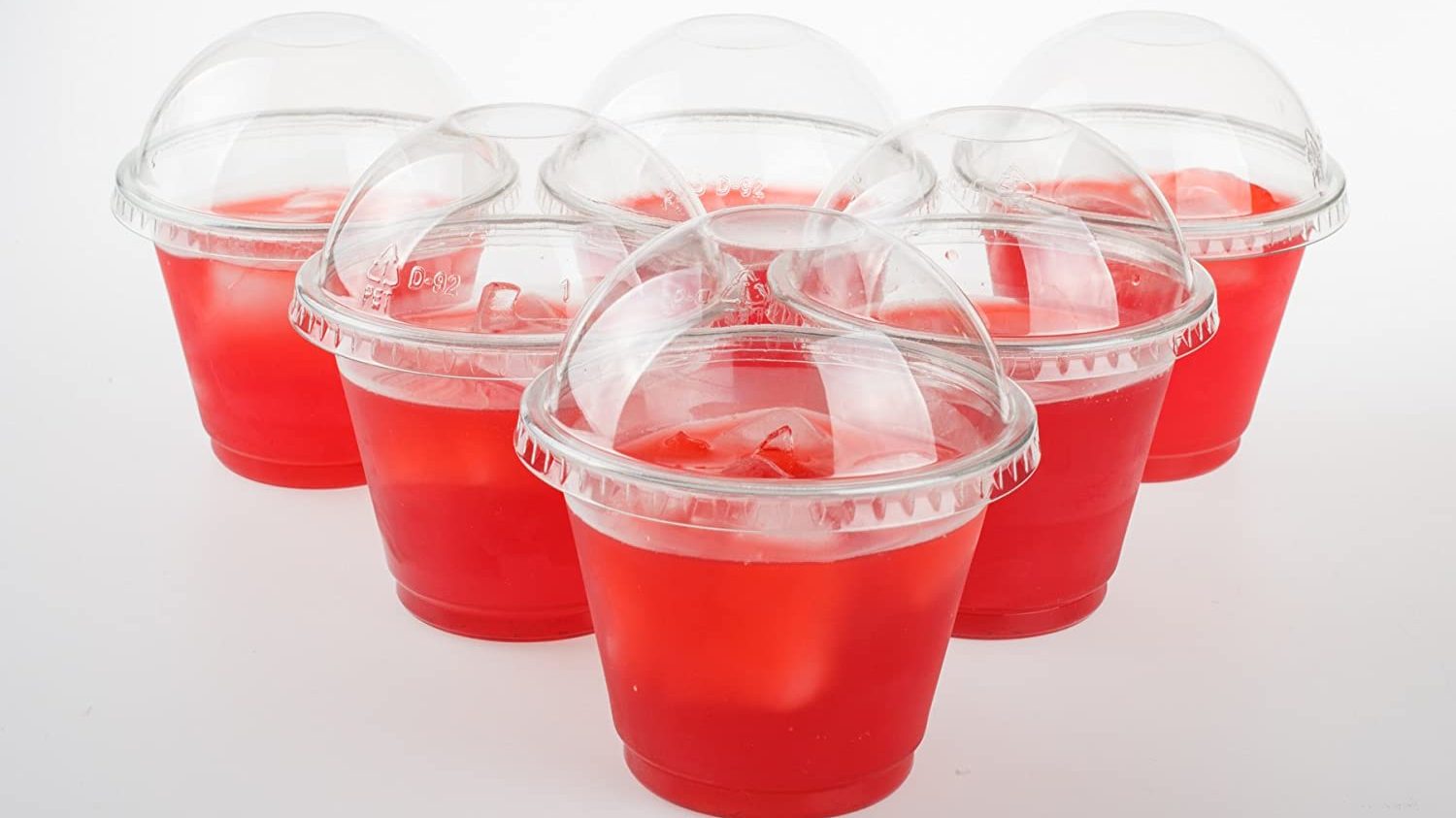 Nine ounces seems to be the preferred size for desserts, as it's arguably the most popular. Plus, you know it won't make you overly full but will be enough to sustain you. The GOLDEN APPLE 9 oz-25sets Clear Plastic Cups come with dome lids with no holes. You'll be able to showcase your foods and beverages on the go with the clear plastic. Great for kiosks, concession stands, or brunch buffets, the design is great for a variety of snacks. The rolled rim provides a comfortable eating and drinking experience and ensures a secure fit for the lids. You also will have an easier time holding it from the rim, as it fits nicely in your hand. With this pack, you'll receive 25 of them but you can also order a pack of 50 if that would better suit your needs. These do not absorb liquids and they won't crack easily.
GOLDEN APPLE, 9oz-25sets. Clear Plastic Cups with no holes Dome lids, BPA Free
Price:
$11.58 ($0.39 / Count)
Available from Amazon, BGR may receive a commission
Best Cups with a Holed Lid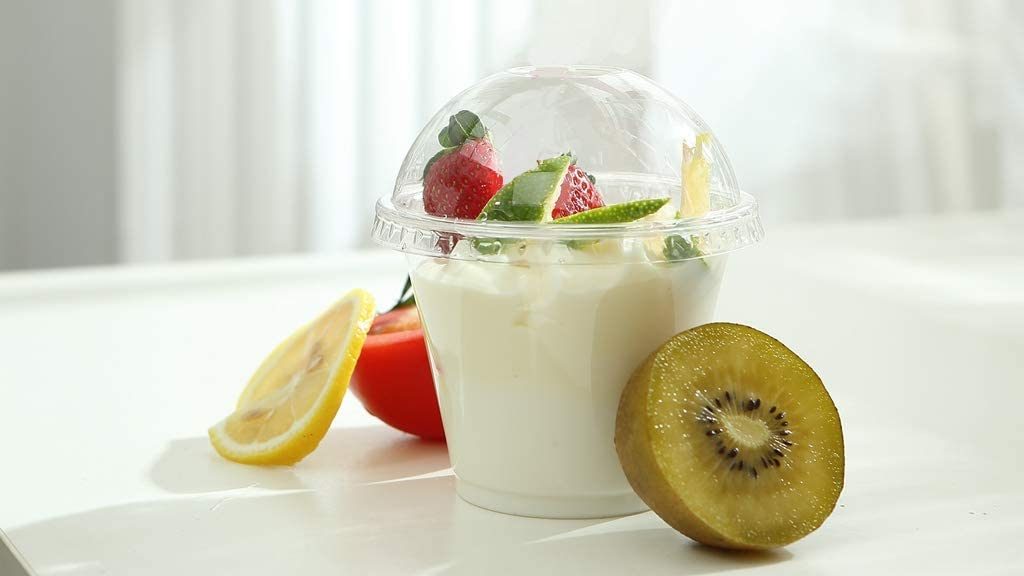 Perfect for sticking a straw in, the Tashibox 9 Ounce 100 Pack Plastic Cocktail Glasses with Lids can be used for drinking or eating. They are crystal clear and disposable, so you don't have to reuse them. You'll get 100 cups and 100 lids that are made from 100% BPA-free plastic material that's durable. It's a quality size that's not overly huge. The lids have holes in them, so you can keep spoons or straws in them for your guests to grab. The rolled wall rim gives it an upscale feel in your hands. Each one is 3.6″ in diameter on the top and 2.2″ in diameter on the bottom.
TashiBox 9 Ounce -100 Pack plastic cups with dome lids | Plastic Cocktail Glasses with lids | P…
List Price:
$20.99
Price:
$19.99 ($0.02 / Ounce)
You Save:
$1.00 (5%)
Available from Amazon, BGR may receive a commission
Best Souffle Cups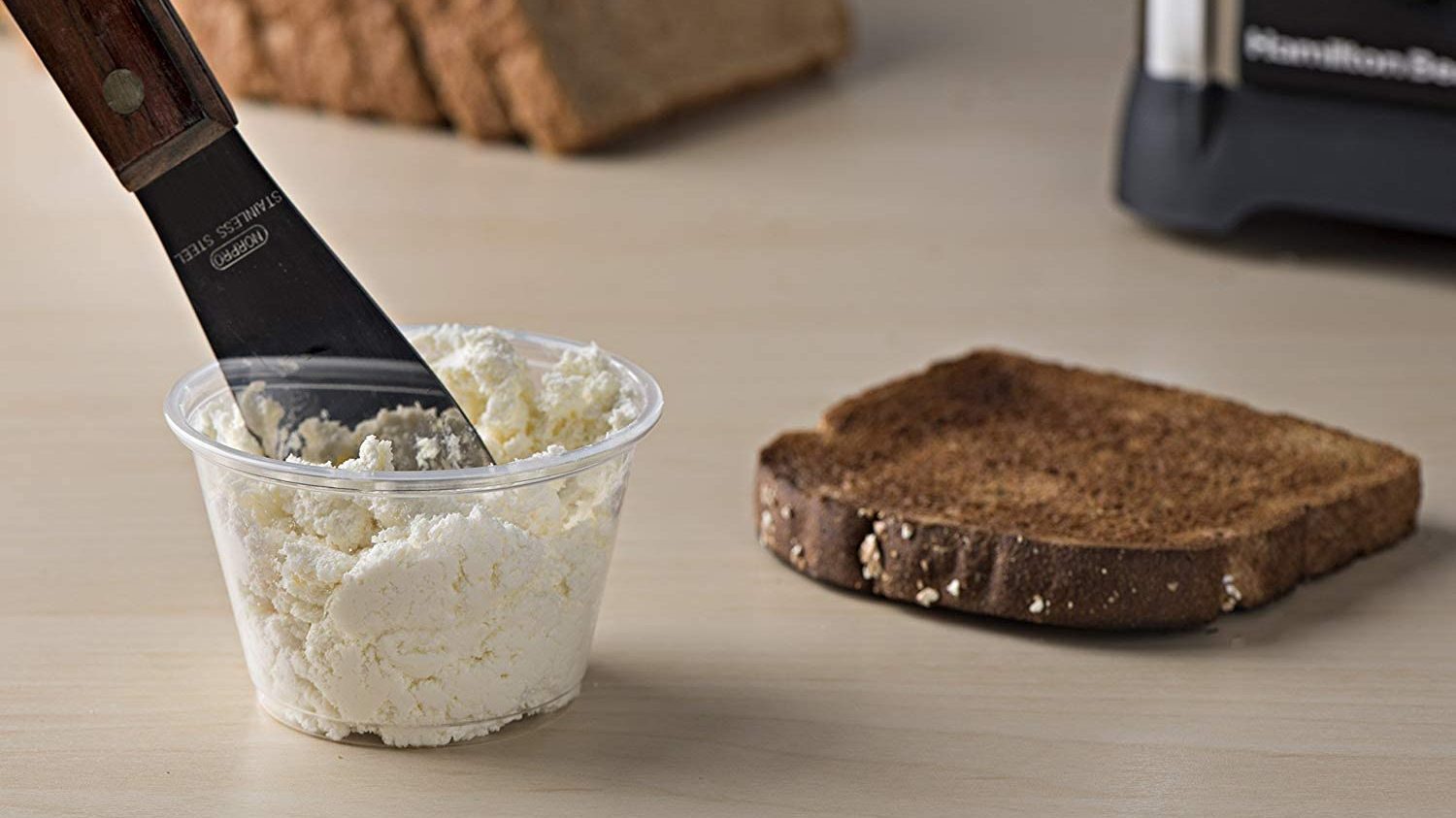 Giving you a more portion-controlled approach to desserts is the Comfy Package 200 Sets 4 oz. Plastic Disposable Portion Cups. They are made from durable and crack-resistant polypropylene along with airtight lids that seal in the freshness. You can use these four-ounce cups for condiments, dipping sauces, but they are also the perfect size for souffles. You'll receive 200 of them in this set and they can be thrown out after each use. They are stackable, so storing them in your home won't be too much of a hassle.
[200 Sets - 4 oz.] Plastic Disposable Portion Cups with Lids, Souffle Cups, Jello Cups
Price:
$20.99
Available from Amazon, BGR may receive a commission
Best Glass Bowls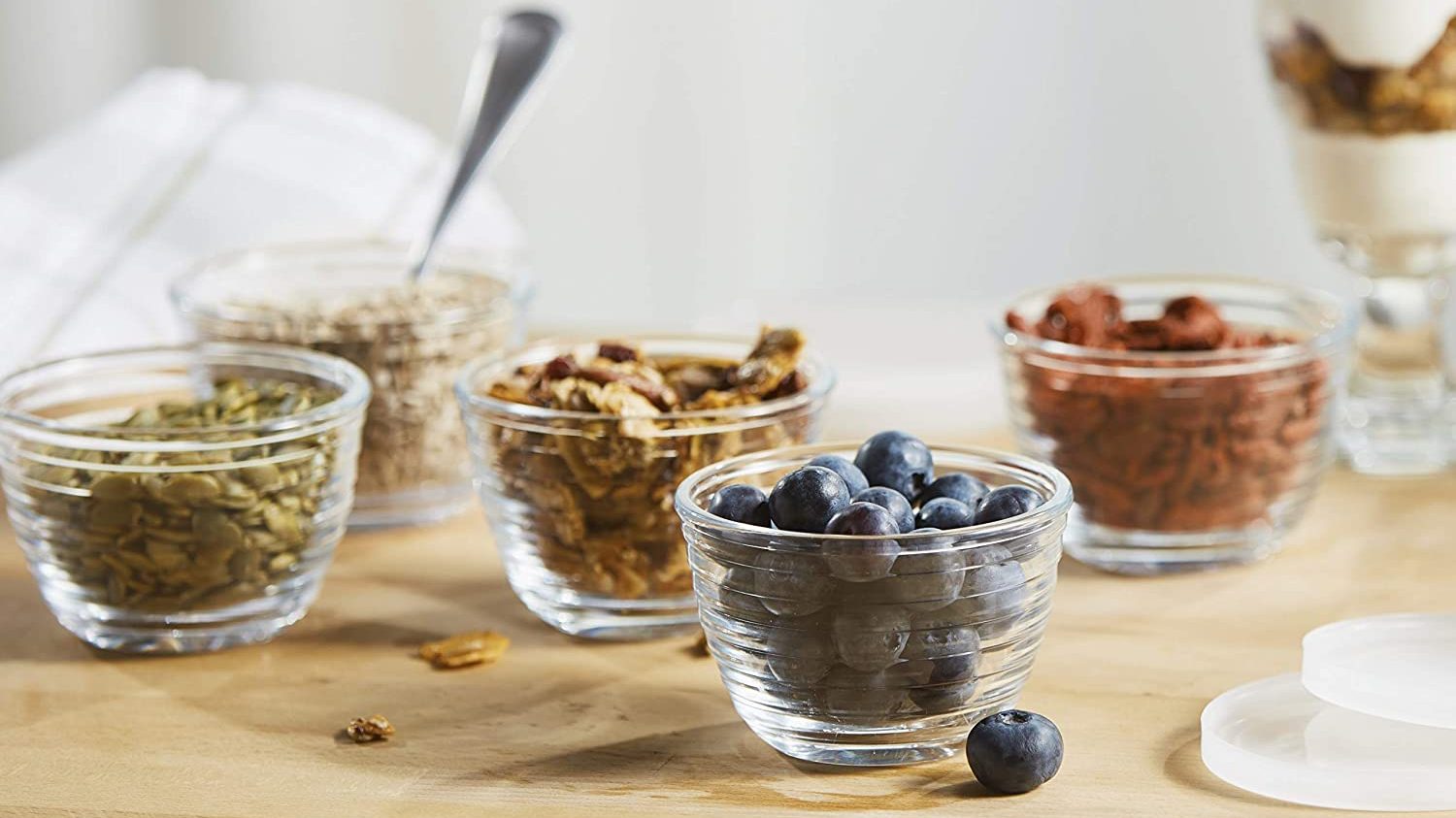 Portioning out desserts can be tough but utilizing the versatile Libbey Small Glass Bowls makes it a lot easier. This is great to use for any type of display you may be putting out, as you'll receive eight bowls for your home. This mature bowl set will keep your food looking enticing and can be held in your hand to eat out of. They hold 6.25 ounces of food and are an aid for meal prepping. These glass bowls come with plastic lids and are completely lead-free. They are durable and can be washed in the dishwasher for simple cleaning.
Libbey Small Glass Bowls with Lids, 6.25 ounce, Set of 8, Clear, 3.45-inch -
Price:
$20.02 ($2.50 / Count)
Available from Amazon, BGR may receive a commission
Best Value Cups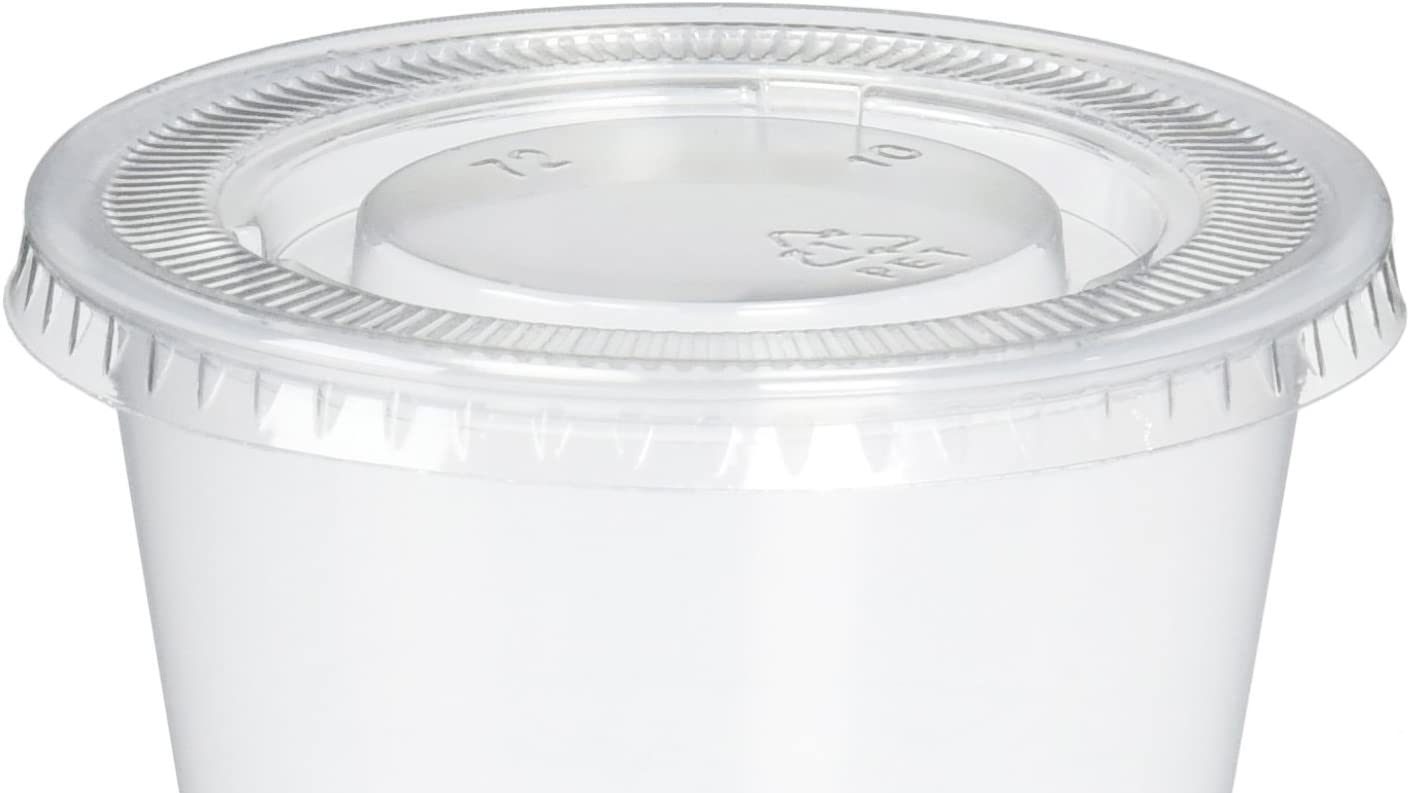 If you're looking for a bang-for-your-buck purchase for quality and quantity, you'll be hard-pressed to find a better deal than the Reditainer Plastic Disposable Portion Cups. This comes in a pack of 100 5.5-ounce cups which can be used for many different tasks. They also come with 100 lids and are made from recycled no.5 polypropylene. These are durable and reusable, or you can dispose of them if you like. If you do want to wash them out, you should hand wash them only. The clear color allows you to see what is inside at all times.
Reditainer Plastic Disposable Portion Cups, 5.5-Ounce, Pack of 100
Price:
$18.95 ($0.19 / Count)
Available from Amazon, BGR may receive a commission