If you purchase an independently reviewed product or service through a link on our website, we may receive an affiliate commission.
Being able to sit out on your deck is one of the great luxuries about owning a home that has one. When it's nice outside, it's the perfect place to eat, read, nap, work, take a phone call, or just sit. You can put out lounger chairs, table chairs, umbrellas, and all other kinds of decorations to personalize your deck more. Another way to decorate your deck is by adding flowers to the landscape. Having large pots is a popular choice and taller plants often add to the lovely ambiance. But a deck rail planter allows you to line your deck with plants and inject some more color to your eyesight. Planters that can sit or hang on your deck rail free up more space on the deck itself and are a great touch for more decor. If this is something you've been thinking about adding to your deck, then we've got you covered. Below, we've laid out some handpicked selections to help transform your backyard even more. Here are our picks for the best deck rail planters.
For a distressed look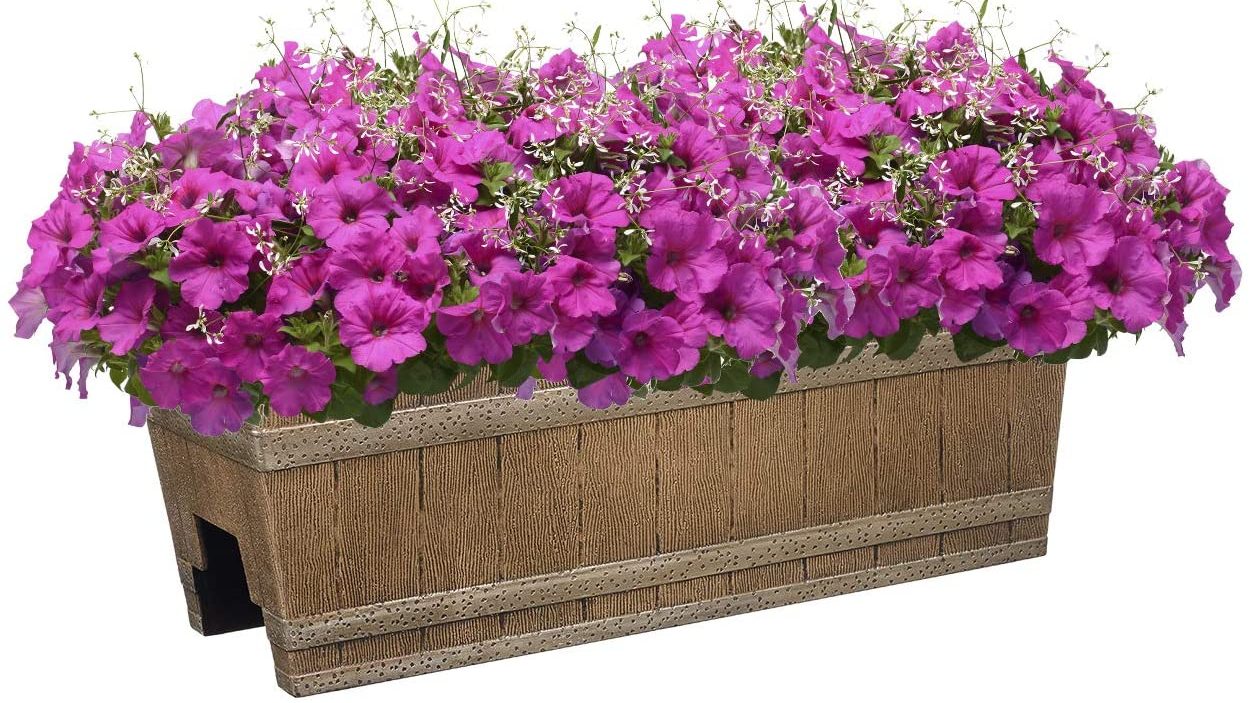 With a style that will never look out of place, the Classic Home and Garden Jameson Planters 24″ Deck Rail will fit in. This will cover two feet of your railings and the classic whiskey barrel planter provides a nice touch. This has a distressed oak finish with antique pewter colored bands. There is a UV coated finish that will protect the color from fading. It is lightweight and durable, thanks to the high density resin construction. It is built with drainage holes, so you don't have to worry about picking it up to drain each and every day.
Key Features:
Distressed oak finish
UV coated finish that will protect from fading
Built with drainage holes
Classic Home and Garden 1073D-265R Jameson planters, 24" - Deck Rail, Distressed Oak
Price:
$107.99
Available from Amazon, BGR may receive a commission
Match your outdoor setup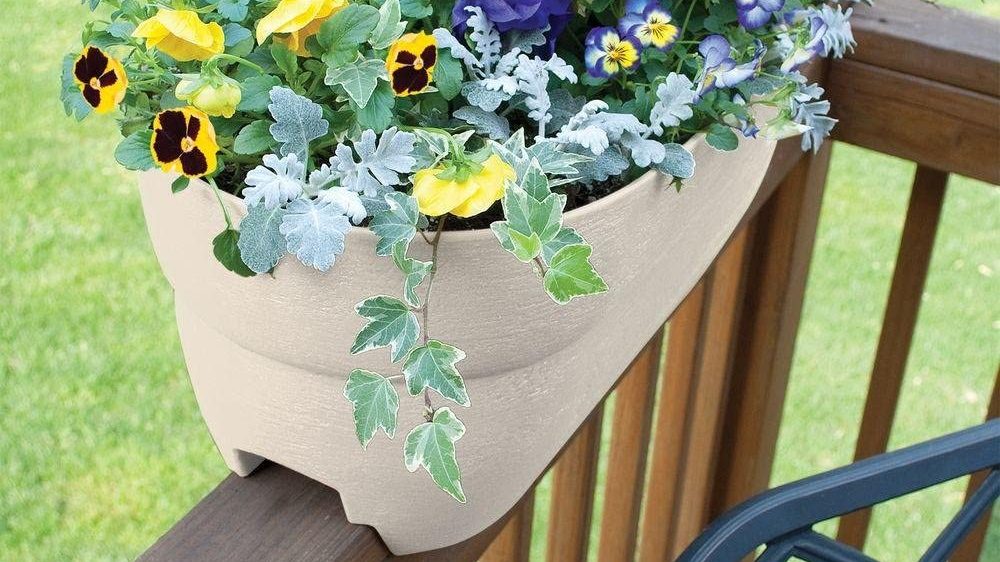 Choose between the 11 different color options offered for the Emsco Group Rail Planter to best fit your deck. You can pick between cobalt blue, earth brown, black, brown, green, red, sand, terracotta, terra cotta, white, and orchid purple. This planter will fit railings that are either 1.25″ or 3″ wide and it comes with fasteners to secure it. It runs 24″ in length, allowing you to have a generous amount of space to plant. Made from durable, weatherproof resin, this will be fine to leave out in the summer or winter. It has drainage holes on the bottom to help drain and deliver oxygen to the roots.
Key Features:
11 different color options
Fits railings between 1.25″ and 3″
Made from durable weatherproof resin
Bloomers Railing Planter with Drainage Holes – 24" Weatherproof Resin Planter – White
Price:
Available from Amazon, BGR may receive a commission
Cover more area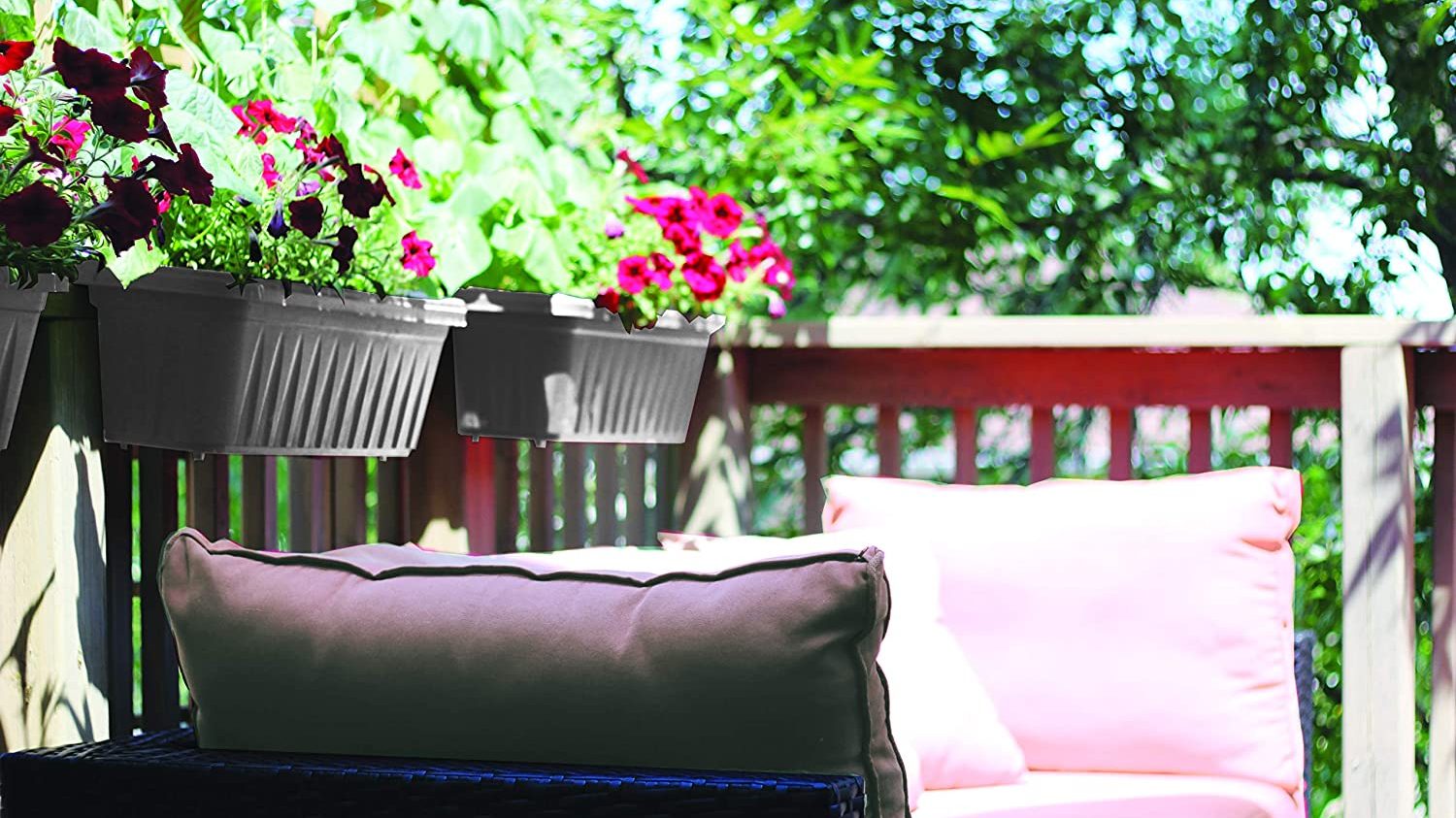 By installing the Apollo Exports International Adjustable Railing Planter, you'll be able to choose just how much railing you want to cover. This has triple arms and dual supporting brackets that will fit on any sized deck between 1″ and 4″ wide. This will even work on fences that are made from chain link, wrought iron, composite, or standard wood. The planter arms are adjustable and the lower stabilizing arm keeps the planter perfectly level. It measures up to 32″ and can hold up to six cups of water in the water reservoir. There is a hidden tray that separates plants from the reservoir, along with slits that let the roots reach the reservoir. You can choose between green, white, terracotta, driftwood, and black.
Key Features:
Measures up to 32″
Adjustable arms
Hidden tray to separate plants from water reservoir
Apollo Exports International AP-302WH 32" Adjustable Railing Planter, White
Price:
$39.90
Available from Amazon, BGR may receive a commission
Add some height to your rail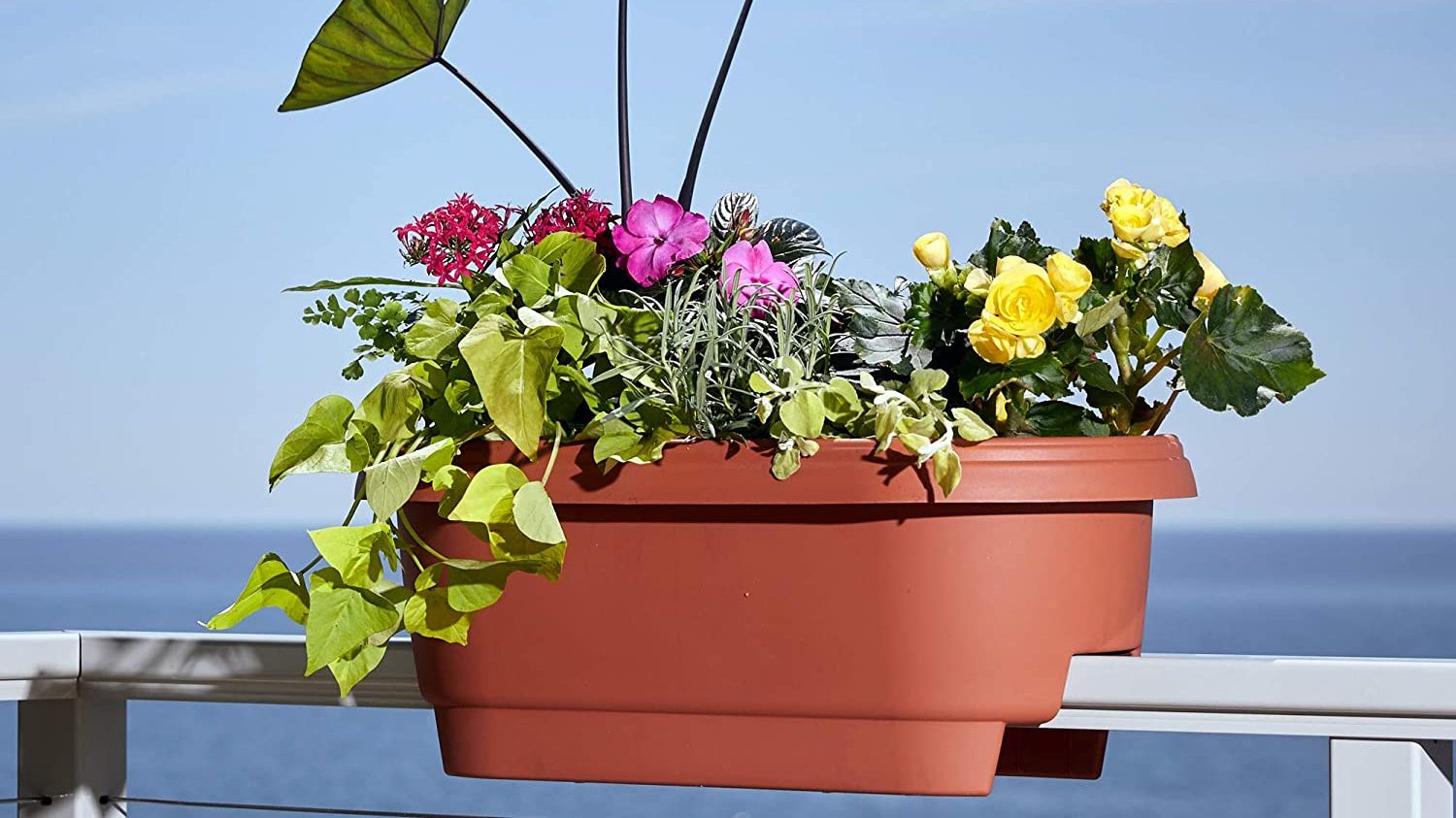 Boosting your plants up so more people can enjoy them is made easy with the Bloem Deck Balcony Rail Planter. This holds up to four gallons and measures 24″ x 9″ x 12″. It has a UV stabilized plastic construction that is fade-resistant and will last for many years. This features optional punch-out drainage holes and will fit rails between 3.75″ and 5.5″ wide. If you have smaller rails, it is recommended to use zip ties to secure it.
Key Features:
Holds up to four gallons
UV stabilized plastic construction
Optional punch-out drainage holes
Bloem Fiskars 477241-1001 Deck Rail Planter Box, 24-Inch, Color Clay, Terra Cotta
List Price:
$24.92
Price:
$14.99
You Save:
$9.93 (40%)
Available from Amazon, BGR may receive a commission
Fit almost any rail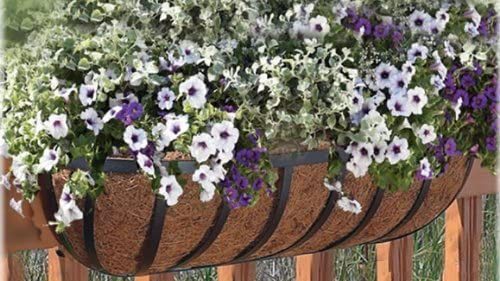 Thanks to the ability to fit many widths, the CobraCo HTR24-B 24-Inch English Horse Trough Planter is a superior choice for this style. This measures 24″ x 8″ x 7″ and has adjustable brackets that mount on railings between 2″ and 6″ in width. This has an attractive black finish and it is supported to be placed onto the side of your railings. This will also work under windowsills or walls.
Key Features:
Horse trough style
Mounts on railings between 2″ and 6″
Attractive black finish
Price:
Available from Amazon, BGR may receive a commission