If you purchase an independently reviewed product or service through a link on our website, we may receive an affiliate commission.
Unless you're intentionally making an iced coffee, cold coffee is, well, actually rather disgusting. This, of course, has plenty to do with the fact that it is, more likely than not, also quite stale, but there's just something about unintentionally cold coffee that makes even the most casual of coffee drinkers' skin crawl. You can always keep it in the pot for a while, but this also doesn't necessarily prevent it from going stale over the course of a few hours. Luckily, serving coffee out of an insulated coffee server effectively nips this problem in the bud, so to speak. It also "serves" (no pun intended) as a way to offer your guests coffee in a far less rudimentary manner — aka, not straight out of the pot. A coffee server can come in a number of different ways — an insulated carafe of sorts, a travel-friendly device, or even a large dispenser for events, get-togethers, etc. Here, we'll take a look at all three, so you won't ever find yourself ill-prepared for any sort of caffeine-centric get-together. So without further ado, let's look at some of the best coffee servers to keep your home-brewed java fresh for the long haul.
A carafe is an easy coffee server to use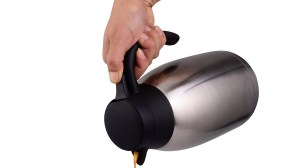 If you're looking for a traditional insulated carafe that's capable of holding a sizable amount of coffee, this 68 Oz Stainless Steel Thermal Coffee Carafe by Cresimo is an excellent choice. Really, if that's all you're looking for, it's the only choice. Made with high-quality stainless steel, this carafe utilizes vacuum insulation technology to lock in temperature and better preserve flavor and freshness. It can keep hot beverages hot for up to 12 hours and cold beverages cold for up to 24. The device also contains an easy-to-reach push button to open the pour spout, allowing you to effectively serve coffee with one hand. And from a convenience standpoint, you're not going to get much better than this. The Cresimo's mouth opening is sizable enough to make both filling and cleaning it easy and hassle-free.
Key Features
Insulated and locks in temperatures
Keeps hot beverages hot for up to 12 hours
Easy-to-reach push button to open the spout
Cresimo 68 Oz Stainless Steel Thermal Coffee Carafe / Double Walled Vacuum Flask / 12 Hour Heat…
Price:
$25.95
Available from Amazon, BGR may receive a commission
Have enough coffee for your event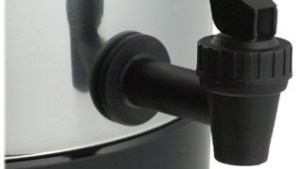 Now you might want to opt for something a bit larger when it comes to events — whether it's a work-related function, birthday party, or even just a brunch you're hosting amongst friends. In this case, the Hamilton Beach 45 Cup Coffee Urn and Hot Beverage Dispenser will do the trick. This device can actually brew the coffee too, but unlike some of the other urns out there, it's super fast — it takes about a minute to brew per cup. It can hold up to 45 cups of coffee, but you can make as little as 15 if you wish. It's pretty great for any buffet-style meal/luncheon. From a serving standpoint, the dispenser can be used for either single cup or continuous filling, allowing you and your guests to pretty much dictate how much they want. It's also super easy to fill (there are water level markings that tell you exactly how much water to add) and it even comes with a convenient indicator light to let you know when your coffee is ready. So, yeah, it's pretty great for all parties involved here.
Key Features:
Holds up to 45 cups of coffee
Can be used for single cup or continuous filling
Convenient indicator light
Hamilton Beach 45 Cup Coffee Urn and Hot Beverage Dispenser, Silver
Price:
$54.99
Available from Amazon, BGR may receive a commission
Bring this coffee server with you
For something a bit more road-friendly — vacations, work-related travel, camping, etc. — the Zojirushi Stainless Steel Vacuum Carafe is actually a great portable iteration of the classic coffee carafe. This one is a little smaller than the Cresimo coffee carafe, as it can hold up to 33 ounces of java as opposed to 68. However, that's still good for a little more than a few cups and you can get different versions. This carafe is designed to be used on-the-go, as it features a wide mouth sealed lid, which makes it easy to throw in a book bag or suitcase. It's also made out of high-quality stainless steel with ultra-durable, vacuum liner construction, making it strong enough to bring virtually anywhere, as well as providing you with advanced heat retention. It might not be the biggest server out there, but for any activity where you're traveling around, it's essentially a luxury, to say the least.
Key Features:
Wide mouth sealed lid
Comes in multiple sizes
Vacuum liner construction
Zojirushi SH-HC10AD Stainless Steel Vacuum Carafe, 1-Liter, Matte Navy
Price:
$42.43
Available from Amazon, BGR may receive a commission
Make different coffee in here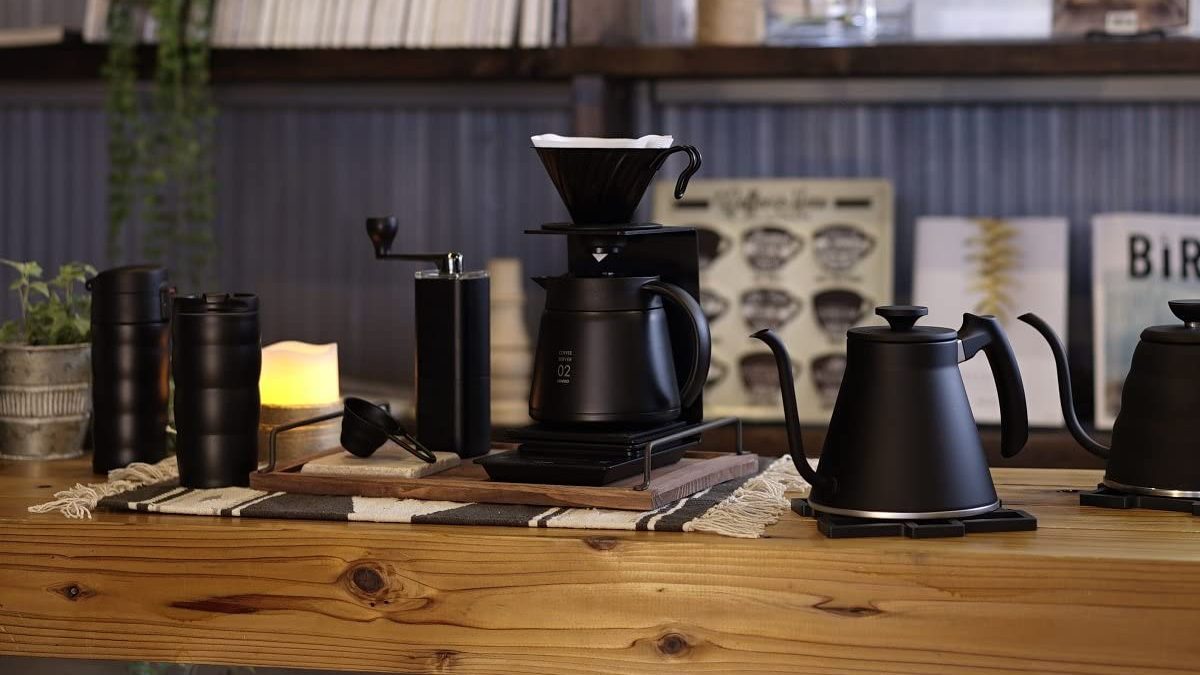 The HARIO Double Vacuum Structure comes in either 600ml or 800ml sizing. You can make pour over coffee, regular coffee, or other kinds of beverages in this. The jug is made of steel and plastic and will make sure your coffee doesn't go cold quickly. This is fully compatible with the HARIO V60 dripper but should not be used in the microwave. The cap closes tightly, so it won't drip. You can press a button to open the spout, so even if you tilt it by accident, it won't spill. This comes in three color options too.
Key Features:
Makes regular, pour over, and other kinds of coffee
Cap closes tightly
Spout won't open unless the button is pushed
Hario VHS-60B Vacuum Insulated Metal Server, 600ml, Black
Price:
$29.85
Available from Amazon, BGR may receive a commission
Find the color for you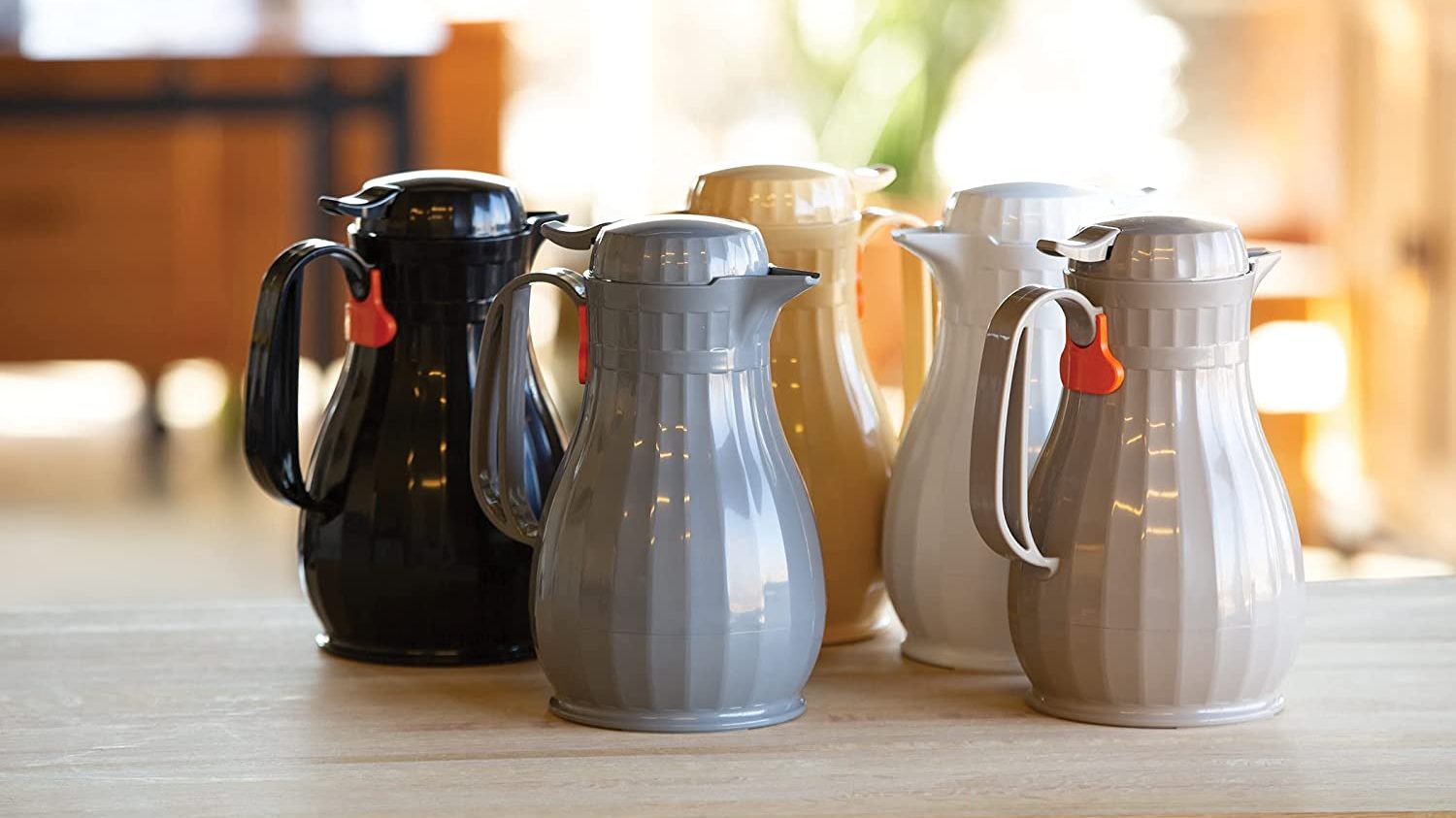 The Service Ideas ECO13 Eco-Serv Carafe will fit in nicely in your home. This features a push button lid and has a durable ABS plastic construction. It is BPA-free and is offered in five different colors: white, slate gray, latte brown, butterscotch, and brown. It will hold your temperature for up to three hours and it has a snap-on decaf indicator, so your guests will know which one is holding which coffee. You can toss it in the dishwasher to clean it.
Key Features:
BPA-free
Five color options
Snap-on decaf indicator
Service Ideas ECO13WH Eco-Serv Carafe, 44 oz, White
List Price:
$21.00
Price:
$12.88
You Save:
$8.12 (39%)
Available from Amazon, BGR may receive a commission