If you purchase an independently reviewed product or service through a link on our website, we may receive an affiliate commission.
There are plenty of jobs that require you to be up and moving around most of the day. If you have certain things that you have to accomplish each day, you know there's probably a list that has everything written out. Being able to work through that list gives you a sense of completion, especially if it's a checklist that you need to turn in to your boss. The easiest way for you to be able to write on the move is by using a clipboard. A clipboard allows you to carry around important paperwork with you as you walk around your job. Many people find a clipboard to be an extremely useful tool to have at their job. But not all clipboards are the same, so which one should you be buying? If you're in charge of purchasing supplies for your work or you need one at home, consider any of the three options we've highlighted below. That way, you'll have a more efficient day when it comes to working through your list.
Best Clipboard Storage Box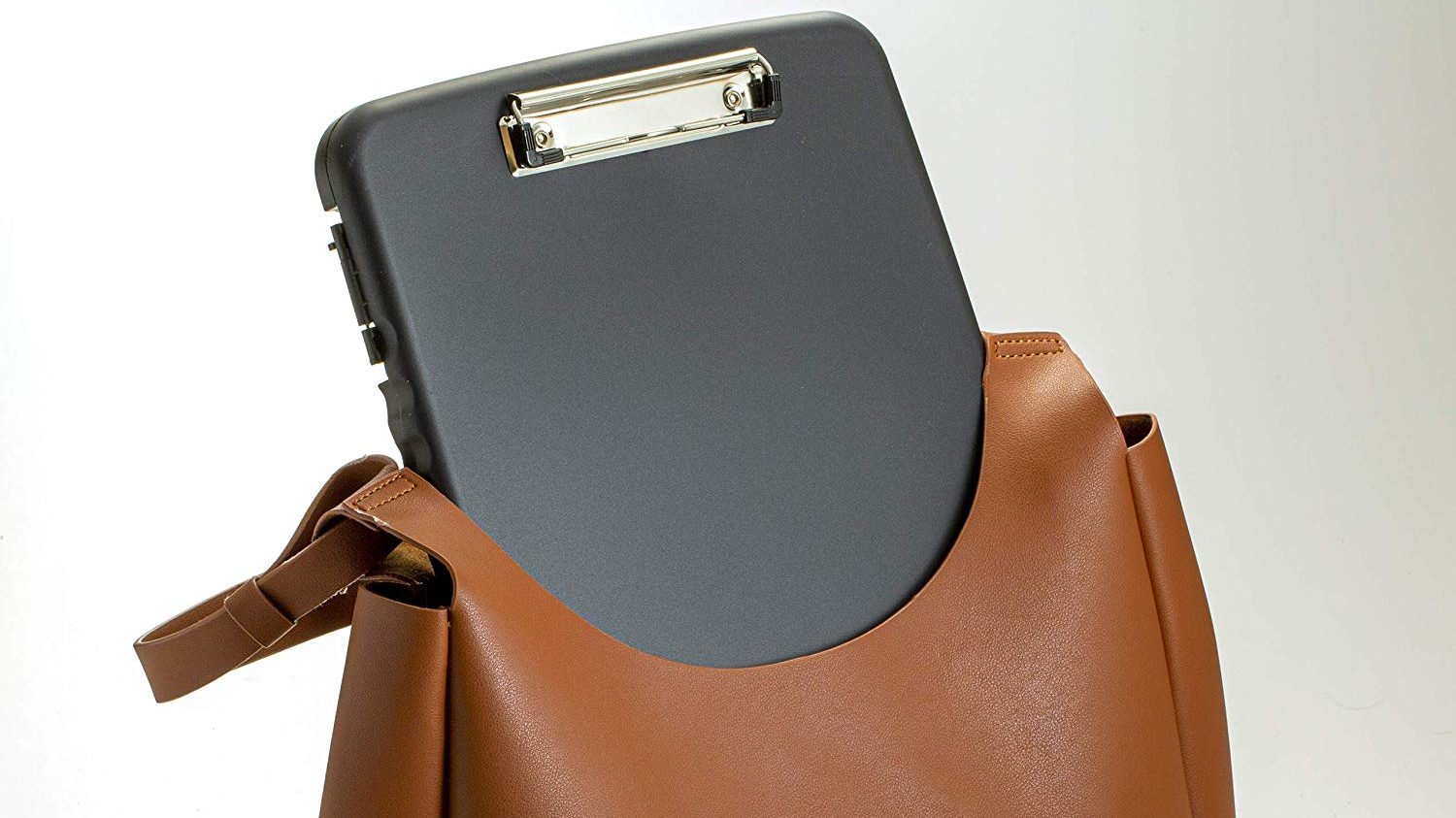 Adding the ability to carry around supplies that you need throughout the day, the Officemate Slim Clipboard Storage Box is a great addition to any office. This is a combination clipboard and storage for pens, pencils, and other small items. There is a low profile metal clip that will hold your papers or notepad that won't protrude outward much. It is slim enough to fit in most briefcases, if you need to bring it back home or bring it from your home to work. This has a removable clip that can be hung, if you want to display what's on your clipboard for the rest of your office to see. The ergonomic hand grips on the side make it easy to carry and it won't bother you if you have to have it in your hands for a long time. This is perfect for anyone on the go. You can get this in charcoal, translucent blue, or translucent purple. The compartment keeps your pens and pencils separate, so you're never without a writing utensil.
OIC® Slim Clipboard Storage Box, 10 1/2"H x 14 1/2"W x 1 1/4"D, Charcoal/Gray
Price:
$16.66
Available from Amazon, BGR may receive a commission
Best Pack of Clipboards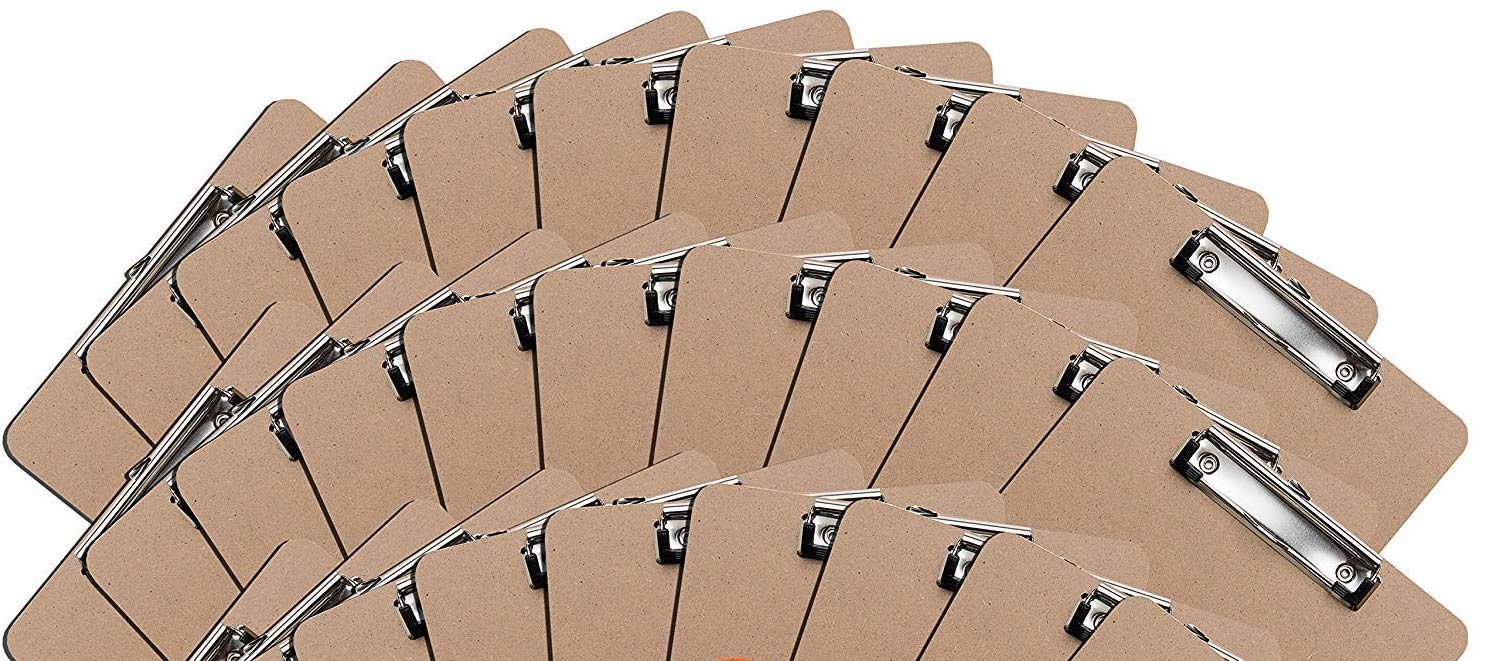 Working at a summer camp or setting up for a Little League program, you're going to want to buy clipboards in bulk for your counselors and coaches. The Clipboards Set of 30 by Office Solutions Direct is a great purchase. You'll get 30 clipboards and these are eco-friendly. This will last years or you will get your money back. This pack has a lifetime warranty, as they are ultra-smooth, durable and has a quality finish. These have a level of finish that's a step above its competitors and it supports all of your writing needs. Buying in bulk is an extremely cost-effective process, giving you more of your money. There's a retractable hanging loop that makes displaying your clipboard easier. Each one has a lower profile clip that's equipped with a heavy duty spring to keep your paperwork in place. These clipboards can hold papers that are 9″ x 12.5″ which is common. It can hold up to 100 sheets of paper, giving you a ton of versatility. Each one of these is individually packaged when it ships, protecting them from chipping.
Clipboards (Set of 30) Letter Size Clipboard, Low Profile Clip, Classroom Supplies
Price:
$39.95
Available from Amazon, BGR may receive a commission
Best Budget Clipboard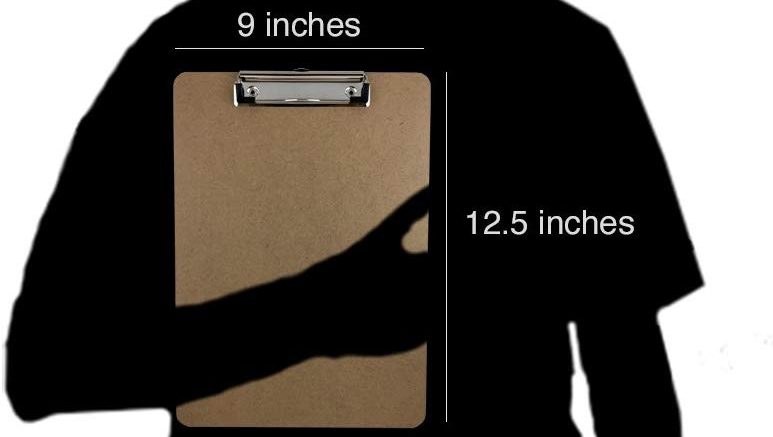 Do you just need something simple to work just for yourself? Pick up the Trade Quest Letter Size Clipboard. This is a solid bang-for-your-buck purchase that you won't be disappointed with. It's durable with a polished, low profile metal clip that has a sturdy, long-lasting spring for extended holding capabilities. The retractable hanging loop helps secure it to the wall for you and your coworkers and it tucks away when you aren't hanging it. It measures 9″ x 12.5″ measuring perfect for letter size paper. This is easy to stack and organize with. It has a smooth finish and rounded edges and corners, so it's not difficult to carry or stand with. The rubberized clip corners have a more secure grip and it will hold between 80 and 100 pieces of paper at a single time. The smooth back rivets won't scratch any surfaces. It only weighs 6.7 ounces on its own, meaning you'll be able to carry it around with you all day and you won't be sick of carrying it.
Trade Quest Letter Size Clipboard Low Profile Clip Hardboard Single (Pack of 1)
Price:
$4.45
Available from Amazon, BGR may receive a commission