If you purchase an independently reviewed product or service through a link on our website, we may receive an affiliate commission.
Sitting down to a delicious meal with your friends or family is always cause for celebration. Being able to share dinner, lunch, or even brunch together can be the social highlight of the week. If you're hosting a get-together, you're probably already thinking about what you're going to serve. No matter what kind of meal it is, you may need to cut your main course in order for everyone to enjoy it. A lot of the times, a carving knife would certainly come in handy. There are many different types of carving knives for various foods that you can use. If you're looking to have one for every type of meal you're serving, take a look at our list and picks for the best carving knives on the market. That way, you'll be prepared when everyone is sitting down to enjoy the meal together.
Best Granton Blade Carving Knife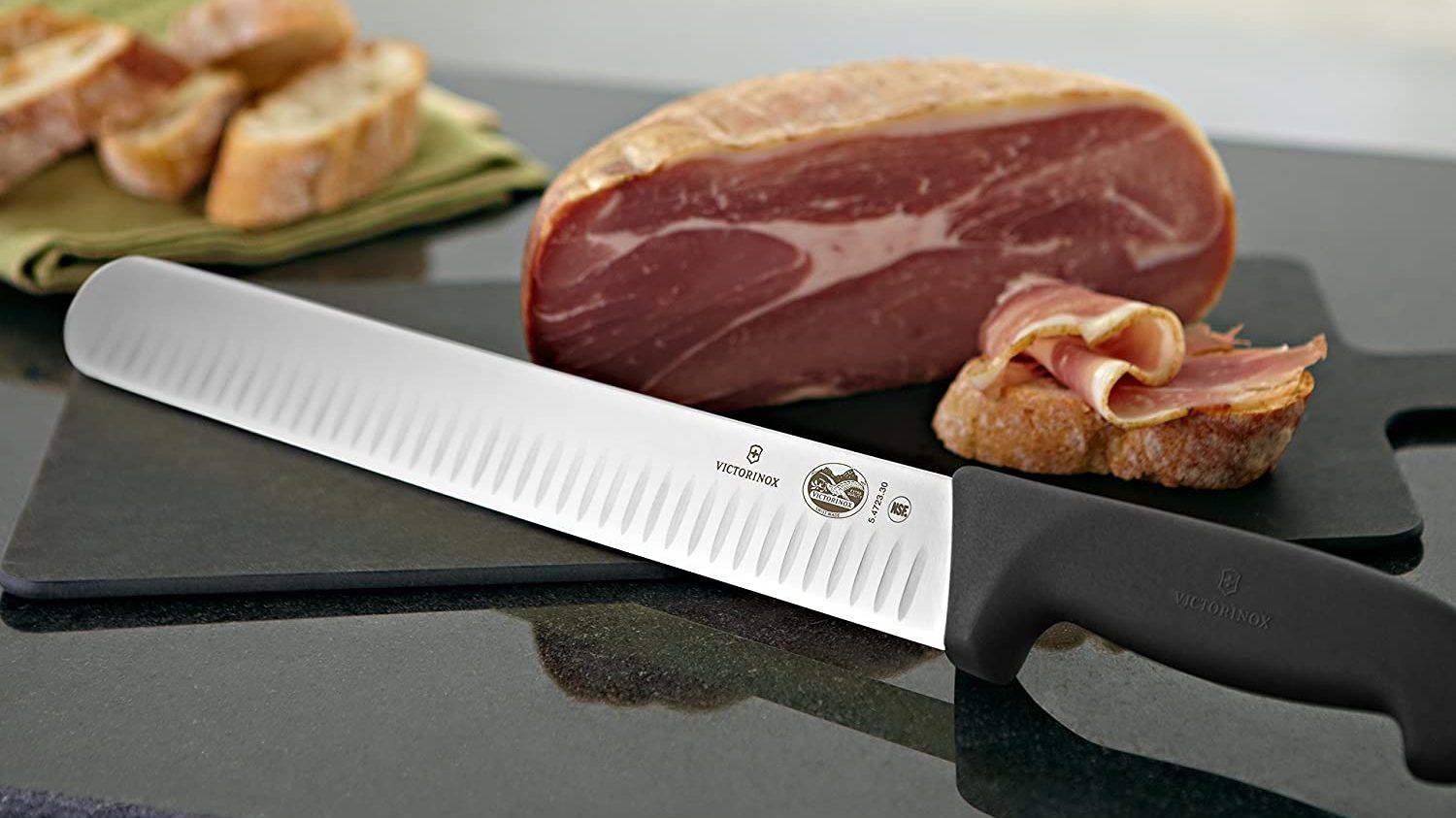 A granton blade has indentations in the blade with a straight edge typically and it is a great knife for carving, like the Victorinox Swiss Army Cutlery Fibrox Pro Slicing Knife, Granton Blade. This is a 12-inch knife that is versatile but essential to have in your kitchen. It is crafted with a round tip for additional safety measures. The granton blade creates air pockets to minimize friction and improve meat separation. The razor sharp edge and long, narrow shape help you slice through meats in a smooth motion. The blade is made from high-carbon stainless steel, so it won't rust even after repeated use. The Fibrox Pro ergonomic handle is easy to hold and the weight and balance is exceptional. Victorinox provides a lifetime guarantee because they believe in their product.
Victorinox-Swiss-Army- 47645 Cutlery Fibrox Pro Slicing Knife, Granton Blade, Black, 12-Inch
Price:
$49.70
Available from Amazon, BGR may receive a commission
Best Salmon Carving Knife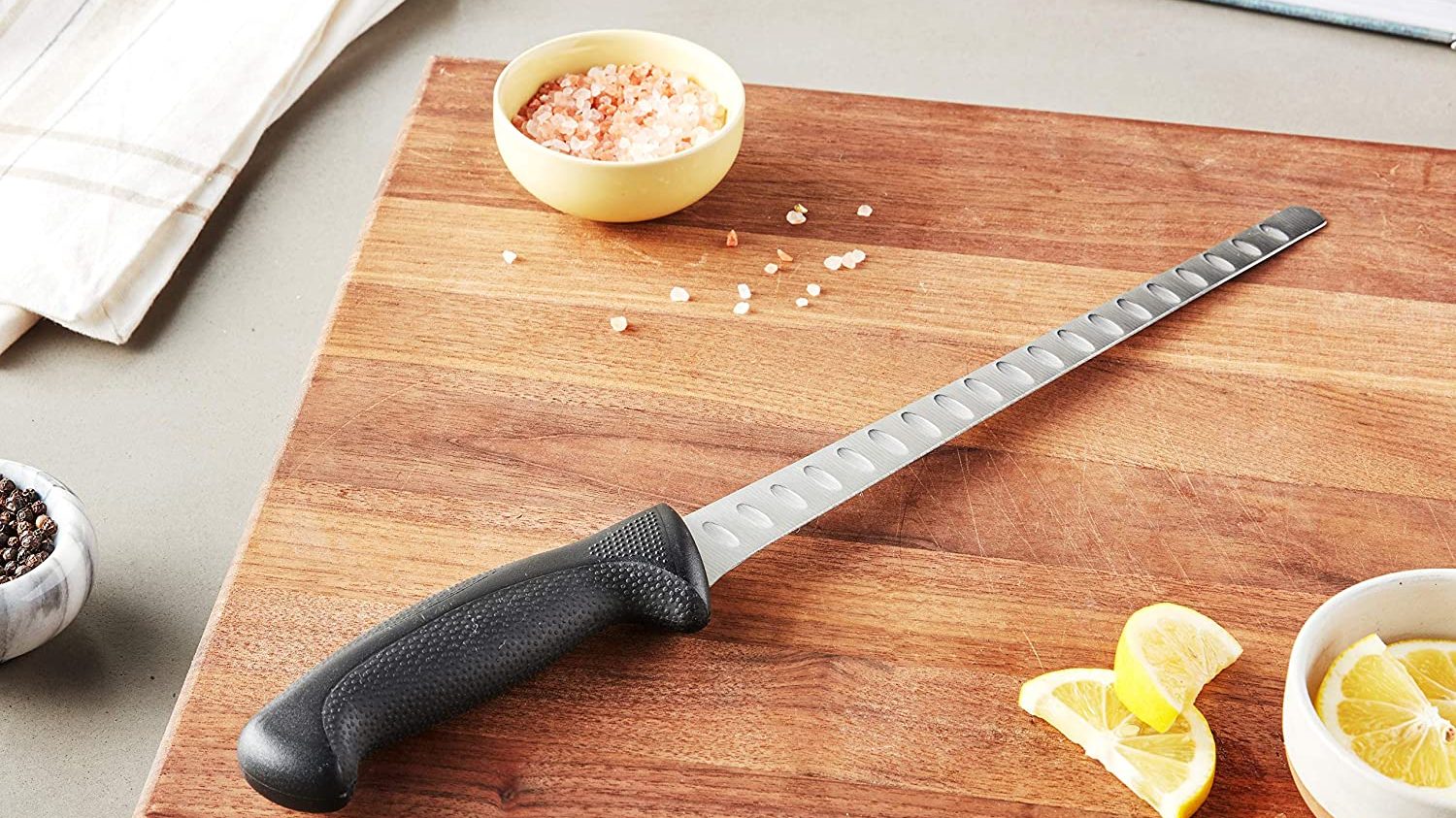 Salmon is a more delicate food to have to carve through, which is why you need a thinner blade like the Mercer Culinary M23010 Millennia 10.3-Inch Granton Edge Salmon Slicer. The next time you're serving lox and bagels for brunch, you need a salmon slicer. This has an ergonomic handle made from Santoprene and polypropylene. The textured finger points provide slip resistance for grip and safety and there's a protective finger guard to keep your fingers safe. This is made from one piece of high quality Japanese steel and you can sharpen it for easy blade maintenance. This is backed by a limited lifetime warranty.
Mercer Culinary M23010 Millennia Black Handle, 10.3-Inch Granton Edge, Salmon, Slicer
List Price:
$29.00
Price:
$18.49
You Save:
$10.51 (36%)
Available from Amazon, BGR may receive a commission
Best Pakkawood Handle Carving Knife
For a smooth grip that's also robust, check out the TUO Cutlery Slicing Carving Knife. This meat knife has an ergonomic pakkawood handle that's elegant and securely comfortable. The sharp blade is angled at 15 degrees, which provides minimal resistance when slicing. This 12-inch flexible blade is great for de-boning, butterflying, trimming, slicing, and carving. It's made from German steel and is wear-, rust-, and corrosion-resistant. This can cut meats, fruits, vegetables, and even bread. If you aren't satisfied in any way, you can get a full refund.
TUO Slicing Knife 12 inch - Granton Carving Knives Hollow Ground Meat Cutting Knife Kitchen Lon…
Price:
$42.95
Available from Amazon, BGR may receive a commission
Best Sushi Knife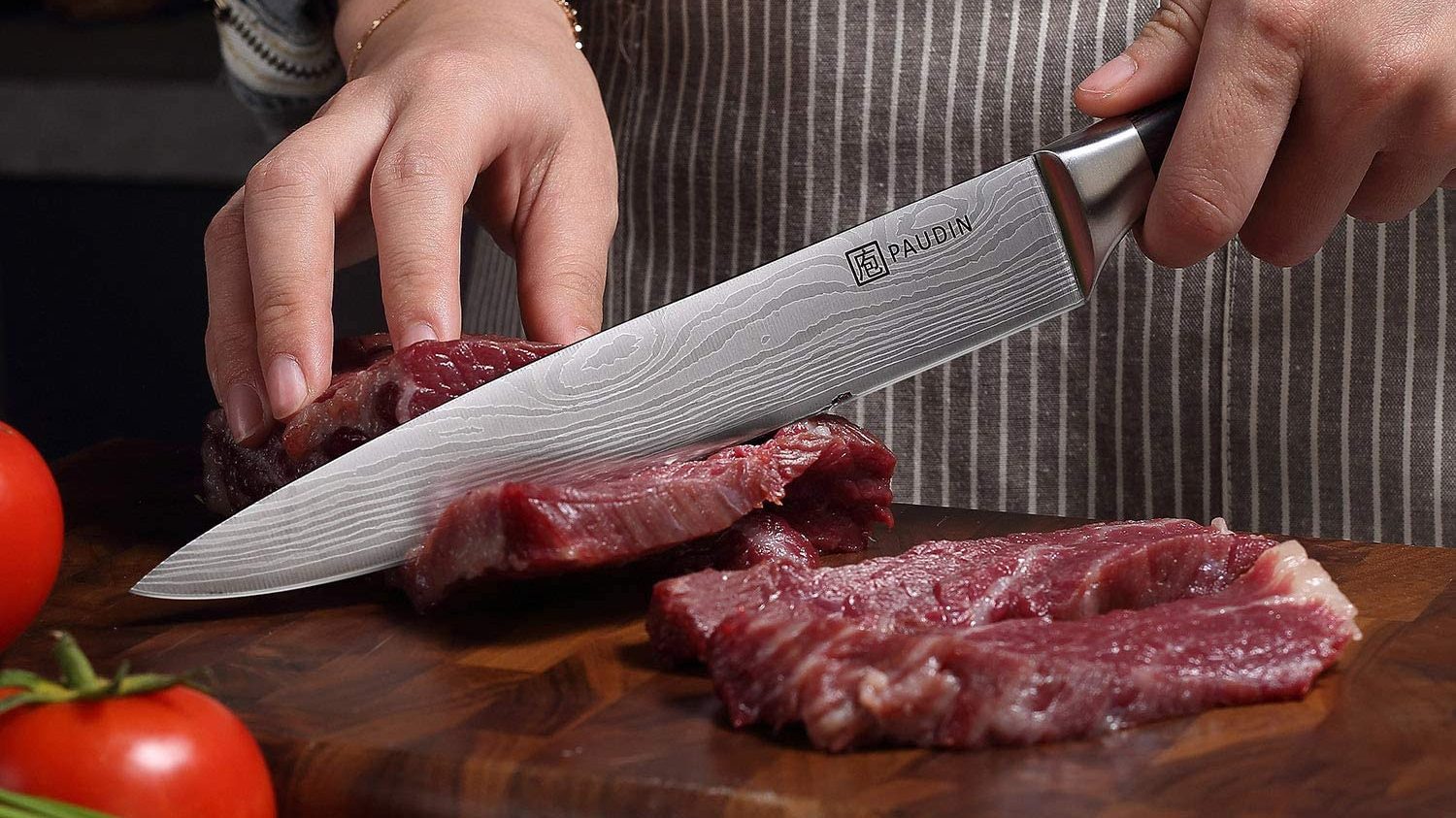 Making sushi at home can be a fun way to spend an afternoon or evening. For the delicate pieces of rice, seawood, and fish, there's the PAUDIN Razor Sharp Sushi Sashimi Knife. This ultra sharp blade measures 8″ and is angled at 15 degrees per side bevel. The taper-ground edge and perfect balance allows for long-lasting sharpness. This is an extremely efficient knife for chopping and carving, as it can handle many different foods. It features a soft and ergonomic handle for a secure grip and the weight is well-balanced. The blade features a special waved pattern that helps to reduce drag and the amount of food that can stick to the knife. This is also sold with a 100% satisfaction guarantee.
PAUDIN Carving Knife - PAUDIN Razor Sharp Slicing Knife, 8 Inch Sushi Knife, High Carbon Stainl…
Price:
$28.99
Available from Amazon, BGR may receive a commission
Best Carving Knife for Roasts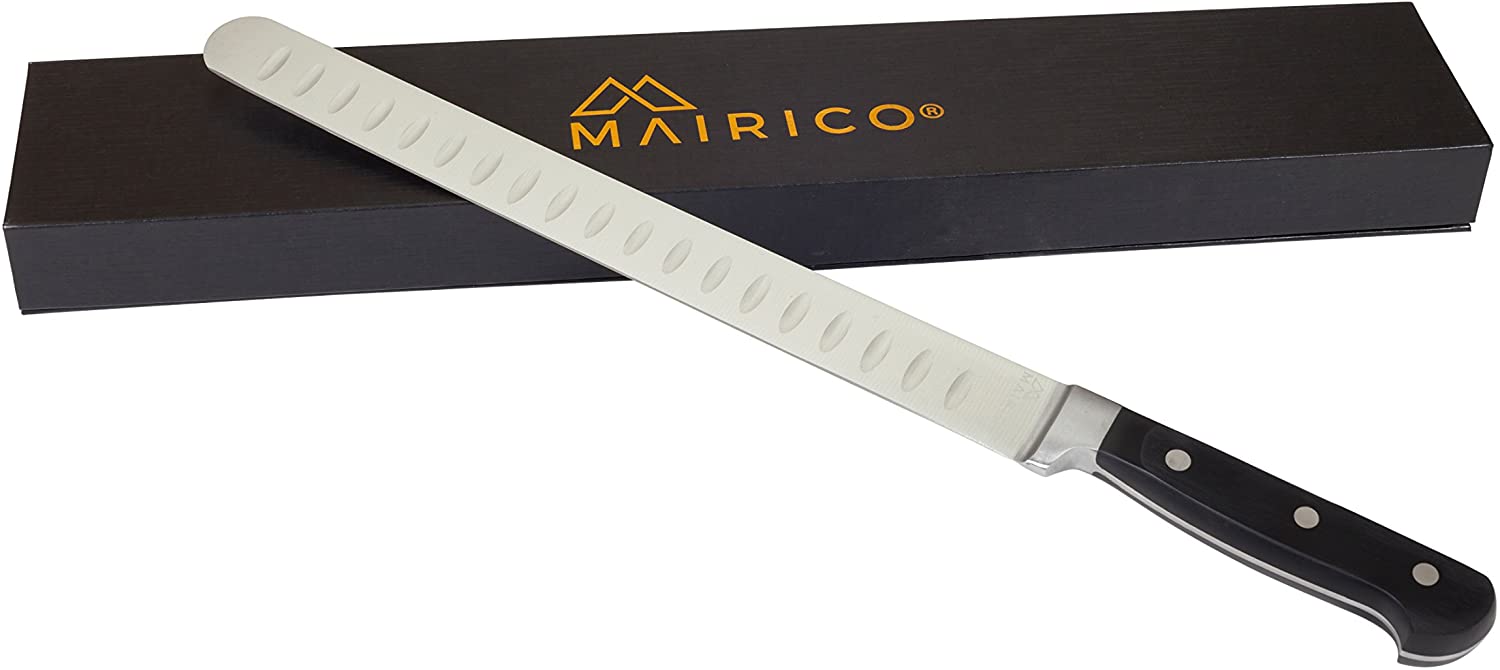 Sunday night is usually a family kind of night and pot roasts are a delicious meal to make for one. When cutting that roast, you can use the MAIRICO Ultra Sharp Premium 11-inch Stainless Steel Carving Knife. This knife is 11″ long and it works well with all kinds of meats, ranging from brisket to pork loins to ham or to a roast. The ergonomic design provides well-balanced weight distribution and and a secure grip, so it feels safe in your hands. The premium stainless steel blade is sharp and engineered to excel. If you aren't happy, you'll receive a full refund.
MAIRICO Ultra Sharp Premium 11-inch Stainless Steel Carving Knife - Ergonomic Design - Best for…
Price:
$25.95
Available from Amazon, BGR may receive a commission