If you purchase an independently reviewed product or service through a link on our website, we may receive an affiliate commission.
Sometimes you just need a change. Giving your house a much needed face lift can be a tough task but home renovations are often something that can really provide a fresh outlook for your home. One of the big changes people often make in their homes is installing carpet. I mean, who wouldn't want to wake up in the morning and not have their feet freezing? With carpet, you'll enjoy that luxury. But it can be extremely costly if you want to pay professionals to put carpet down in your home. You can definitely do it yourself, but you'll need some supplies to help you get the look that you want. Using carpet installation tape will secure it to the floor and keep it from moving around after you lay it. If you aren't sure how to go about picking up supplies, we have you covered. Check out our picks for the best carpet tape on the market and start thinking about how nice the carpet will feel under your feet.
Best Roll of Carpet Tape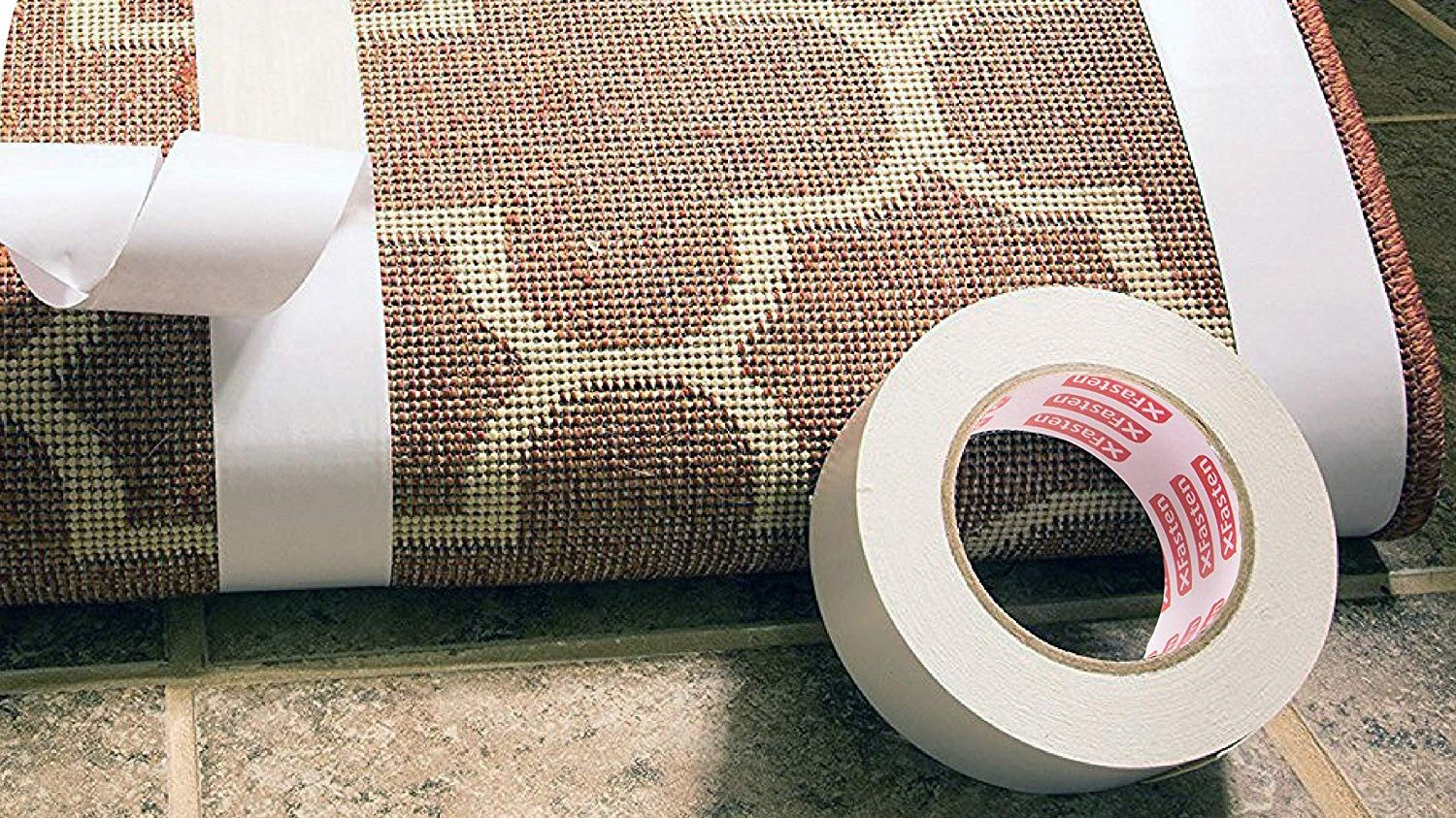 Providing you with plenty of tape to use all over your house, the XFasten Double Sided Carpet Tape is simple to use. This is residue-free, so it won't ruin the bottom of your rug, carpet or the surface of your floor. It's safe to use on hardwood floors. Each piece of tape is 2″ wide and the roll is 30 yards long. You can peel it off by hand, meaning you won't need a scraper. This provides excellent adhesion on both smooth and rough surfaces, allowing you to use it pretty much anywhere in your house. It works for rug to carpet and carpet to floor applications, so you can actually put a rug on your carpet if you'd like to. The high tensile strength will keep the rug in place and holding steadily on your floor. The last thing you ever want when it comes to rugs is for them to be moving around. This tape provides security to kids and the elderly by preventing it from slipping suddenly. This is gentle on your surfaces.
XFasten Double Sided Carpet Tape for Hardwood Floors 2-Inch x 30 Yards Carpet Tape Double Sided…
List Price:
$25.00
Price:
$14.99
You Save:
$10.01 (40%)
Available from Amazon, BGR may receive a commission
Best Rug Grippers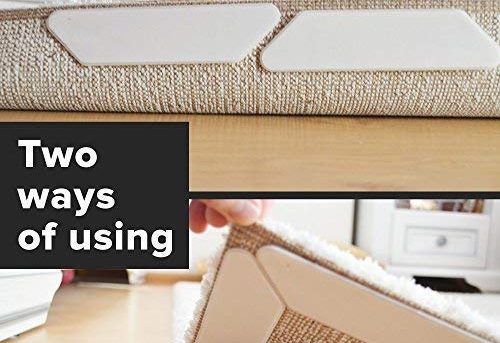 Rather than having to cut the pieces of tape for yourself, get the X-Protector Rug Grippers Premium Carpet Gripper. This will make for flat corners of your rugs, so you can avoid having them slide upward and curl. The rug grippers are only 1/8″ thick and will work with any shape or size of rug. In each pack, you'll get eight pieces that can be used two different ways: either on the same sides of the rug or to make an outline along the corners. It's safe and effective on any kind of surface, including hardwood, tile, and linoleum. The anti-curling grippers are made from premium quality materials and are reusable because of the renewable sticky surface. You can use these again and again. In order to get them back to their original state, you can wipe them with alcohol. This is a U.S. patented product and it is backed by a 100% satisfaction guarantee or you'll get your money back.
Price:
Available from Amazon, BGR may receive a commission
Best Indoor / Outdoor Carpet Tape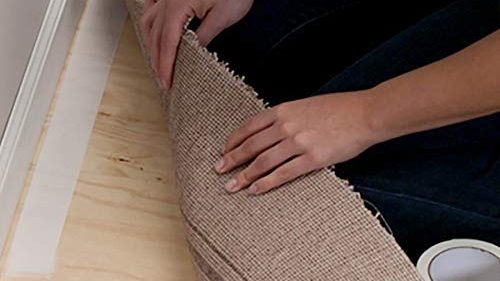 There are plenty of uses for carpets outdoors, especially leading out to a patio or deck area. With the Duck 286373 Indoor / Outdoor Carpet Tape, you'll be able to keep your carpets stationary inside or out. This roll measures 1.41″ wide and it covers 42 feet. This is durable carpet tape for permanent carpet installation, so you won't be able to use this again, like the rug grippers above. This provides strong adhesion on both smooth and rough surfaces. It is extremely durable and flexible, as it's reinforced with fiberglass. The hot melt adhesive keeps it on your surfaces and it can withstand the elements. This is meant for all-weather applications, so it won't matter where you live. The moisture-resistant surface is ideal for bathrooms, basements and decks. You can also get this in different sizes of rolls and Duck makes different kinds of carpet tape, depending on your needs.
Duck Brand 286373 Indoor/Outdoor Carpet Tape, 1.41-Inch x 42 Feet, White
List Price:
$9.99
Price:
$6.12
You Save:
$3.87 (39%)
Available from Amazon, BGR may receive a commission