If you purchase an independently reviewed product or service through a link on our website, we may receive an affiliate commission.
Cake making is one of the premiere ways to bake and is always one of the best demonstrations of your creativity. Whether you're baking a birthday cake or a bundt cake, once it comes out of the oven, you need to let it cool. For round cakes, once they have done cooling, you need to put them somewhere to ice them. A cake display stand will come in handy multiple times through the baking process. You can put it on one to them rest while you're icing. But you can also use it to display it when you're putting it out for people to eat. It's a great place to slice the cake as well. A display stand will show your family and friends your latest creation and, if there is a lid, it is also the perfect vessel for transporting a cake. When it comes to the options available on the market, we've done some of the legwork for you when it comes to research. Check out our picks for the best cake display stands and let your creativity speak for itself.
Best Cake Stand with a Dome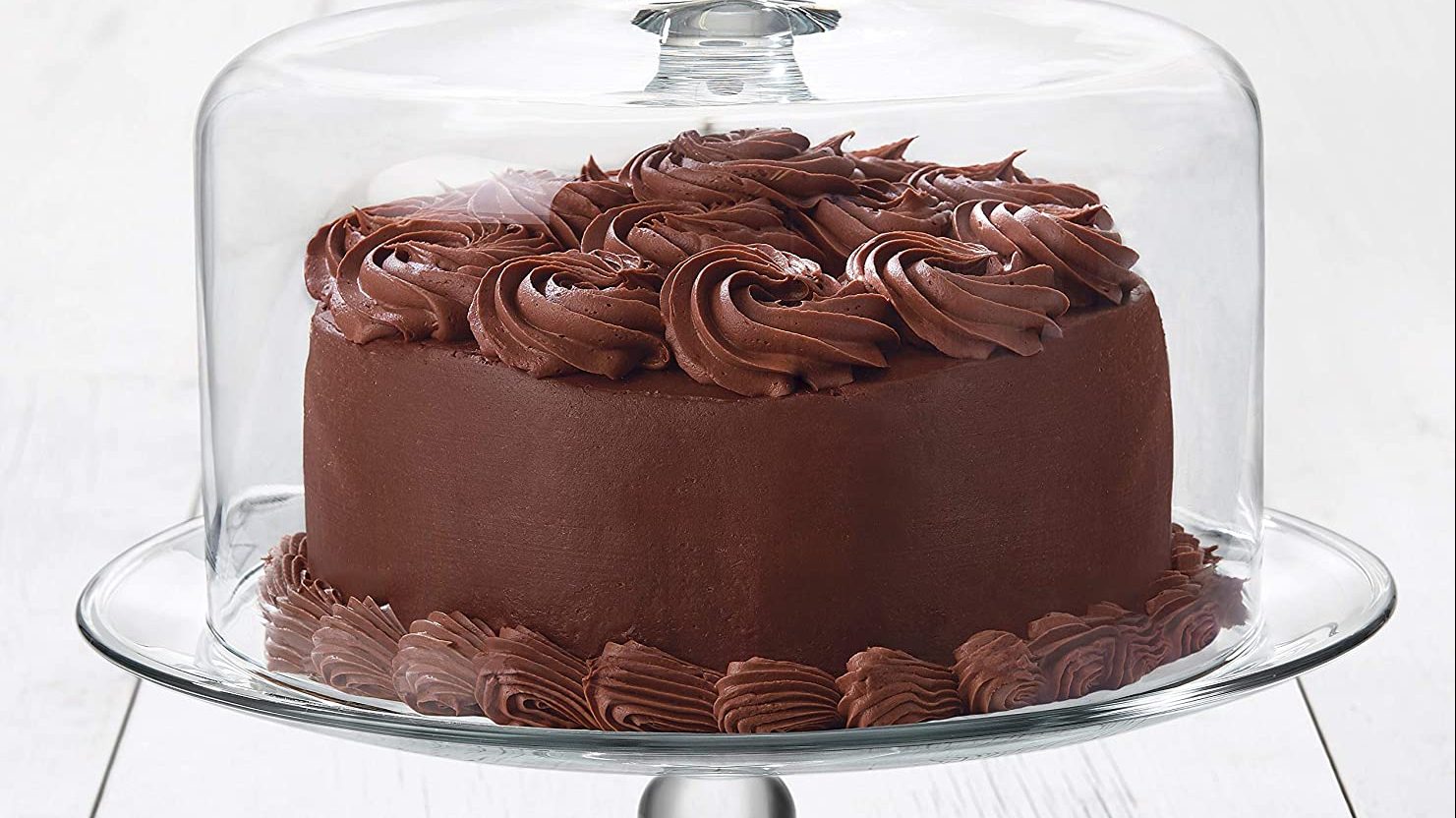 Ideal for displaying your cake to the masses, the Libbey Selene Glass Cake Stand with Dome is beautifully curved. This will add a shapely profile to your table and can combine with other kitchen ware from the Selene line to compact the storage needed. You'll get a 13-inch diameter footed glass cake stand and a 10.5-inch diameter glass cake dome with this purchase. You can put cakes, cupcakes, muffins, scones, or any other baked good that you want show off. The glass is lead-free, so it's safe to use with any of your foods. This is recommended to be hand washed only and it should absolutely be washed down before you use it for the first time. The dome lid makes it easy to pick and bring somewhere.
Libbey Selene Glass Cake Stand with Dome
Price:
$40.22
Available from Amazon, BGR may receive a commission
Best Jadeite Glass Cake Stand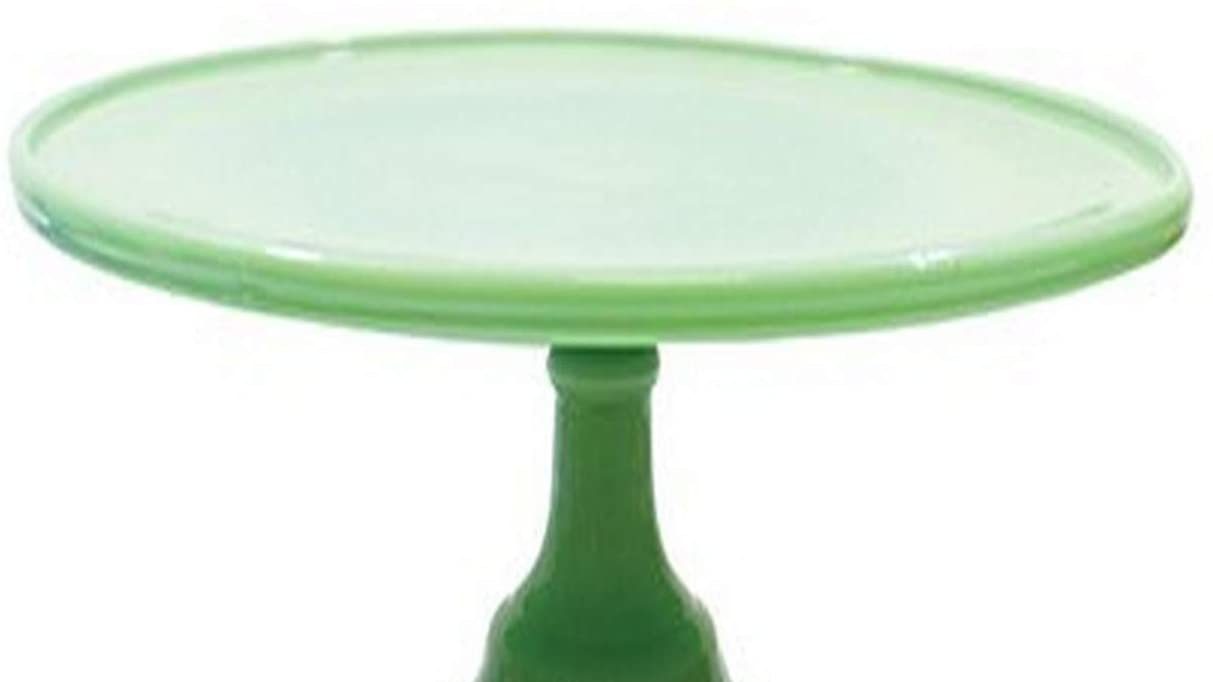 Adding a flair of color to your display or lineup of desserts, the Tablecraft HJCP13 Glass Cake Stand is pretty to look at. The maximum cake that can fit on there is one that has a diameter of 12.25″. It measures 12.875″ x 4.375″ in height, so it is sturdy and can hold a decent sized cake. The base it made from jadeite glass, so it's a nice green color to show off. You can put this in the dishwasher to clean it, but it will likely only fit in the bottom rack.
Tablecraft HJCP13 Glass Cake Stand, 12.875" x 4.375", Green
Price:
$78.44
Available from Amazon, BGR may receive a commission
Best Rotating Cake Stand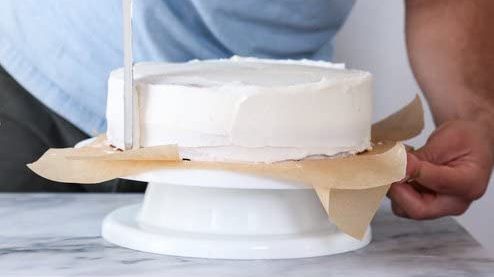 Making it so much easier for you to ice your cake, the Kootek 11 Inch Rotating Cake Turntable is the real deal. There are hidden ball bearings that make turning the cake stand go smoothly. You can create beautiful borders along the base or design a more professional looking cake. You can rotate it either clockwise or counterclockwise, giving you freedom to decorate it how you desire. It won't matter what hand you are more dominant with. This measures 11 inches in diameter and three inches high for a compact display. It's made from durable plastic that is built to last. This turntable comes with two icing spatulas that are perfect for layering your cake the way you want. There is also a decorating comb and an icing smoother to get the sides of your cake looking right.
Kootek 11 Inch Rotating Cake Turntable with 2 Icing Spatula and 3 Icing Smoother, Revolving Cak…
List Price:
$18.99
Price:
$14.99
You Save:
$4.00 (21%)
Available from Amazon, BGR may receive a commission
Best Multi-Purpose Cake Stand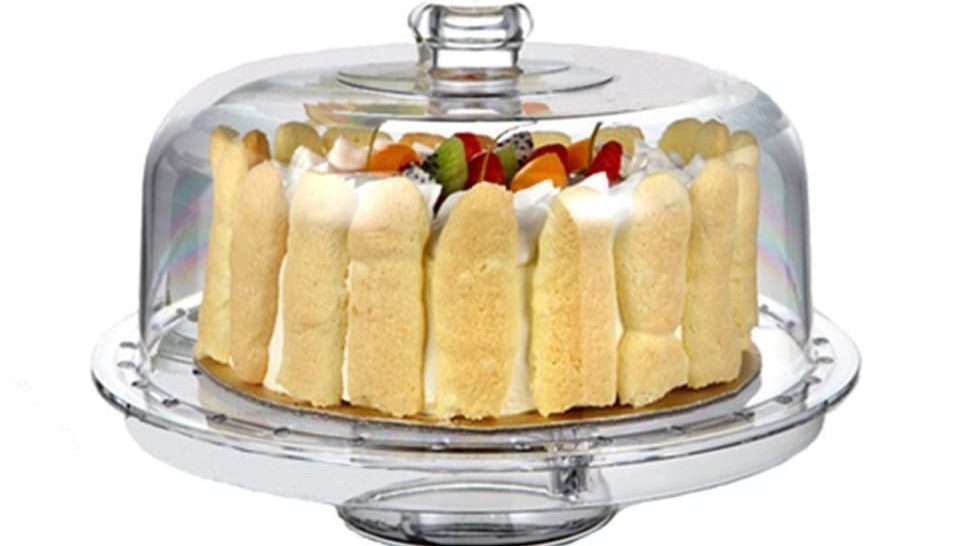 For an extremely versatile cake stand and lid, take a look at the HBlife Acrylic Cake Stand. This is a multi-functional platter that comes in three pieces. When together, it measures 12″ in diameter and the entire unit is dishwasher safe. The cake stand is a pedestal style stand that can display your your baked goods, as well as serve as a platter for other food. You can also turn the cake stand upside down and use the base as a place to store dips and salsa. The dome top can keep your food fresh but it can also be used as a punch or salad bowl. You can fill this with a variety of treats and cocktails.
HBlife Acrylic Cake Stand Multifunctional Serving Platter and Cake Plate With Dome (6 Uses)
Price:
$19.99
Available from Amazon, BGR may receive a commission
Best Set of Cake Stands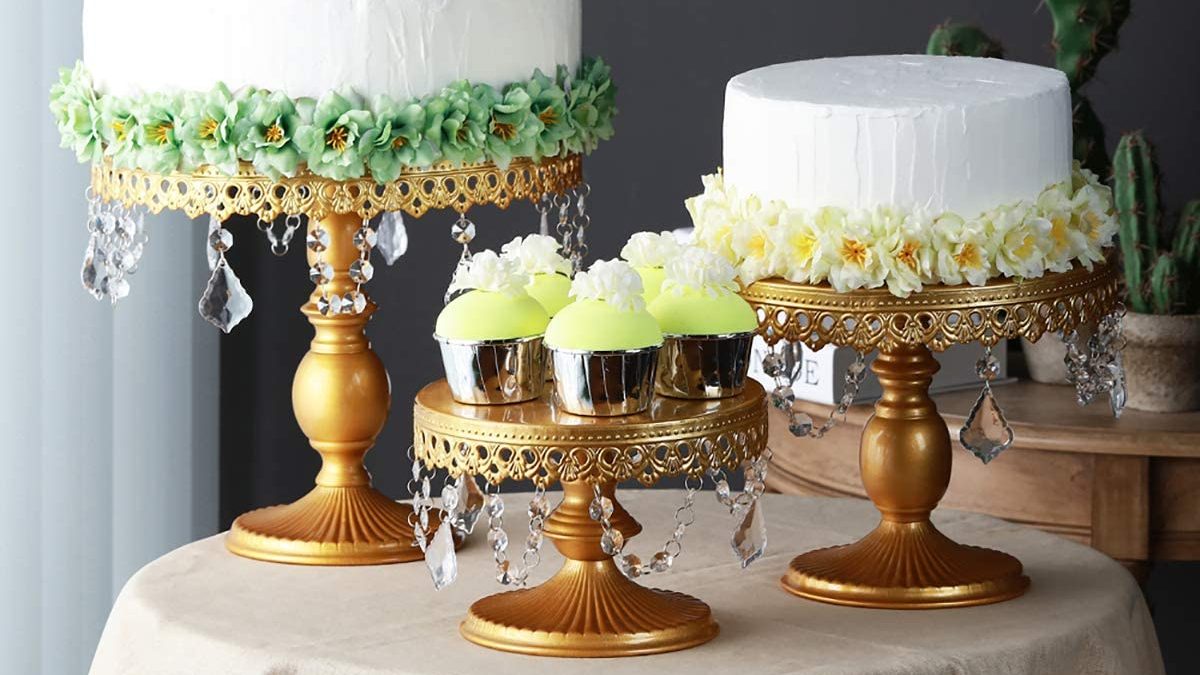 Meant for displaying three different sizes of cakes and desserts, the VILAVITA 3-Set Antique Cake Stand is great for parties. These antique cake stands are made from high-quality metal with crystal beads and dangles. The small cake stand checks in at 8″ x 6″, while the medium is 10″ x 9″, and the large is 12″ x 11″. You can serve a lot of different desserts on these and they take almost no time to install. You just simply need to screw the plate into the base and then add the pendants and beads as you see fit.
VILAVITA 3-Set Antique Cake Stand Round Cupcake Stands Metal Dessert Display with Pendants and…
Price:
Available from Amazon, BGR may receive a commission