If you purchase an independently reviewed product or service through a link on our website, we may receive an affiliate commission.
Remember how mesmerized you were as a kid when you dipped the stick into the bubbles and blew? Watching those small circular orbs float into the air made you really look at the world around you. Well, sometimes, the wind wasn't right or you only had a finite amount of bubble mix to work with and you weren't able to enjoy the amount of bubbles that you wanted. Make sure that doesn't happen the next time you need bubbles for an occasion. Having a bubble machine will produce the ambiance you're looking for when it comes to bubbles without actually having to blow them yourself. These machines are, in essence, fans that will spin out a large amount of bubbles, perfectly setting the mood. If you're in the market for some bubbles for your next get-together or just want to have some fun with bubbles in your backyard, take a look at our list below and fill the world with more bubbles.
Best Remote Control Bubble Machine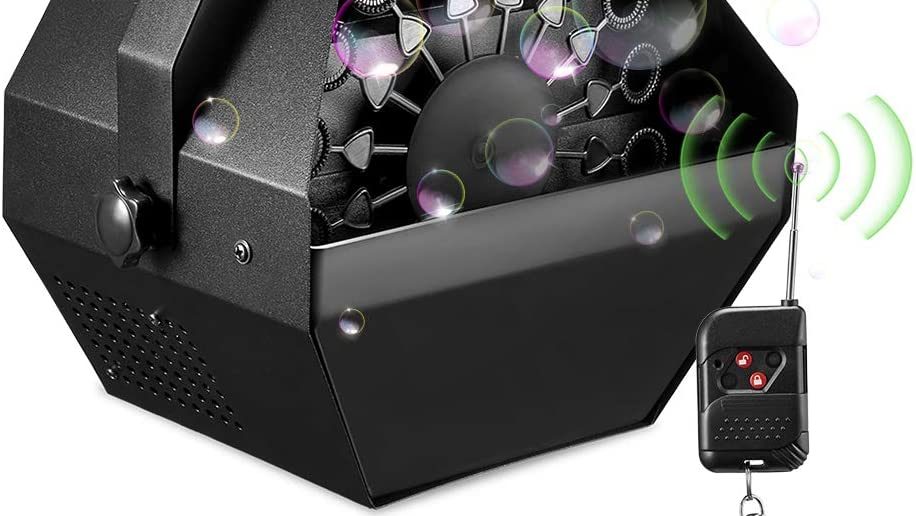 Setting up the Theefun Upgraded Professional Parties Bubble Machine couldn't be simpler. You just need to pour the bubble liquid into the reservoir and then plug it into an outlet. You can either control it from the wireless remote or manually, as there are buttons on the machine itself. This features a high performance rotor that spins between 18-22 rpm that can produce thousands of bubbles per minute. It's extremely to bring this bubble machine wherever you need it, as it's lightweight and there's a carrying handle for simple transport. It is constructed with durable metal housing that can be used indoors or outdoors. This is a great addition for weddings, birthday parties, graduation parties, engagement parties, and pretty much any other type of shindig you're throwing.
Theefun Bubble Machine, Wireless Remote Control Bubble Blower Machine with Over 800+ Bubbles Pe…
Price:
$47.99
Available from Amazon, BGR may receive a commission
Best Quiet Bubble Machine
Simple and easy to use, the Kidzlane Bubble Machine gives you the production you want. This comes in the kid-friendly design of a dolphin that is sure to please your child. Eight ounces of bubble solution is included with the purchase, so you'll be able to start blowing bubbles almost immediately. This causes a continuous stream of bubbles to come out of the dolphin's mouth. This features a quiet and powerful motor, as it can produce up to 500 bubbles per minute, thanks to the 10 spinning wands, while not even making you realize it's on. The bottom is flat and forms a protective base, so it won't tip over easily.
Kidzlane Bubble Machine – Bubble Blower Makes Big Bubbles 500-1000 Bubbles Per Minute - Automat…
Price:
$29.99
Available from Amazon, BGR may receive a commission
Best Dual Speed Bubble Machine
You get to pick how many bubbles you want to come out of your PEFECEVE Bubble Machine Automatic Bubble Blower. This has an extremely unique design with dual spin speeds to produce thousands of bubbles per minute. You'll also see the semicircular shape holds up to 40 minutes worth of bubbles in the 6.8-ounce container. You can either choose to power this with six C batteries or by plugging it into an outlet. It makes it much easier to use it in the backyard or at the park if you want. It's made from scratch-resistant ABS thermoplastic polymer so it's sturdy and durable. It's super easy to clean as well, making it an efficient machine to own.
Price:
Available from Amazon, BGR may receive a commission
Best Bubble Machine for Mass Production
If you want a lot of bubbles for your gathering, then you need the 1byone Automatic Bubble Blower Machine for Kids. You can use batteries for wireless production or you can plug it into the wall outlet for a more stabilized output. This has six spinning wands that can produce more than 1,500 bubbles per minute. This can run for 30 minutes continuously based off the liquid bubble formula. Kids and pets alike will love this machine. This won't rust and is built with sturdy ABS thermoplastic polymer.
1 BY ONE Bubble Machine, Automatic Bubble Blower, Portable Bubble Maker for Kids Toddlers with…
List Price:
$39.99
Price:
$29.97
You Save:
$10.02 (25%)
Available from Amazon, BGR may receive a commission
Best Handheld Bubble Machine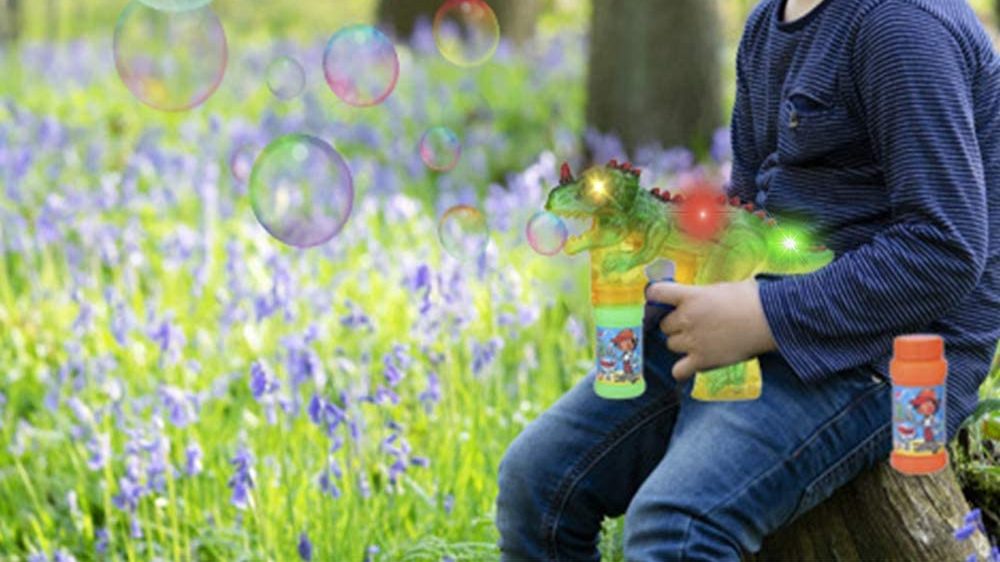 Who wouldn't want to play with the Toysery Dinosaur Bubble Shooter Gun? As you can tell by the name, it's a toy gun that is a bubble machine in the shape of a dinosaur. It features LED flashing lights and sounds as the bubbles shoot out in a fast pace. You just need to take the cap off the bottle of bubble solution and screw it into the gun for it to work. It requires three AA batteries to run and the clear plastic design allows you to actually watch the bubbles be made. It is meant for children ages three and up.
Toysery Bubble Gun for Kids, Colorful Bubble Gun Light Up Blower Toy, Dinosaur Bubble Machine T…
Price:
$13.95
Available from Amazon, BGR may receive a commission