If you purchase an independently reviewed product or service through a link on our website, we may receive an affiliate commission.
Can you imagine how awesome it would be if one of your friends growing up had a bounce house in their backyard permanently? You could go over there and bounce all day. Maybe you'd slide down the slide or jump around and play catch. Sure, you can get the bouncing part of it from a trampoline, but those have less space than a bounce house or castle. As an adult, you can provide that novelty for your kids and be the house other kids want to hang out at. Having a bounce house or castle is a great idea for parties and can be a superb addition to any birthday get-together. It is also a great way to get your kids out of the house and stops them from looking at screens. People or all ages can enjoy a bounce house, which makes it a solid investment. If your kids are bugging you for one, you should probably take a look at our picks for the best ones available. Let's check it out.
Best Bounce House with a Slide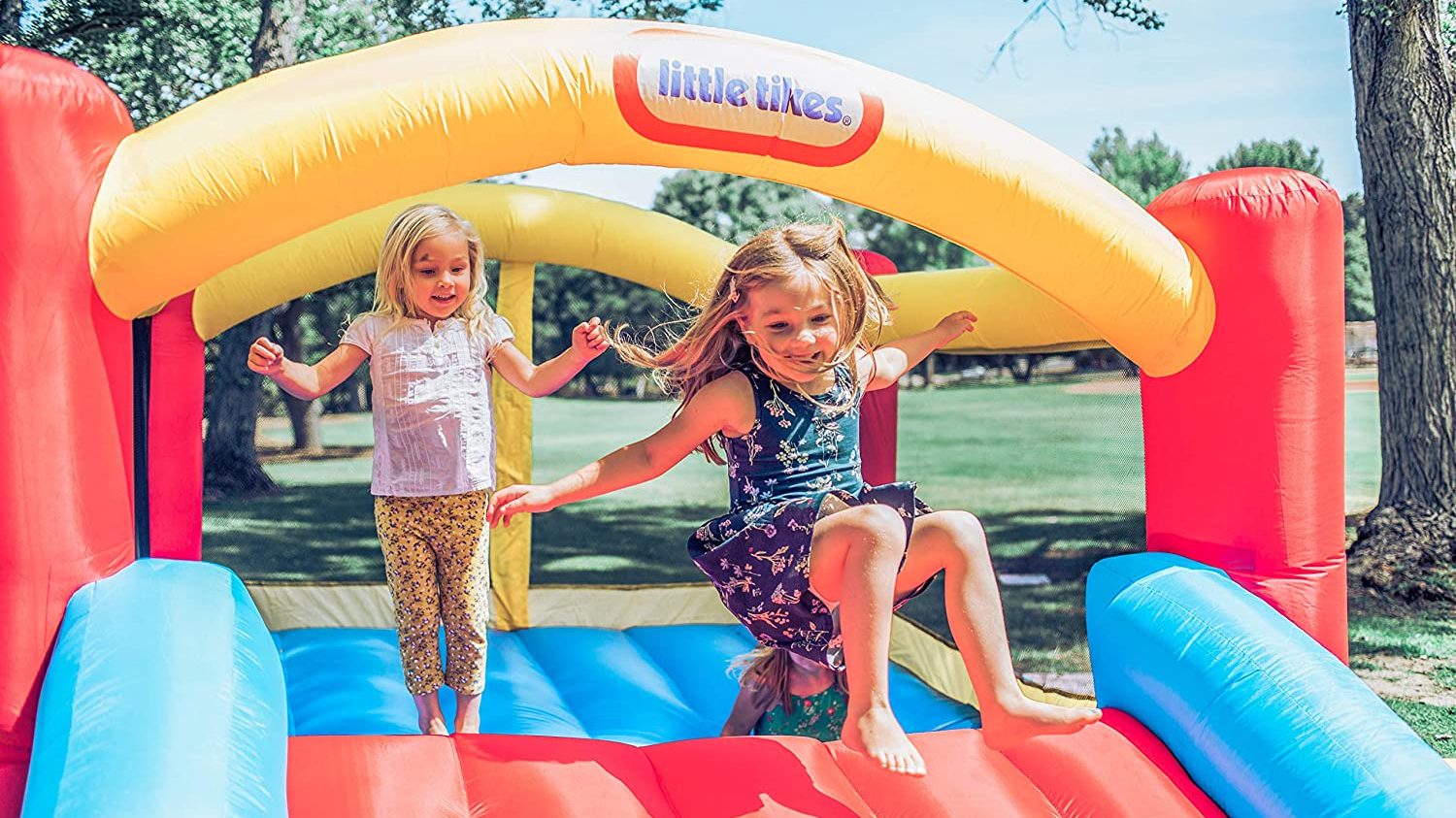 Make it easy for kids to come in and out of the bounce house when you nab the Little Tikes Inflatable Jump 'n Slide Bounce House. This is built with puncture-resistant materials, so it'll last for a long time. The three mesh sides protect children but also allow parents to see what's going on inside the bounce house. The fourth side is a giant slide that kids can slide down but also climb back up to reenter the bounce house. The maximum amount of weight that is allowed is 250 pounds, so you can safely fit about three kids in the bounce house at one time. The inside measures 84″ x 84″ x 47.5″ while the entire house is 106.2″ x 137.7″ x 65.7″. This also has shoe storage pockets, so kids don't have to leave their shoes on the ground when they go into the house. It's easy to blow up, thanks to the included heavy-duty blower. You'll also get six bouncer stakes, four repair patches, and a storage bag.
Little Tikes Jump 'n Slide Bouncer - Inflatable Jumper Bounce House Plus Heavy Duty Blower With…
List Price:
$309.99
Price:
$232.02
You Save:
$77.97 (25%)
Available from Amazon, BGR may receive a commission
Best Bounce Castle for Indoors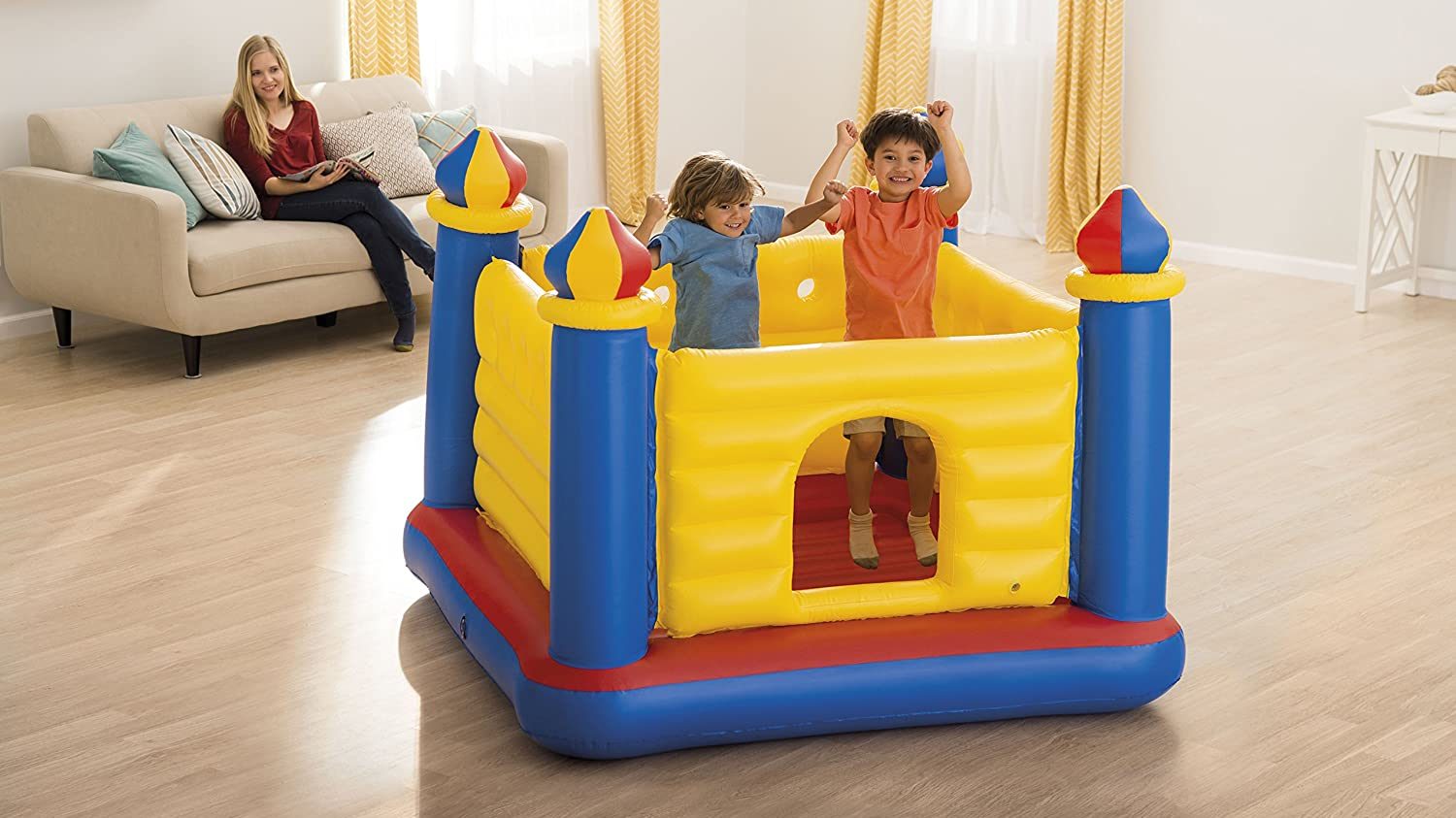 Now you can bring the bounce inside for your kids, when you pick up the Intex Jump O Lene Castle Inflatable Bouncer. Meant for ages three to six, this is a soft, inflatable house with inflatable walls and floors to give a safe platform for bouncing. It has four turrets to boost your children's imagination. You'll provide your kids with hours of playtime and you will allow them for safe play without sharp edges. The maximum weight limit is 120 pounds, so it's great for two kids. This is a great spot for kids to burn off energy.
Intex Jump O Lene Castle Inflatable Bouncer, for Ages 3-6
Price:
$58.49 ($58.49 / count)
Available from Amazon, BGR may receive a commission
Fastest Bounce Castle to Inflate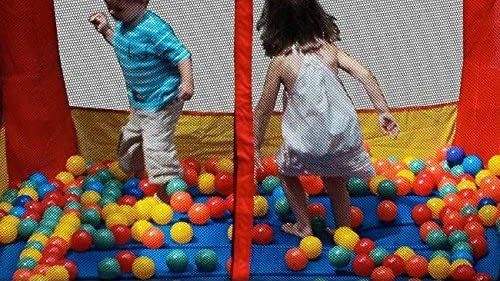 Your kids will be ready to play in seconds, thanks to the quick setup of the Blast Zone Magic Castle – Inflatable Bounce House with Blower. This features dimensions of 8.5′ x 11′ x 8′ and up to three kids can jump inside at a time. It takes less than two minutes to inflate the entire castle, as the blower can start immediately. When you deflate it, you'll be able to roll it into the shape and size of a sleeping bag. It's extremely portable, and you can use this indoors or outdoors, depending on the size of the area you have to fill.
Blast Zone Magic Castle - Inflatable Bounce House with Blower - Premium Quality - Indoor/Outdoo…
Price:
$349.99
Available from Amazon, BGR may receive a commission
Best Large Bounce House
Not only does the PicassoTiles KC102 12×10 Foot Inflatable Bouncer have a large amount of space for kids to jump around in, but it also comes with a basketball rim to slam down on. You'll get four sports balls as well: a basketball, football, soccer ball, and baseball. These will provide more fun to enjoy in the house. This offers a 12′ x 10′ area for kids to relax or jump around in. It inflates in a few minutes and deflates quickly too for easy setup. It can be stored in the included carrying bag.
PicassoTiles [Upgrade Version] KC102 12x10 Foot Inflatable Bouncer Jumping Bouncing House, Jump…
Price:
$219.99
Available from Amazon, BGR may receive a commission
Most Durable Bounce House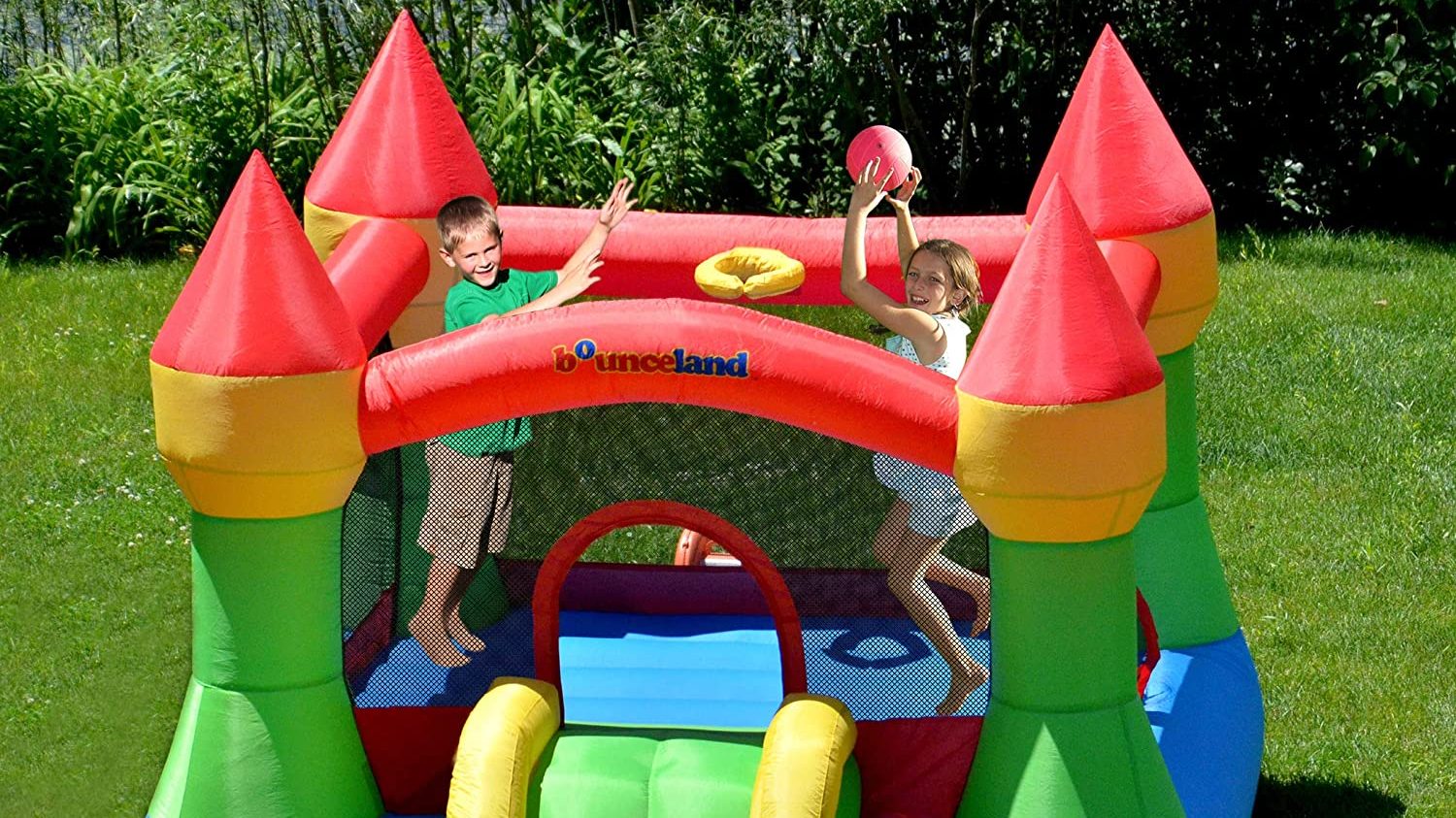 You'll be hard-pressed to find a sturdier bounce house than the Bounceland Bounce House Castle. When it's inflated, this measures 12′ x 9′ x 7′ and it can hold up to 250 pounds, or a max of three kids. This is made from heavy-duty, puncture-proof materials with double to quadruple stitches for long-lasting protection. The commercial grade material allows for extra bounce and it comes with a 6′ fill tube that allows the blower to be placed away from the house. The included blower will blow it up in less than two minutes and this meets strict international safety standards. It is backed by a limited warranty.
Bounceland Bounce House Castle with Basketball Hoop Inflatable Bouncer, Fun Slide, Safe Entranc…
Price:
$239.00
Available from Amazon, BGR may receive a commission