If you purchase an independently reviewed product or service through a link on our website, we may receive an affiliate commission.
If you're a smoker, it doesn't make sense to have to carry around a cup with you or always have to go outside to smoke. Make sure you're able to discard your ashes while you're smoking your cigarette by keeping an ashtray or two in your home. Having the freedom to smoke in your own home and not have to stand by a window, rush outside when it's cold out or flush a cigarette down the toilet is a welcome feeling. While ashtrays are a fun thing to make while you're in a pottery class, that would mean you have to take a pottery class to make one. Picking one out that fits with your aesthetic may be difficult, but we've found three different ones that are sure to work. Let's take a look at our picks for the best ashtrays on the market.
Best Decorative Ashtray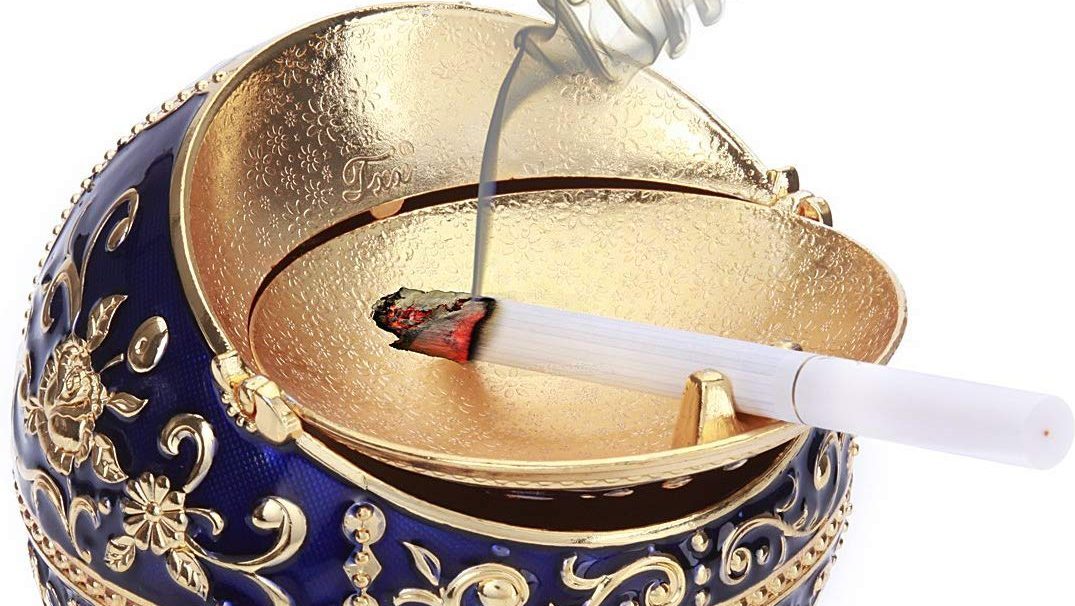 In order to class up your home, you don't want a drab looking ashtray. If you're looking for some more sophistication, you can opt for the K COOL Windproof Ashtray with Lid. This is made from brand new zinc alloy and it is free of nickel, lead, and cadmium. This decorative, 3-D pattern is hand stamped on the filigree and the enamel, making it really stand out. You can get it in either navy blue or jade green with the adornments and designs coming in a gold color. This measures 4.2″ x 4.1″ x 5.1″, meaning it won't take up a ton of space on your tables or countertop. It weighs 15.2 ounces, so you can carry it from place to place without a problem. It can go where the smokers are. It holds the butts and the ashes at the same time, containing old cigarettes, so you don't just have to throw them immediately in the garbage. The smokeless lid locks the smoke inside and you just have to push down on the lid to open it. It helps keep your area from smelling like smoke. It is backed by a money-back guarantee, so if you are in any way unsatisfied, you'll be able to return it, no questions asked.
K COOL Windproof Ashtray with Lid Metal Portable Cigarettes Ashtray for Outdoors Indoors Hand S…
Price:
$16.88
Available from Amazon, BGR may receive a commission
Best Ashtray for Indoor and Outdoor Use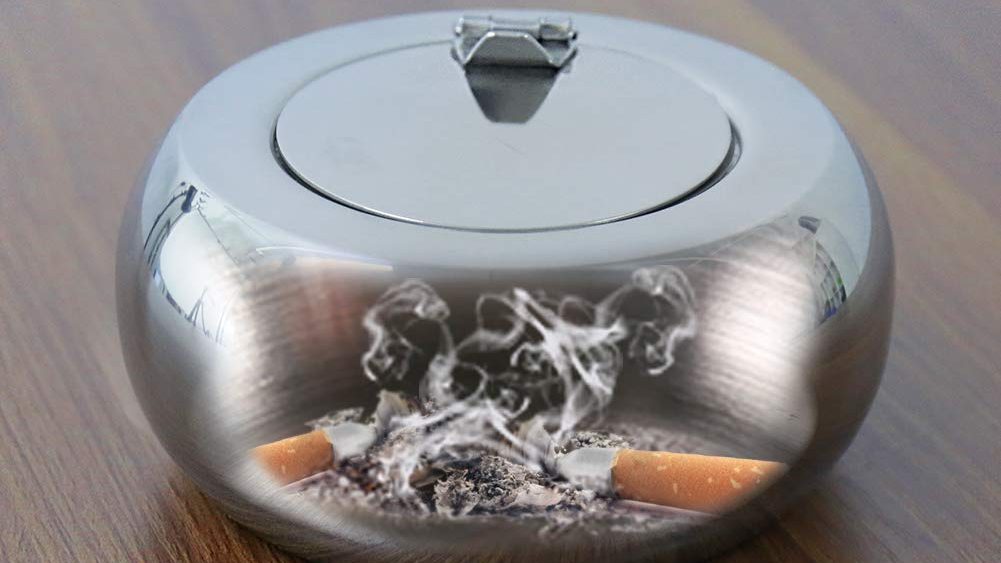 For a timeless look that will fit into your outside and inside aesthetic, you can't go wrong with the Newness Stainless Steel Modern Tabletop Ashtray. With a sleek design and a stainless steel make, this won't rust, so you can keep it outside in a storm without worrying. It may blow away, but it won't become discolored. It is lightweight and easy to carry, making it simple to transport through the door. Walking from your patio or deck back inside while carrying this is super simple. There is a cigarette holder welded onto the lid that is very convenient. If you have to put your cigarette down for a second, you can just flip the lid up and tuck the cigarette into it, rather than having to put it out and waste the remainder of it. It also comes with a drawstring brown bag, in case you need to travel with it. There is a narrow opening for windproof purposes and this has a great sealing, so you won't have to worry about any ash trouble. This measures 4.82″ x 2.5″ for a small and compact presentation.
Ashtray, Newness Stainless Steel Modern Tabletop Ashtray with Lid, Cigarette Ashtray for Indoor…
List Price:
$19.49
Price:
$12.99
You Save:
$6.50 (33%)
Available from Amazon, BGR may receive a commission
Best Spinning Top Ashtray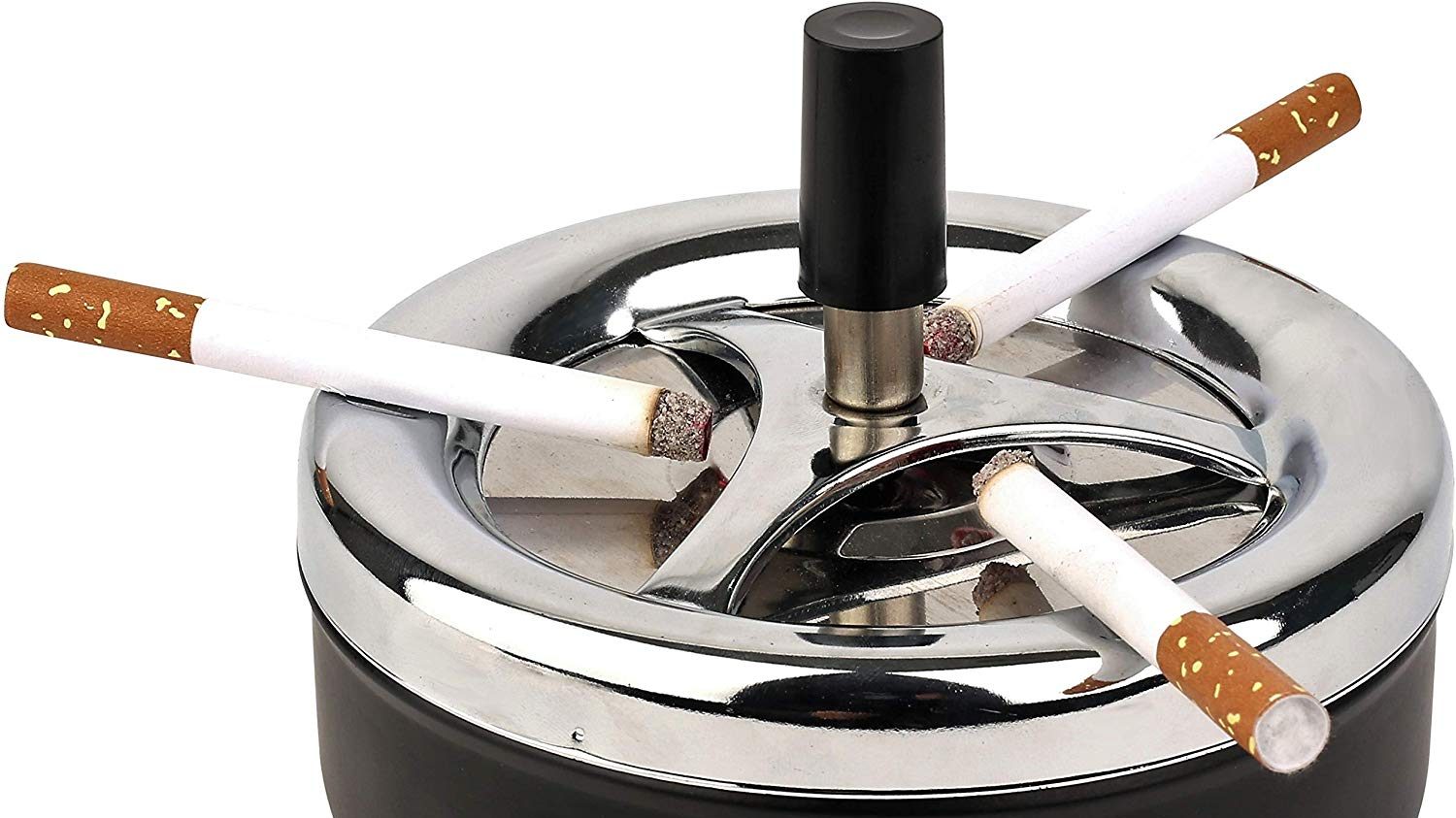 If there's more than one smoker in your house, you want to find a way to accommodate as many people as possible when it comes time to ash. That's what makes the Mantello Round Push Down Cigarette Ashtray with Spinning Tray such a great purchase. This provides a large area to dispose of your ashes, as it measures 5″ across in diameter. The top lid has three cigarette rests, so you don't always have to be holding yours while you're trying to do other things. The top plunger allows you to push down and spin the lid in order to rotate an open rest to whomever needs it. It is self-extinguishing and easy to clean. This can be used in your home, on the patio, at a restaurant, or pretty much anywhere there are smokers. The openings in the top of the lid lead directly into the main part where the ashes are stored, so you don't have to open it up to ash.
Mantello Round Push Down Cigarette Ashtray with Spinning Tray, Large, Black
Price:
$11.99
Available from Amazon, BGR may receive a commission