If you purchase an independently reviewed product or service through a link on our website, we may receive an affiliate commission.
Anyone who has kids knows how exciting of a time it is when they start to walk. Having a toddler can be a handful, but it's such a joy to see them learn to stand and walk for the first time. Standing and toddling around is adorable to watch, but the more comfortable they get, the more they're likely to start running around your house. That's all cute and sweet, until they knock into a piece of your furniture that isn't secured and it falls and breaks. The last thing you want to do is come home and see a broken flat screen TV on the ground because your child bumped into it. With anti-tip straps, you won't have to worry about that scenario. These will keep your expensive items in place, so even if they are nudged, they'll be okay. Keeping your children's safety in mind, as well as the safety of your items, we've highlighted three of the best anti-tip straps on the market for you to consider. Let's take a look at our picks.
Best Anti-Tip Straps for TVs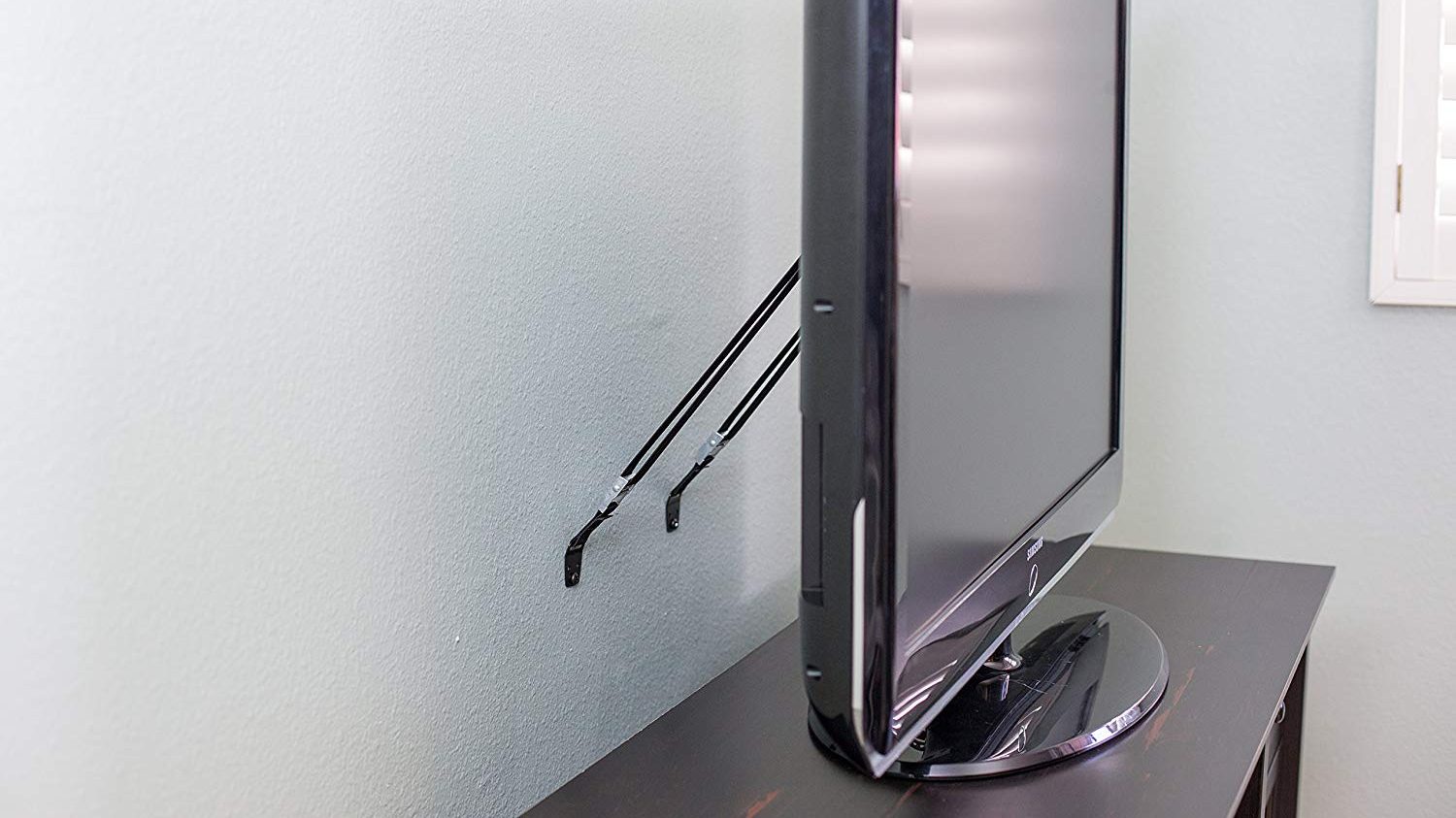 If you have your television on an entertainment unit or a dresser, you're going to want to keep it steady, whether you have a child in the house or not. With the TV and Furniture Anti-Tip Straps from Secure Home by Jessa Leona, you'll be able to do that with a strong hold. These are made from the highest quality metal, as extreme care has been taken to ensure them as the strongest and most durable straps. Both of the end plates that you secure to either the TV or the wall are made with industry standard metal and the jaw grip prevents sliding. It also allows you to easily adjust the straps if they need to be loosened or tightened. You can detach these for cleaning purposes and each piece of webbing is triple stitched for a superior hold. You can go about using these in three ways: TV to furniture, TV to wall, or furniture to wall. Included with the straps are furniture and wall screws, as well as bolts of different sizes to help you match it up. This has been proven to work with Samsung TVs, LG OLED TVs, and Sony TVs.
TV and Furniture Anti-Tip Straps (Heavy Duty Strap and All Metal Parts) (2 Pack, Black)
Price:
$14.99
Available from Amazon, BGR may receive a commission
Best Large Pack of Anti-Tip Straps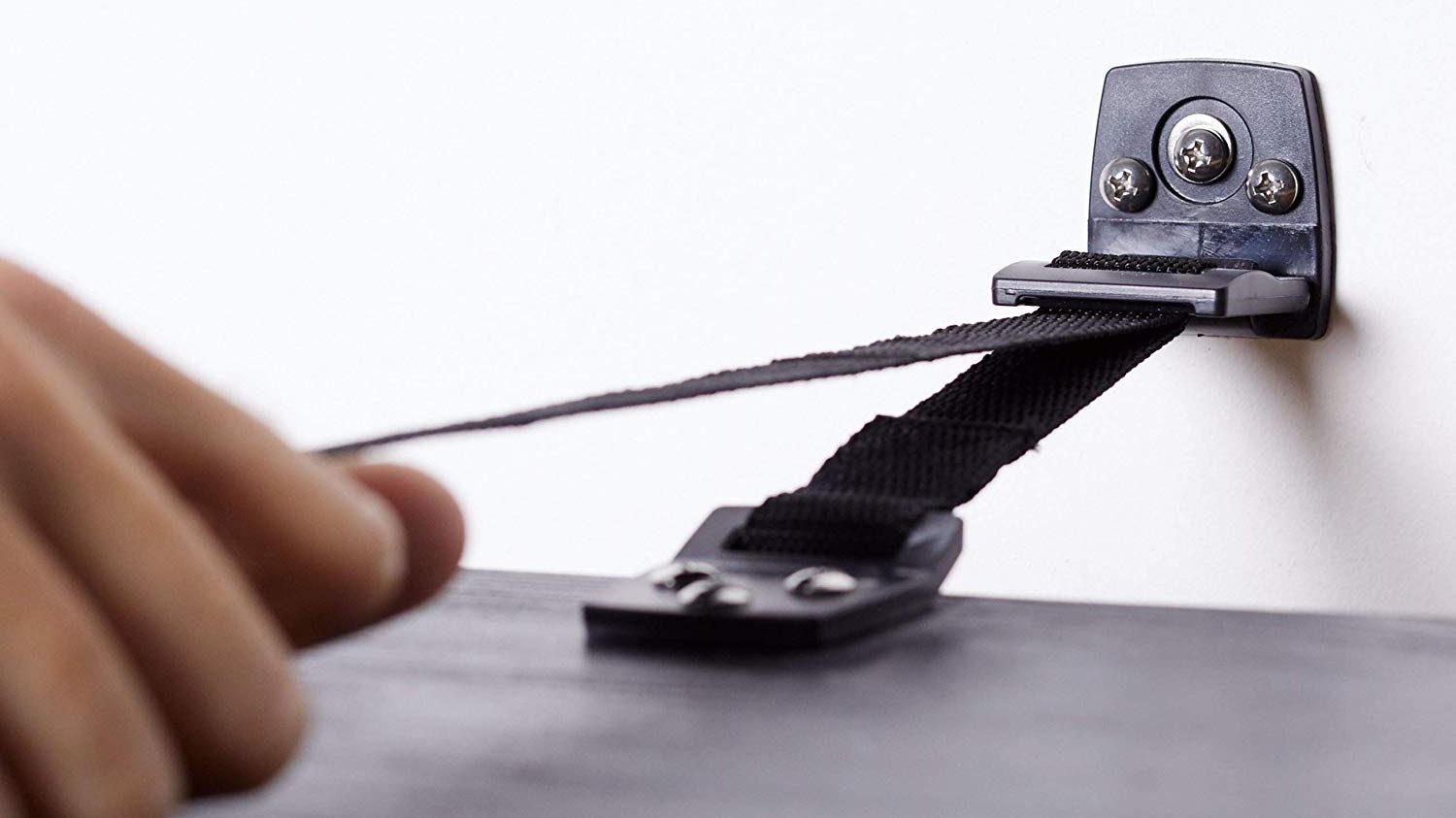 Unlike the previous product, which provides you with a pair of straps, the Bébé Earth Furniture and TV Anti-Tip Straps gives you enough to anchor multiple pieces of furniture. These help babyproof your home by anchoring furniture to prevent tipping. The straps work on dressers, cabinets, bookshelves, TVs, and other large furniture. These are adjustable up to 21 inches long to keep your things upright. You can use two or three straps on heavy furniture. This comes with eight straps and all necessary hardware and installation instructions you'll need to set things up. It also comes with a door stopper guard that helps prevent slammed fingers in doorways. If you live in a part of the world that is susceptible to earthquakes, this set is a must. Each restraint is made from ABS material for added security. This will work on items that are tall and slim or wide and small. This set comes backed by a customer satisfaction guarantee, as they will send you a replacement free of charge if anything happens to the straps or hardware.
Bebe Earth - Furniture and TV Anti-Tip Straps (8-Pack) for Baby Proofing and Child Protection -…
Price:
$18.99
Available from Amazon, BGR may receive a commission
Best Anti-Tip Cables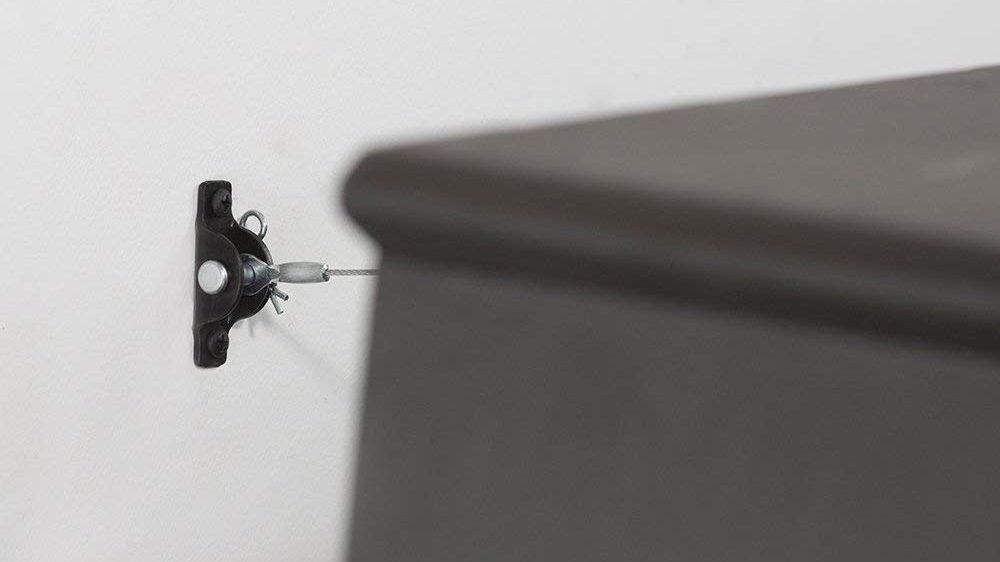 Rather than going the route of straps, you can check out the Hangman Anti-Tip Kit to Prevent Furniture Falling. This is made from a galvanized, high grade, aircraft steel cable that will lock onto your furniture and hold it tightly. This is tamper-resistant and easy to install, as all of the things you'll need to set it up are included. This kit can hold up to 400 pounds, so even your heaviest dresser or entertainment unit shouldn't be a problem. The steel bracket installs into a wall stud for a secure connection. The quick-release steel pins keep things taut, even if they were to begin to tip. This secures it so it doesn't fall over. You can buy a kit that includes one set of it, or there are packs of two, three or six, so you can outfit your entire home with them if you need.
Hangman Anti-Tip Kit to Prevent Furniture Falling-Steel (TK-400-2)
Price:
$19.61
Available from Amazon, BGR may receive a commission