If you purchase an independently reviewed product or service through a link on our website, we may receive an affiliate commission.
That incessant scratching will get to anyone. It's tough to deal with when all you want is to scratch your itchy scalp. If you have dandruff, you're sure to have an itch more often than not. But won't only have an itch, as there's certainly going to be plenty of flakes to go around too. That looks bad in your hair and it looks even worse when the flakes get on your clothes. That basically tells anyone you walk by that you have dandruff. But there are ways to get rid of your dry and itchy scalp and one of the best ways is with anti-dandruff shampoo. Every time you come out of the shower, you'll be able to look in the mirror afterwards and not see any flakes. If you're sick of scratching your head all the time or showing up to work with flakes on your shoulders, take a look at our picks for the best anti-dandruff shampoos below.
Itchiness will drive you crazy

Clinically proven to work against the toughest cases of dandruff, Nizoral A-D Anti-Dandruff Shampoo is a great purchase. This works on all hair types and even gray hair, so it doesn't matter how much hair or what type you have. You can use it with your regular shampoo and conditioner, as it can be used twice a week in between washes. It is made from ketoconazole 1%, an effective ingredient that binds your hair's natural protein to kill dandruff. It leaves hair manageable and shiny and it fights against itchy scalps that are caused by stress or diet. It controls the flaking and works well with a lather. You can buy this in a single bottle pack or a pack of two.
Nizoral A- D Anti-Dandruff Shampoo Value Pack, Blue, Fresh, 7 Fl Oz (Pack of 2)
Price:
$36.85 ($2.63 / Fl Oz)
Available from Amazon, BGR may receive a commission
You want a tested formula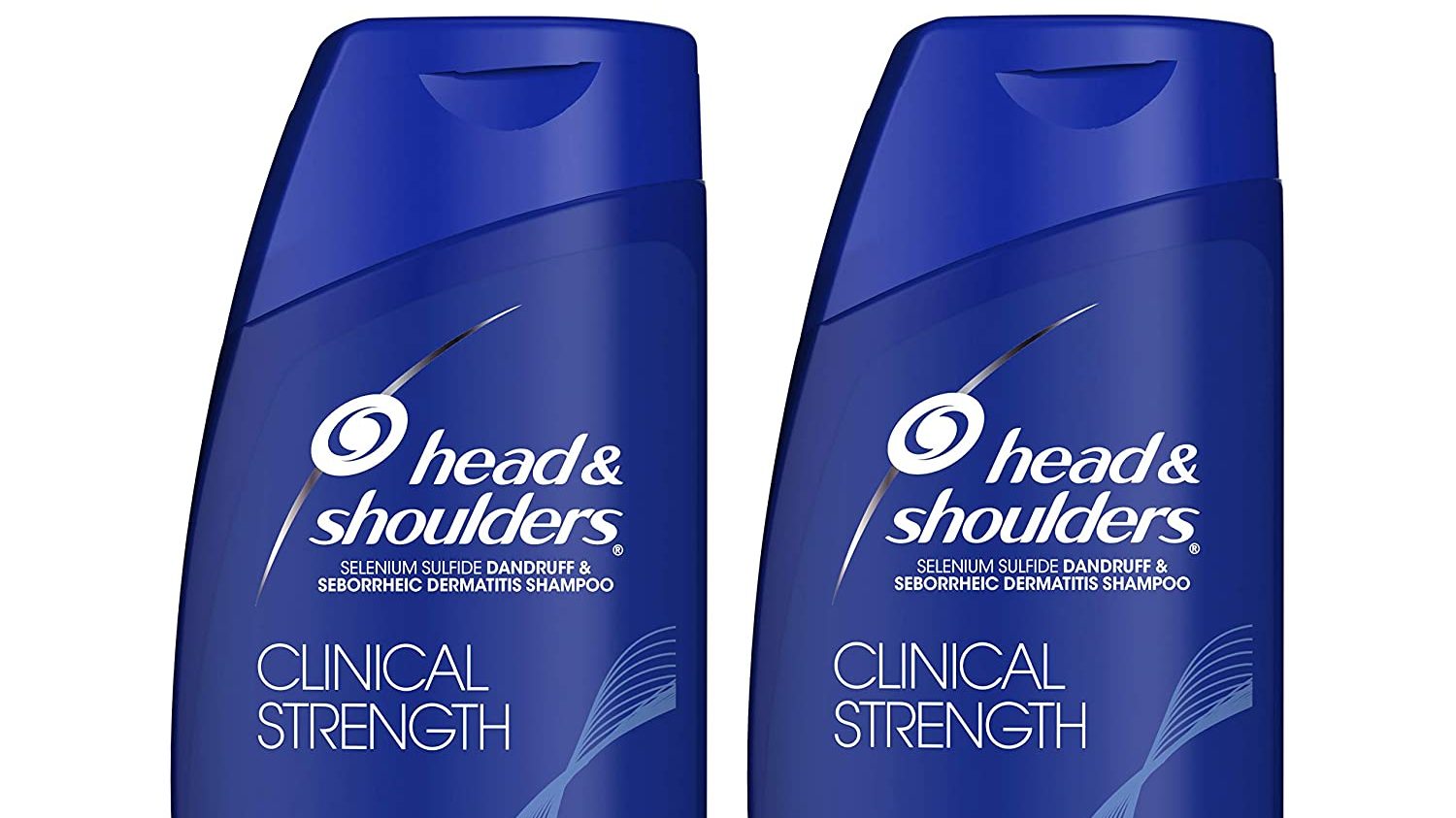 Providing you with two bottles to last you for a long time, Head & Shoulders Shampoo, Anti-Dandruff and Scalp Care will keep your flakes under control. This is the #1 dermatologist recommended shampoo, as it has been clinically proven to handle dandruff. It provides relief for stubborn flakes and seborrheic dermatitis. This has selenium sulfide to target the irritants and stop dandruff at the source. That is the secret ingredient in the clinical strength formula in order to fight the itching and dandruff. It's also gentle enough for daily use, so you can feel free to use it whenever you wash your hair. It can also keep away any scalp issues for up to seven days.
Head and Shoulders Shampoo (Pack of 2)
Price:
$39.95 ($0.84 / Fl Oz)
Available from Amazon, BGR may receive a commission
For those who want to use natural ingredients
Targeting your itchiness and flakes organically, Maple Holistics Pure Tea Tree Oil Shampoo is sulfate-free. This is anti-fungal and antibacterial, as the natural essential oils do wonders for your hair. It can help thinning hair and prevent against head lice. This promotes fast hair growth as well as regrowth for luxurious locks. This hydrates the scalp locks in moisture and cleans the hair follicles to encourage healthy hair and skin. It soothes irritated scalps and eliminates flakes. This will leave your hair feeling rejuvenated and nourished.
Tea Tree Oil Shampoo Sulfate Free - Deep Cleansing Tea Tree Shampoo Scalp Exfoliator and Dry Sc…
Price:
$11.95 ($1.49 / Fl Oz)
Available from Amazon, BGR may receive a commission
Stop dandruff in your kids
For a gentle treatment for your children, check out the HONEYDEW Anti-Dandruff Shampoo for Kids. The premium formula contains therapeutic grade Jojoba oil along with tea tree and lavender essential oil. This has pure and safe ingredients, so it's perfectly okay for your kids to use. This works for kids with curly, frizzy, thin, full, or fragile hair. This is tear-free, which makes it even better for you to use for your children. It's compatible with any conditioner or shampoo for daily use. There are no artificial fragrances or coloring in the formula.
Cleansing Kids Shampoo for Dry Scalp - Dry Flaky Scalp Care Shampoo for Kids and Hair Build Up…
Price:
$14.95 ($1.87 / Fl Oz)
Available from Amazon, BGR may receive a commission
Stay within your budget
With active Aloe Vera juice, Selsun Blue Moisturizing Anti-Dandruff Shampoo is a cost-effective option for anyone to use. This fights against dandruff, dermatitis, and harsh shampoos, thanks to the maximum strength formula. Using this can fight dandruff caused by dry skin, oily skin, psoriasis, allergies, and an overgrowth of natural bacteria. You'll be able to treat your dandruff at the source and you can buy these in either a pack of three or as a single bottle.
Selsun Blue Moisturizing Anti-dandruff Shampoo with Aloe, 11 fl. oz., Selenium Sulfide 1%
List Price:
$8.69
Price:
$6.98 ($0.63 / Fl Oz)
You Save:
$1.71 (20%)
Available from Amazon, BGR may receive a commission