After a long and bitter search, Uber has finally found a new CEO to replace former chief executive and founder Travis Kalanick. Uber has selected Dara Khosrowshahi, an outspoken 48-year-old who has served as the CEO of Expedia since 2005.
Khosrowshahi is a little different from your prototypical young Silicon Valley CEO — mostly, because he manages companies, rather than founding them. "I'm different from many of these young CEOs in that I'm not the founder … I'm what you'd call 'professional management,'" Khosrowshahi once said.
Khosrowshahi was born in Tehran, Iran, around the time of the Iranian Revolution. His family fled to the United States around the age of nine, and Khosrowshahi was raised in New York State. He holds a deep passion for his adopted country: "When my family fled to America…we were very lucky to have the opportunities presented to us, and that's one of the things that makes America great," he said earlier this year. "The American dream is the best brand out there — it's stronger than Apple, and Google, and Microsoft, times 10."
"The American dream is, you come here, you believe in democracy, you believe in the Constitution, you work hard, and you can make it. And I think that's what makes this country great." Those comments came in response to questions about President Trump's travel ban, which Khosrowshahi and Expedia have been firmly opposed to. Under Khosrowshahi's leadership, Expedia was one of the first companies to formally oppose President Trump's travel ban, and Khosrowshahi has been an outspoken critic of Trump's stance on many issues.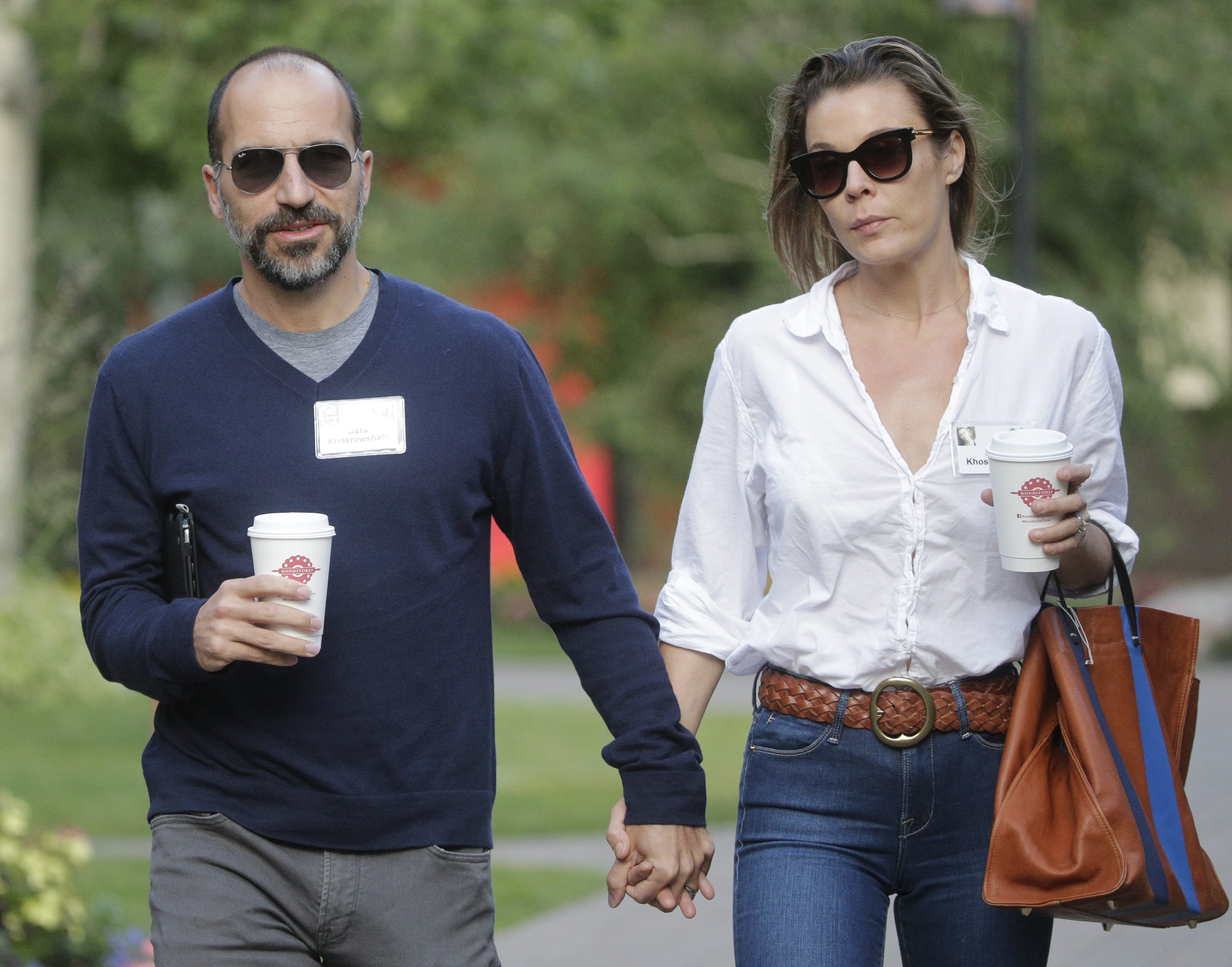 After growing up in New York State, Khosrowshahi went to Brown University, and quickly found himself a career in finance. He rose to become a Vice President of Allen & Co, a prestigious boutique investment bank, before moving quickly into corporate management. He became the Vice President of Strategic Planning at USA Networks Interactive at the tender age of 29, and soon became company President.
As USA Networks Interactive expanded, it changed its name to InterActiveCorp, and Khosrowshahi continued to move up. He held a number of executive positions at the company, and was finally made CEO of Expedia in 2005, when the travel brand was spun off by IAC.
In his role as CEO of Expedia for the last 12 years, Khosrowshahi has made a name for himself as a relentless entrepeneur who sought growth through a series of expansions and mergers. Under his watch, Expedia gobbled up much of the competition as it sought to establish a stranglehold on travel and hotel bookings. Since 2012, it's acquired Trivago, Via Travel, Travelocity, and HomeAway in deals worth billions. Khosrowshahi has shown no shyness in buying new divisions and spinning out old ones, something that may serve him well at Uber, which has divisions including self-driving cars and food delivery outside of its core ridesharing business.
One other place Khosrowshahi isn't shy? Politics. He's been an outspoken critic of President Trump since way before he ever became President. During the campaign, Khosrowshahi repeatedly spoke out against Trump's character and politics, and hasn't backed off since he took office. The most recent tweet on his Twitter account (which gets used far more sparingly than Trump's) was sharing a New York Times article critical of Trump's response to Charlottesville:
I keep waiting for the moment when our Prez will rise to the expectations of his office and he fails, repeatedly. https://t.co/WlxTkRfC71

— dara khosrowshahi (@dkhos) August 16, 2017
New startup idea? https://t.co/ju0Yp7uCWY? I'm in for $5. https://t.co/TaOkwIvoVR

— dara khosrowshahi (@dkhos) June 28, 2017