The big names in any industry always have bullseyes on their backs, and the consumers electronics industry is obviously no different. Companies are constantly slapping each other with lawsuits, and the epic Apple vs. Samsung battle that dragged out over several years managed to make us all numb for a while. Lately, however, it seems like huge lawsuits are becoming more and more common again. Just yesterday we shared news of a whopping half-billion dollar judgement against Apple, which was found guilty of infringing multiple patents owned by a notorious patent troll. Those patents had previously been deemed invalid by the Patent Trial and Appeal Board (USPTO), however, so it remains to be seen whether Apple will actually have to pay out any penalty.
If you thought half a billion dollars was a big sum, just wait until you see what Samsung is facing as the result of a recently filed lawsuit. According PACid Technologies, Samsung owes the company $2.8 billion.
Austin, Texas-based PACid Technologies has filed a lawsuit in the United States District Court for the Eastern District of Texas. In the suit, the company claims that Samsung two of its patents filed in the US, and a third patent filed in South Korea. US Patent No. 9,577,994 and No. 9,876,771, and South Korean patent KR20110128567A are the patents covered in the lawsuit, and they pertain to technologies involving biometric authentication. The suit seeks damages of $3 per phone, which ETNews notes is three times the standard rate of $1 per phone, which would end up costing Samsung about $2.8 billion if the court ruled in PACid's favor.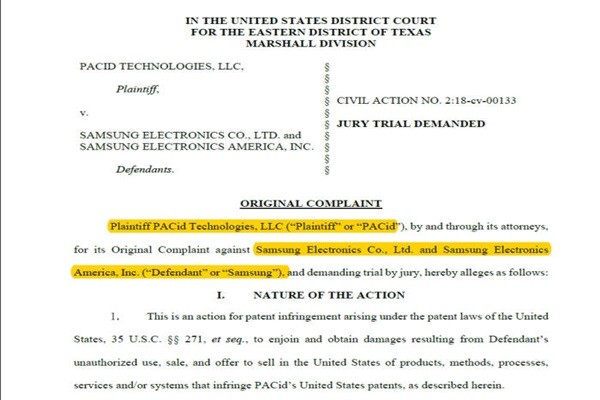 PACid calls itself a data security company, but pundits discussing this case have dubbed it a patent troll. A quick perusal of the company's website suggests that is indeed the case. Of course, patent troll or not, the suit could definitely end up stinging Samsung if a jury is convinced that Samsung phones use technologies owned by PACid.
Companies like Samsung are targeted by patent trolls all the team, so the only thing notable about this suit is the colossal sum being sought in damages. Samsung is being hit by suits from more than just patent trolls right now, however. Just last month, NuCurrent filed a lawsuit alleging that Samsung held meetings with the company and then proceeded to steal its wireless charging technology.