We've already established that the narrative from certain tech blogs ahead of the iPhone 7 and iPhone 7 Plus launch last year was ridiculous; Apple's new smartphones are anything but "boring." The company's latest iPhone lineup might look a great deal like the iPhones that came before them — and the iPhones that Apple released in 2014, as well. Inside, however, these new handsets are different beasts entirely. The iPhone 7 and iPhone 7 Plus are the most powerful smartphones in the world by a landslide, and they feature displays that one expert has called "visually indistinguishable from perfect." They're water-resistant, they have great battery life compared to rival models, and they have some of the best cameras in the business.
According to a new report issued by a reputable market research firm, however, Apple's latest iPhones haven't drawn Android users away from Google-powered phones anywhere near as much as previous iPhones have.
Chicago-based Consumer Intelligence Research Partners on Thursday released its quarterly report on iPhone sales trends, and the firm's findings for the December quarter were mixed.
On the plus side, CIRP's digging determined that the flagship iPhone 7 and iPhone 7 Plus accounted for a higher percentage of iPhone sales during the holiday quarter than their predecessors did in the year-ago quarter. According to CIRP, 72% of all iPhone sales in the US were iPhone 7 or iPhone 7 Plus models. Meanwhile, the iPhone 6s and iPhone 6s Plus accounted for roughly 68% of iPhone sales in the December quarter a year earlier.
CIRP found that 40% of all iPhones sold in the US market were iPhone 7 models, while an estimated 32% where the larger and pricier iPhone 7 Plus.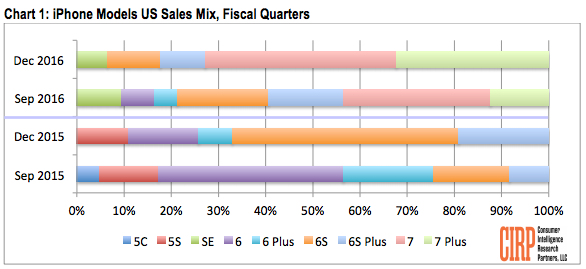 "In the first full quarter of availability, the flagship iPhone 7 and 7 Plus models accounted for a slightly higher percentage of iPhone sales than the iPhone 6S and 6S Plus did last year," CIRP cofounder Josh Lowitz said. "The entry level iPhone SE had a smaller share of sales than the similarly positioned 5S did a year ago, and the most expensive iPhone 7 Plus garnered a larger share than the 6S Plus did in the same quarter a year ago. The shift to newer, more expensive phones suggests that Apple could see an uptick in average selling price for iPhones, at least based on US market dynamics."
CIRP's research suggests that 16% of iPhone 7 and iPhone 7 Plus buyers upgraded from either an iPhone 6s or an 6s Plus, while 37% upgraded from an iPhone 6 or iPhone 6 Plus. The firm found that only 15% switched from an Android phone to an iPhone 7 or iPhone 7 Plus in the December quarter, which is down sharply from the estimated 29% who switched from an Android phone to the iPhone 6s or iPhone 6s Plus in the same quarter a year earlier.

"The new 7 and 7 Plus models attracted mostly loyal iPhone owners, rather than Android owners," Lowitz's partner and cofounder Mike Levin said. "Only 15% of 7 and 7 Plus buyers switched from an Android phone, consistent with the 14% of iPhone 6S and 6S Plus that came from Android in the same quarter last year. This continues the trend of new iPhone models attracting mostly repeat iPhone buyers. The lower-priced, one year-old models, attract a higher percentage of Android switchers, but on a smaller base. Interestingly, the entry-level iPhone SE has a very small Android switcher constituency, but is somewhat effective in attracting first-time smartphone buyers."
Of note, CIRP's findings are based on a survey of only 500 Apple customers. While Apple never reports iPhone sales mix, some of the research firm's past estimates have been in line with several Wall Street analysts' estimates, while others have varied substantially.