Good news, AT&T subscribers: It didn't take your carrier of choice very long at all to realize that the new unlimited it launched just 10 days ago was absolutely awful. It was the most expensive unlimited option among all major wireless carriers, and it had the worst caveats, as we detailed in a recent comparison post. For example, while other carriers cap tethering on their unlimited plans, the unlimited plan AT&T initially made available to all subscribers didn't even allow any mobile hotspot usage at all.
AT&T clearly recognized how bad its unlimited plans were very quickly, because on Monday it announced completely overhauled plans that are far more competitive with unlimited offerings from other wireless carriers.
The unlimited plan AT&T opened up to all customers 10 days ago was the most expensive unlimited offering available, and it also had the biggest caveats. In an attempt to be more competitive with rivals, the company has morphed the plan into two separate unlimited offerings, one comprehensive one that's slightly more affordable and that finally includes a mobile hotspot data bucket, and a second that is severely limited but comes in at a very competitive price.
AT&T's primary unlimited plan is now called AT&T Unlimited Plus, and it starts at $90 instead of $100 like AT&T's old plan. That price gets you one line with unlimited voice, text and data (guaranteed full-speed data capped at 22GB per billing cycle, then data speeds will be throttled when the network is congested), as well as HD video streaming and 10GB of full speed mobile hotspot per billing period (then throttled to 128Kbps). Subscribers can also add DirecTV Now for $10 per month after a $25 monthly bill credit.
For customers who want unlimited data and don't care about fast 4G LTE data speeds, there's also now an "AT&T Unlimited Choice" plan. This plan offers unlimited voice, text and data throttled to 3Mbps. Video is also throttled to 1.5Mbps max and SD resolution (480p), and mobile hotspot is not allowed.
The prices listed above cover accounts with a single smartphone line. Here's how the plans break down with multiple lines: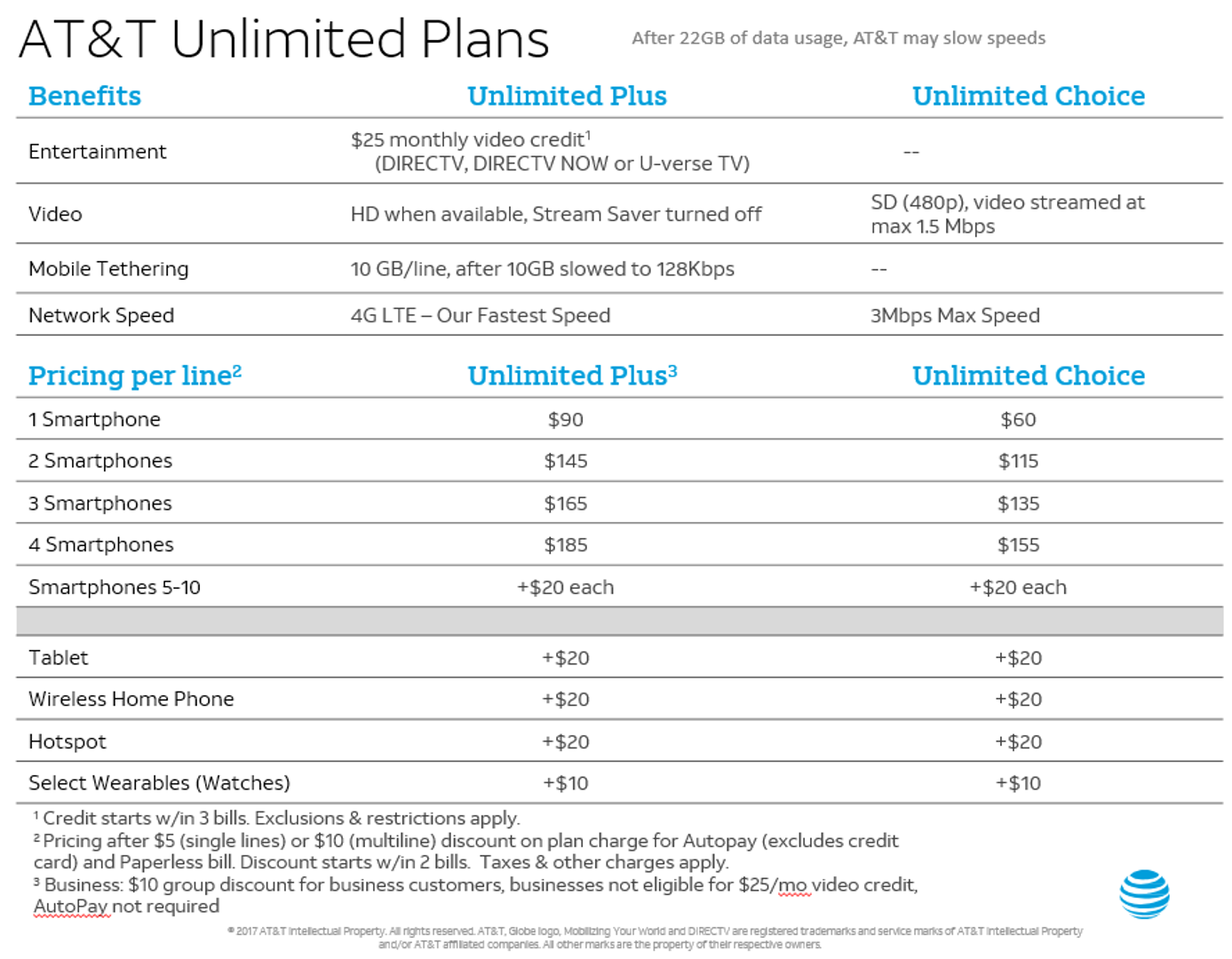 AT&T's new unlimited plans will be available beginning this Thursday, and you can read more about them on AT&T's website.