Apple has hundreds of retail stores situated in dozens of countries around the world, but its next big opening will be particularly significant. As the company confirmed on Friday morning, it plans to open its first retail location in South Korea. The location is significant, of course, because South Korea is the home of Apple's top rival Samsung.
We're excited about opening our first Apple Store in Korea, one of the world's economic centers and a leader in telecommunication and technology, with a vibrant K-culture," an Apple spokesperson told Reuters in a statement on Friday. "We're now hiring the team that will offer our customers in Seoul the service, education and entertainment that is loved by Apple customers around the world."
Loved around the world, indeed. Apart from being the most valuable and most profitable tech company in the world, Apple is also the proud owner of a wildly successful retail business. As noted each year for the past few years by market research firm eMarketer, Apple pulls in more income per square foot than any other retailer. Here's a chart that shows the top 10 companies in the US, based on reported revenue data from this past May: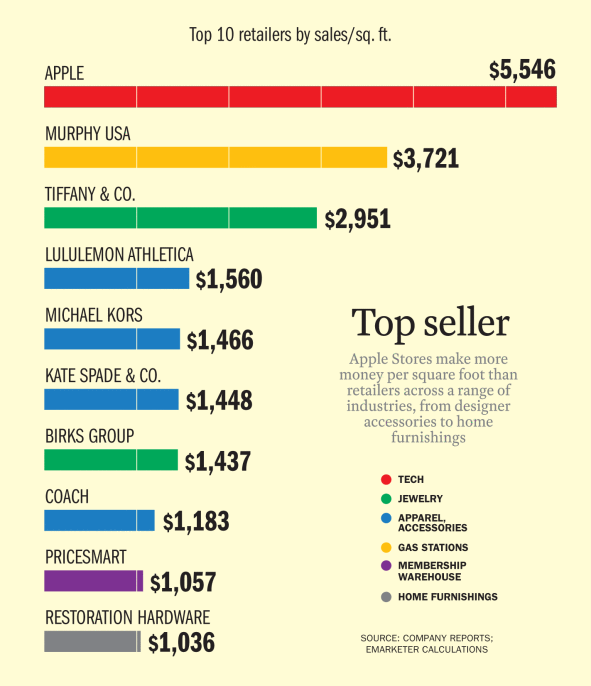 Apple already has something of a presence in South Korea, where its iPhone line has been growing in popularity, though Samsung phones are still the most popular devices in the country by a wide margin. The opening of its first retail location in the country could certainly help Apple speed up adoption of its handsets.
Reuters reports that Apple has 15 job opening listed on its website seeking staff in Seoul. It's currently unclear exactly where the Apple store will be located in South Korea's capital city, but Yonhap News Agency reports that construction has already begun at a location in a southern district, and it could be completed ahead of the holidays this year.