Apple is doomed! The iPhone is done! The high-end smartphone market is saturated! No one is upgrading to new handsets anymore! Tim Cook is lost and has no idea what he's doing!
To glance over recent headlines and themes being tossed around by tech bloggers and many analysts, things are looking pretty bleak for the largest company in the world by market cap. Then, matters were made even worse when Apple caught investors off guard and posted a massive drop-off in iPhone sales during the March quarter this year. Apple's share price plummeted and doomsday preppers crowed that the end was in sight. Then Apple beat estimates and offered impressive September-quarter guidance when it reported its fiscal third-quarter results in July, and the stock is up nearly 12% since then.
Of course, anytime Apple dips big funds seize the opportunity.
DON'T MISS: The 10 best deals in Best Buy's huge 50th anniversary sale happening right now
Several big funds dove into Apple shares over the course of the second quarter, and they've been handsomely rewarded as a result. Longtime Apple reporter Philip Elmer-Dewitt did some digging through filings and determined the top 10 buyers of Apple shares during the June quarter. Here's what that chart looks like: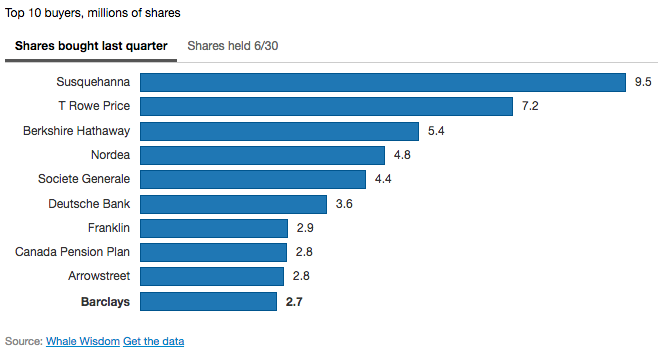 Meanwhile, worries bears were dumping shares in the second quarter this year even faster than bulls could scoop them up. Here's another chart that shows the top 10 sellers of Apple stock between April and June: