Apple has finally confirmed its long-rumored plans to build a store and event space inside a shuttered Los Angeles movie palace in the city's Broadway Theater District. It's a project that will transform the iconic Tower Theatre, which was built to look like the Paris Opera House, into a gorgeous, high-profile retail outpost of a company that's now worth $1 trillion.
Taking over the former cinema and preserving the Renaissance Revival architecture as Apple plans to do will produce a store that's in the "upper echelon" of Apple's retail projects. That's according to a comment BJ Siegel, senior director of retail design at Apple, gave to the Los Angeles Times.
The new store may also function on another level, though, by letting it definitely be known that Apple wants to be seen as a major player and force to be reckoned with in Hollywood. We're here, in other words, in a way that you can't ignore.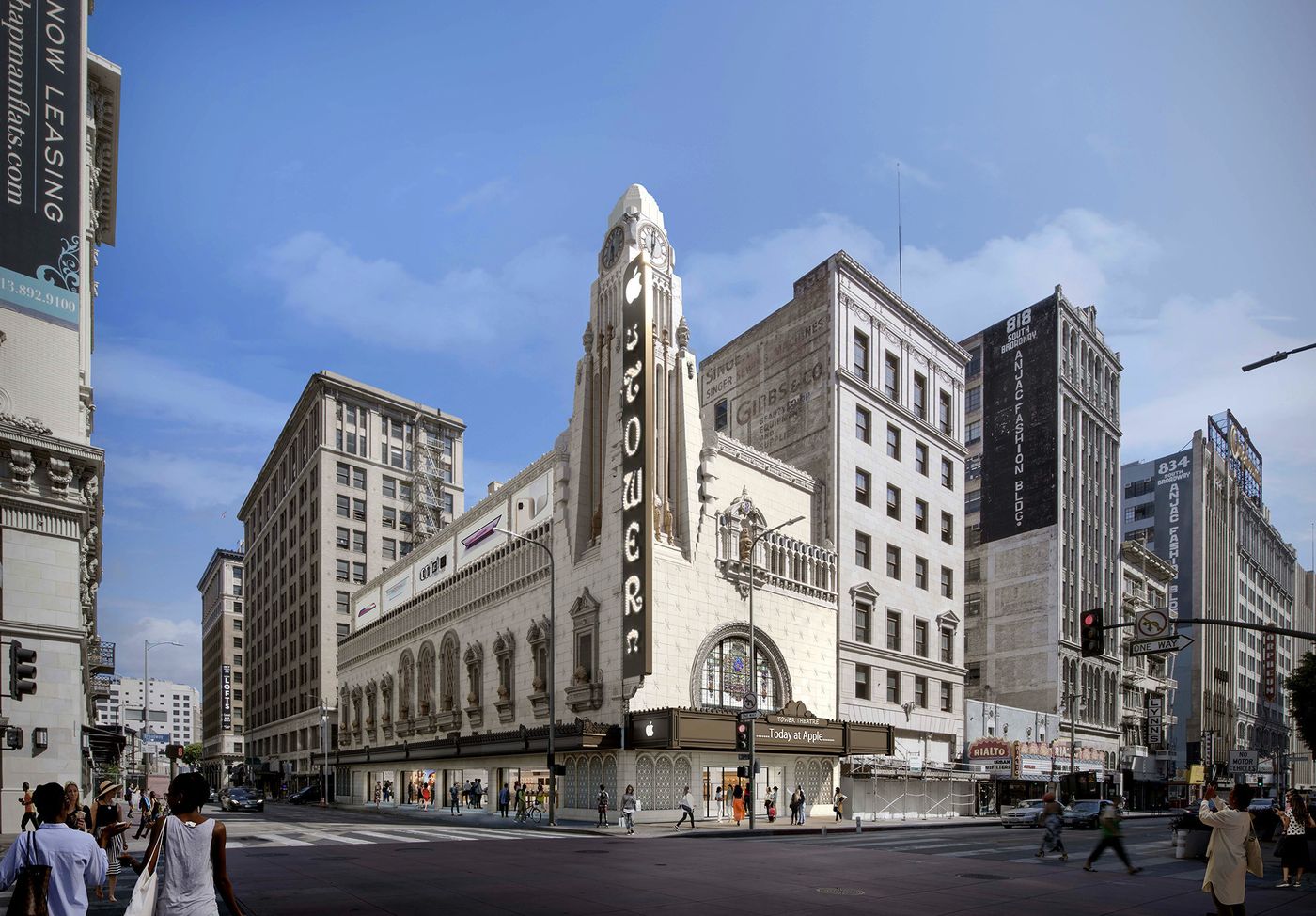 In terms of what's coming, Apple is reportedly working from original Tower Theatre plans to bring back elements like murals and a special glass window over the entrance. According to Siegel, the space will host talks by movie, TV and music industry professionals, another nod to Apple possibly considering this store as a way to plant a flag of sorts in the capital of the entertainment industry.
Apple hasn't yet revealed a timeline or estimated budget for the project, which will be part of a small club. There are only a few Apple stores in redeveloped old buildings, like one in an 1800s-era warehouse in London's Covent Garden and the store being built in a former early 20th century library in Washington D.C.
"The Tower building is run-down now, but its pedigree is significant," the Times reports. "It was developed by film exhibitor H.L. Gumbiner, who went on to build the elaborate Los Angeles Theatre nearby. The interiors of both theaters were designed by architect S. Charles Lee to mimic the Paris Opera House."
Apple is still being somewhat coy about its ambitions as a Hollywood player and entertainment industry force, though the company has already confirmed various TV content-related moves, including deals with Oprah Winfrey, Jennifer Aniston, Reese Witherspoon, and Steven Spielberg. But we're still waiting to get details like pricing information for a standalone streaming service of its own.
Apple's revelation of what it's planning on the retail front in Los Angeles, meanwhile, comes on the heels of the tech giant opening a gorgeous new store in the heart of Milan in recent days, as we reported here. Apple, which has more than 500 stores, is also planning to open its first in Israel soon, in Tel Aviv's Azrieli Sarona Tower.