The success Apple has seen with the iPhone can't be overstated. With over 1 billion iPhones sold over the last 9 years, Apple's iconic smartphone not only revolutionized the way the world uses technology, it also helped transform Apple into one of the most influential and successful companies on the planet.
Along the way, the success Apple saw with the iPhone proved to be an absolute goldmine for an array of companies who happened to manufacture and supply integral components for the device. So while the iPhone helped some companies achieve record-breaking profits, relying too heavily on Apple is not without its fair share of risk, something which Imagination Technologies recently learned when its stock plummeted nearly 70% after Apple informed the company of its plan to design a brand new GPU architecture all by itself.
More recently, shares of Dialog Semiconductor fell by more than 30% amid reports that Apple might be interested in developing power management chips in-house.
All that said, Statista recently put together a fascinating chart which maps out which companies have businesses that rely primarily on their partnership with Apple.
As our chart illustrates, many companies from different fields have their relationship with Apple to thank for more than 50 percent of their annual revenue. Relying on a single customer in such a way poses a big risk, which is why Apple's publicly-listed suppliers often trade at lower multiples than similar companies with a more diverse customer base. It also puts Apple in a position of power in contract negotiations, where the iPhone maker can use its leverage to dictate terms and conditions.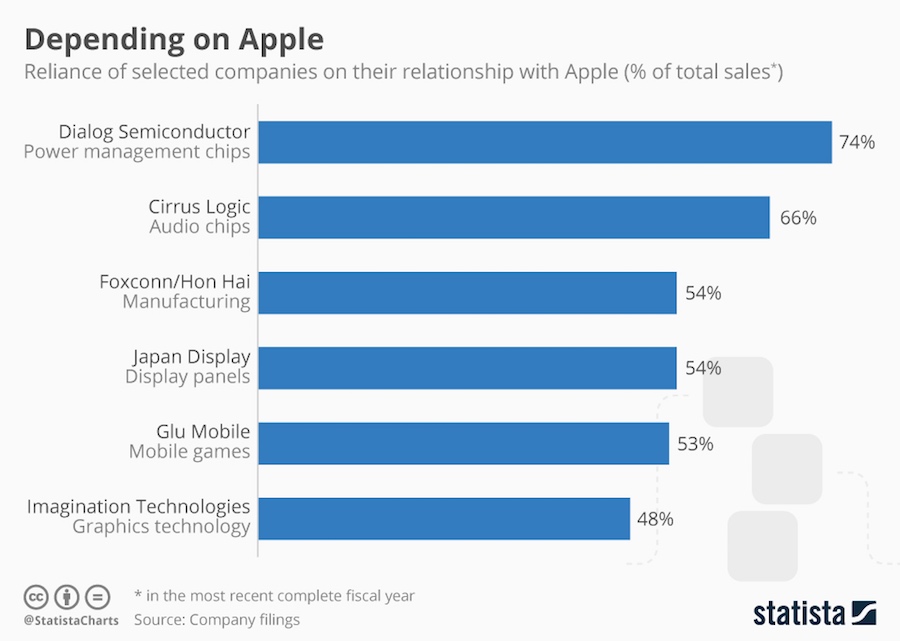 As evidenced above, Dialog Semiconductor has reason to be paranoid at the slightest hint that Apple might be interested in designing its own power management chips. Still, it's not as if every company on this chart has reason to worry. Indeed, it's not as if Apple has any plans or even interest in supplanting Foxconn as an iPhone manufacturer. Additionally, a recent analyst report noted that Apple similarly has no interest in trying to develop its own audio chips and, in the process, kick Cirrus Logic to the curve.
All in all, the chart above helps illustrate just how impactful the iPhone is across all spheres of the tech industry. And while Apple can help boost a company's profits with a lucrative iPhone contract, it also has the power to pull the rug out from underneath those same company's at a moment's notice.