The hype cycle, the buzz machine, the rumor mill — however you want to describe it, excitement is at a fever pitch for the new products Apple is about to unveil now that its annual fall showcase is at hand. At the Sept. 12 event, we'll be seeing the launch of new iPhones, as well as other hot unveilings such as new iPad Pros, the fourth-generation Apple Watch and an all-new MacBook, among other things.
And as usual, Apple fans are basically in a frenzy of anticipation right now, based on Google Trends data.
Gadget resale site BankMyCell is out with a look at user search queries it gathered between 2007 and 2018, running them through Google Trends to get accurate global search figures. iPhone release data from Wikipedia was also overlayed on the aggregated trend data to help with the visualization of the trend spikes.
Among the findings: Apple fans get "twice as electrified by (company product-focused) events" as do Samsung fans, as you can see below: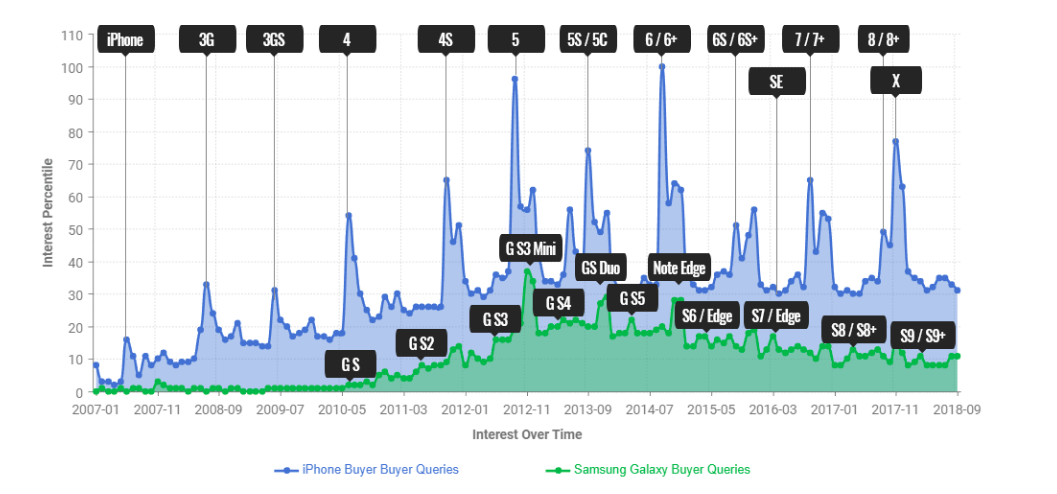 According to the site's research, past iPhone unveilings have also helped spike buyer queries as high as 230 percent, and the iPhone X announcement revived consumer interest in a big way. It triggered "the greatest spike since the iPhone 6 launch."
"Since its inception in 2007," the site notes, "the iPhone has built up considerable momentum until 2014. Subsequently, the explosiveness of these interest trends began to decrease with the largest spike since being the highly anticipated redesign of the iPhone X in 2017."
Not that anyone needed to be reminded Apple fans are seriously looking forward to Wednesday.
We've already gotten a pretty solid of what Apple has in store to unveil that day, such as three new iPhones with screen sizes that range from 5.8 inches to 6.1 inches and 6.5 inches at the top end. Along those lines, a new WSJ report connects larger screens to more overall usage by the phone's owner, which of course is welcome news for any handset maker. "Users with smartphone screens 6 inches or larger, like Apple plans to launch this year, typically use twice as many apps as those with 5.5-inch screens, such as those on the largest versions of the iPhone 6 or 7, said Kantar Worldpanel, a market research firm," the paper notes. "Users of the larger devices also are 62% more likely to play games, and twice as likely to watch video daily as people with smaller screens."
That uptick in usage because of bigger screens that get Apple fans excited is good news for the company, which wants to ramp up its services business in a big way. According to Morgan Stanley, Apple rakes in about $30 per device each year when you account app sales, music subscriptions and other such content purchases. The investment firm is also expecting services to account for about 60 percent of Apple's revenue by 2023.
We, of course, will be all over the news and announcements Wednesday. Which is to say, Apple fans — your wait is almost over.