The iPhone, in addition to turning the entire smartphone industry on its head, helped transform Apple into one of the most valuable companies on the planet. With a market cap bordering on $770 billion at the time of writing, not to mention a stock price trading at an all-time high, Apple investors are sitting pretty right about now. Tomorrow, Apple will release its earnings report for the quarter gone-by, and if iPhone sales check in higher than anticipated, Apple shares may skyrocket even higher.
Ahead of Apple's earnings report, The Wall Street Journal is reporting that Apple tomorrow will relay that it now has more than $250 million in the bank. Last we heard, Apple was sitting on $246 billion in cash.
"Apple is expected to report Tuesday that its stockpile of cash has topped a quarter of a trillion dollars," the Journal notes, "an unrivaled hoard that is greater than the market value of either Wal-Mart Stores Inc. or Procter & Gamble Co. and exceeds the foreign-currency reserves held by the U.K. and Canada combined."
Of course, the rub is that the vast majority of Apple's cash resides in bank accounts overseas. Consequently, Apple has shied away from bringing that cash back to the U.S. as to avoid a 35% corporate income tax rate.
The following chart via Statista illustrates Apple's current cash situation.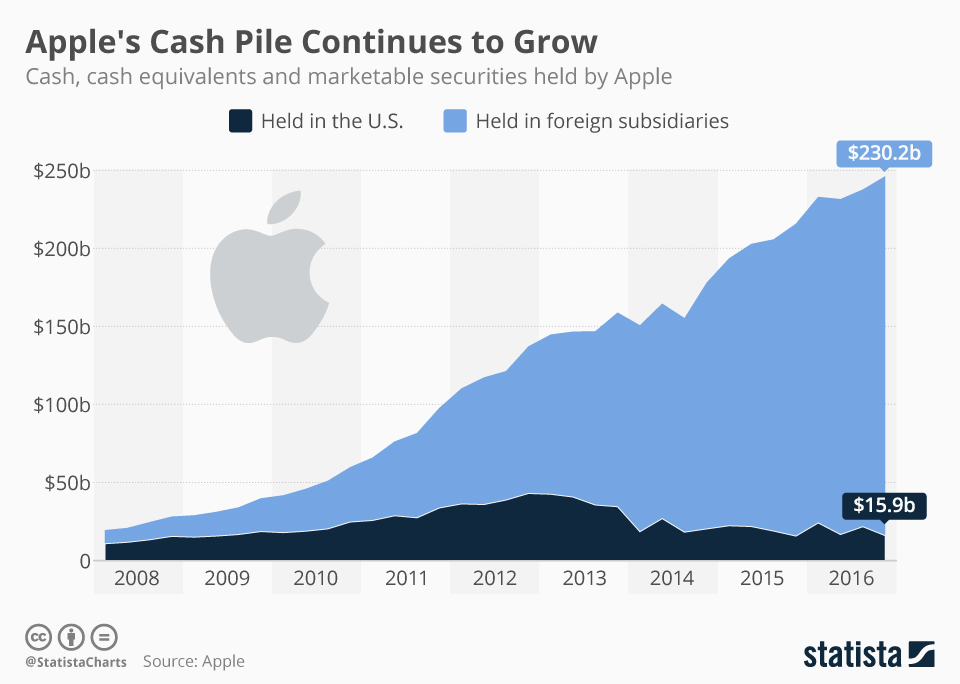 Stowing away cash overseas is hardly an efficient way to take advantage of years worth of iPhone-fueled profits, but that may all change now that Donald Trump is President.
During the course of the 2016 Presidential election, Trump's tax plan listed on its website indicated that it will provide businesses with the opportunity to repatriate profits "held offshore at a one-time tax rate of 10 percent."
Suffice it to say, if Trump follows through on his promise, Apple stands to enjoy a staggering amount of tax savings. In a hypothetical scenario where Apple opts to repatriate $75 billion, it would save approximately $18.7 billion under Trump's proposed tax holiday.
In the meantime, Apple is in no rush to do anything drastic with its vast cash reserves overseas. Speaking to this point, Tim Cook relayed the following during a 2013 interview with the Washington Post: "If you look at it today, to repatriate cash to the US, you need to pay 35 percent of that cash. And that is a very high number. We are not proposing that it be zero. I know many of our peers believe that. But I don't view that. But I think it has to be reasonable."