Samsung will launch at least four Galaxy S10 versions next year, according to recent reports, including a premium 5G phone as well as a more affordable handset. The number of cameras on each of these devices will vary for both the front and back of the handset. The cheapest model is said to have a single selfie cam and a dual rear camera. The more expensive models are tipped to have one or two selfie cams, and anywhere from two to four rear cameras. All these devices should deliver a similar Infinity-O screens, which are displays that cover almost the entire surface of the phone's front side, except for tiny bezels at the top and bottom and a hole at the top for the selfie cameras. Today, we're treated to new renders that imagine what the dual selfie camera holes might look like on the phones, including the upcoming premium Galaxy S10 handsets.
The other day we looked at various rumors detailing the manufacturing process for the Galaxy S10's Infinity-O screens and wondered whether the Galaxy S10 could offer Face ID-like 3D face recognition. Some of those reports claimed the Galaxy S10 may feature two holes in the screen, one for the front camera and one for an infrared sensor. Since then, well-known Samsung insider Ice Universe posted renders on Twitter proposing different designs for dual front cameras.
Model A in the image below has two holes in the screen, while model B features a bigger opening that would accommodate two cameras and potentially other sensors.
A different variation of the design follows below, proposing camera holes of different sizes for model A.
Mind you, these aren't supposed Galaxy S10 renders, just concept images based on what's floating out there. But, as with the notch design two years ago, concepts like these will help us get used to the new smartphone design trend well before it hits the market. We already know that at least Huawei is going to make phones with Infinity-O screens of its own, although the company will obviously use a different name for these displays.
When it comes to Infinity-O leaks, we've only seen single-hole Infinity-O screens so far for the Galaxy A8s and the Huawei Nova 4, phones that will bring the design to market well before the Galaxy S10 launches. As for model B in these renders, LG did patent a variety of Infinity-O-like smartphones designs that feature a hole big enough to house two cameras. Here are a few images (via Let's Go Digital):
LG Display is hardly the only smartphone display maker developing designs like these, and Samsung has come up with similar concepts of its own (see Model L below):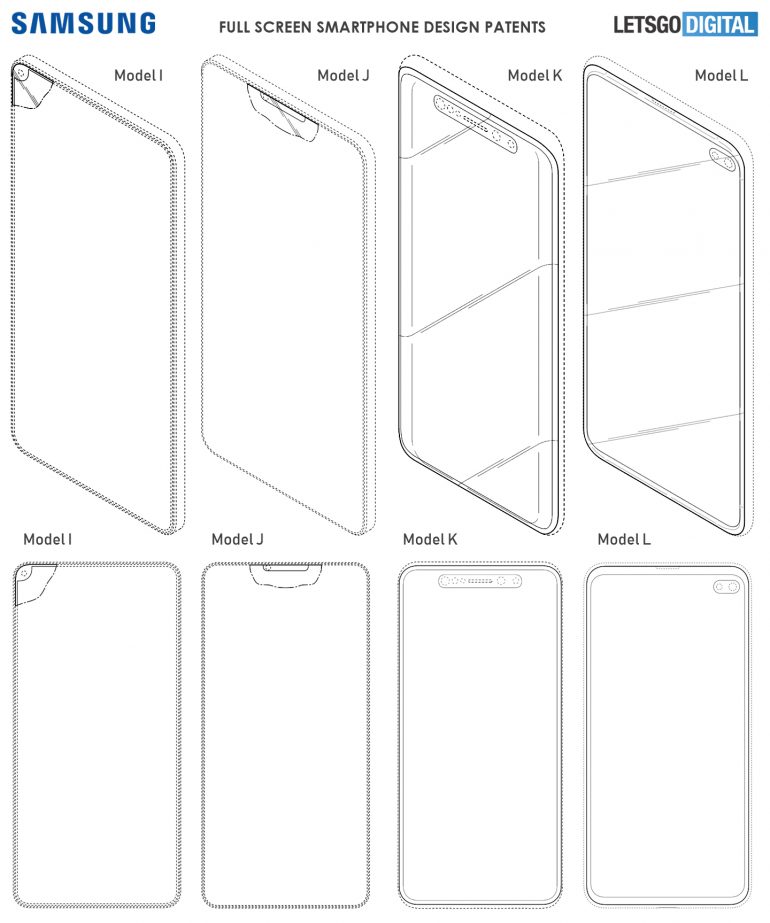 The Galaxy S10 will be unveiled in February, so there's plenty of time to see the various Galaxy S10 phones and their selfie cam designs leak well before that.